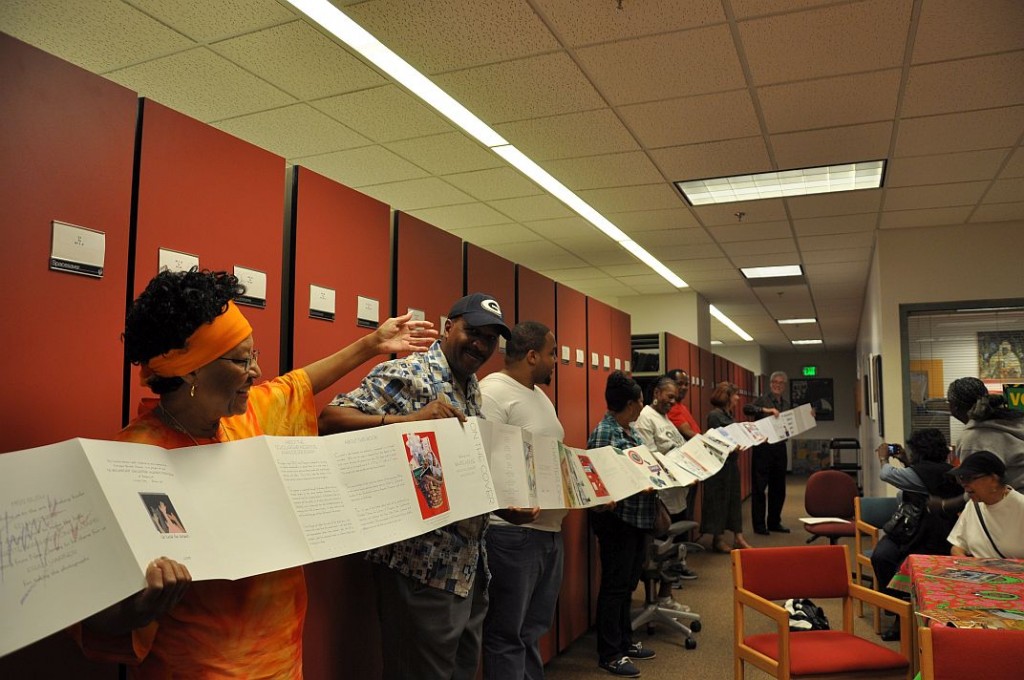 This summer the Warren M. Robbins Library, National Museum of African Art (AfA) and the American Art Museum/National Art Museum Library (AAPG) hosted a group of 54 visitors from Co-op City in the Bronx, NY to recognize the acquisition of an artists' book into the AAPG Library's collection.
The book, inspired by the election of Barack Obama as President of the United States, was created by teenagers from the Building 18's Scholarship Incentive Awards Program. In 2009, Ruth Edwards, a book artist and director of the Awards Program, worked with eight young artists  in creating the book by writing letters to the new President expressing areas of concern that he should address, including the economy, global warming, and health care. Each chapter comprises of a photo of individual covers designed by the authors, their letter, and graphics related to their subjects. The entire book is bound within a three-dimensional cover designed by Ruth Edwards, and when fully opened, spans over 30 feet in length. The book is in an edition of 16, one of which was presented to the White House.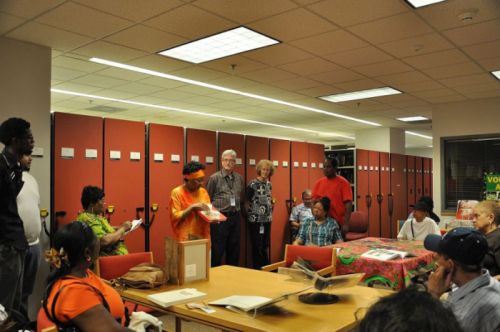 The book, titled President Obama's to Do List, was accepted earlier this year into the Artist's Book collection of the AAPG Library. This collection, one of several artists' book collections in the Smithsonian Libraries, contains about 300 books with a focus on American stories and lives. As part of a celebration of the book being added to the collection, the Co-op City residents and supporters, including two of the authors, took a bus ride to Washington, DC. The book, which is currently on display at the AAPG Library was brought over to the AfA Library as part of a visit to the museum and library. In addition to a tour of the National Museum of African Art, Janet Stanley, head of the AfA Library, and Doug Litts, head of the AAPG Library, presented highlights from their collections.
Ruth Edwards then presented the book and described the process of making the book with its young authors. For many of the visitors this was the first time that they had viewed the book and they especially enjoyed both seeing the book in person and in context with other items from the collection.
Two of the authors were present for the trip and were accompanied by proud family. Many expressed pride that their book had been added to the Smithsonian Libraries's collection and will be available for others to enjoy in the future. President Obama's To Do List will be on display at the AAPG Library through the end of 2014.