It's that back to school time of year with backpacks filled with new school supplies.  If you were a student in the 1890s you may have had a new "Atlas Science Tablet" in your school bag. This particular tablet was for botany with 28 pages for notes. However, the notes in this  tablet pertain to mathematics with entry titles such as "The Geometric Representation of Numbers."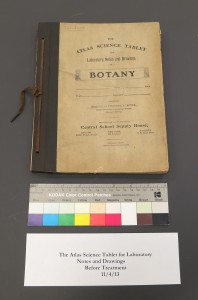 The tablet came to the book conservation lab because the first page was stuck to the front pastedown making cataloging impossible.  An attempt to lift the page had caused tearing.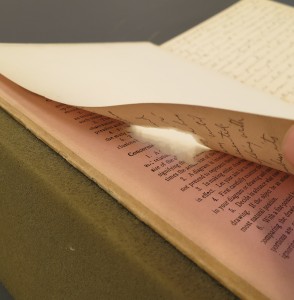 The  post and string binding structure was also causing breakage of the brittle pages.    The once flexible paper became brittle over time and the pressure of the post binding on the inner hinges caused the pages to break when turned. The first page, in addition to being stuck to the pastedown, was detached at the hinge. The second page has a similar tear along the gutter hinge.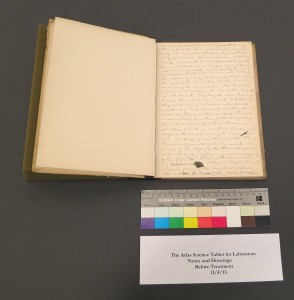 The first step in the conservation of the tablet was to dis-bind the album, removing the covers and pages. Next the stuck page was addressed.  After testing the ink on the stuck page to ensure it would not bleed if wet, the area of adhesion was humidified using a piece of Gore-Tex dampened with de-ionized water.  The Gore-Tex allows for a slow humidification of the area without over-saturating the paper. The paper lifted easily once humidified to reveal a bookplate indicating the owner of the tablet was Leslie Leland Locke.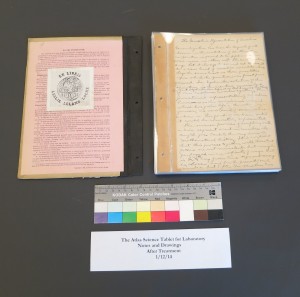 A little digging reveals that Leslie Leland Locke was 18 in 1898 when this tablet was printed. He went on to become an authority on mathematical instruments, specifically the Peruvian quipu, studying at Cornell and Columbia Universities. He became a teacher at Brooklyn College and Brooklyn Technical High School.
The final steps in the conservation of the tablet were the encapsulation of the pages in Mylar L-Sleeves so researchers can access the information without causing further damage. The original covers and even the string were retained in a clamshell box created to safely house the new addition to our collection.