This post was written by Julia Blase, Field Book Project Manager. It first appeared on the Field Books Project Blog here.

Recently, I sat down to scan two diaries of Bohumil Shimek, a botanist, zoologist, and geologist of Czech descent whose field books came to the Smithsonian along with his extensive collection of specimens after his death in 1937. He is well-known for his long career and extensive study of the geology and ecology of the American prairies, particularly in his home state, Iowa, though he is also remembered as a champion of education and a supporter of Czechoslovakian independence . In fact, his travels to Europe in 1914, initiated by his invitation to visit the Charles University of Prague, Bohemia, as exchange professor in Botany in 1914, are what led to the two remarkable items I scanned as part of the Field Book Project. Our cataloger, Lesley Parilla, wrote a piece about these items almost a year ago, because they are indeed striking.  The volumes capture Shimek's first impressions of the unfolding of the beginning of World War I:
"There we had the first definitive news that Austria had declared war against Serbia (on the 28th), but still everywhere hope was expressed that peace would come, and it was reported that the King of England would arbitrate the dispute." (July 29th, 1914)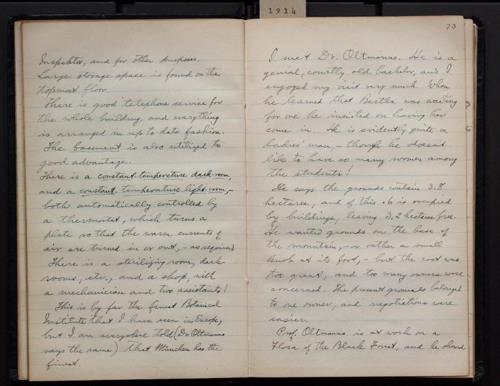 As the rest of the field book continues, Shimek begins to record more and more impressions of his group's attempt to travel across countries now at war, while still documenting observations of the countryside's flora, fauna, and geology. He mentions seeing towns empty of men, being on trains full of soldiers singing about going to war, witnessing women already meeting each other with tears for their absent husbands and sons, and the difficulties of crossing border after border to get back to England and, from there, the United States. On pages 184 and 185 in volume 2 of his diary, he mentions watching their boat go through a row of blockading ships in order to land in England. Finally, in his last few pages, he records his impressions of London, Liverpool, and the passengers on the "St. Louis."
It is moving to witness Shimek's progression from the hope in his July entries that England would arbitrate the dispute, to a certainty of war and (in one memorable quote) that "War is indeed Hell!" By September, he writes a no less moving but also chilling statement near the end that the English "are beginning to realize the seriousness of the war." A war just beginning, whose anniversary we commemorate 100 years later. I've transcribed a few of the last pages below and the full journal will soon be available on the Smithsonian Transcription Center. In the meantime, you can find it on the Biodiversity Heritage Library website and read for yourself Bohumil Shimek's memories of the first few months of the "Great War."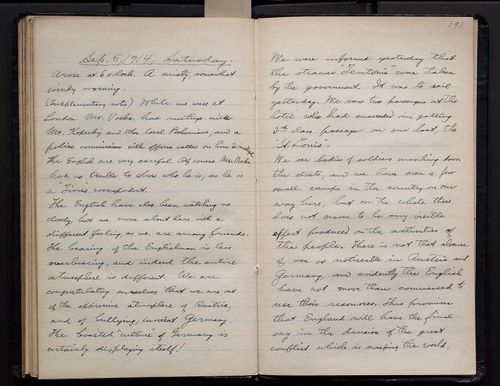 Sep. 5, 1914, Saturday
Arose at 6 o'clock. A misty, somewhat windy morning.
(Supplementary notes) While we were at London Mr. Washa had meetings with Mr. Kopesky and other local Bohemians, and a police commissioner with officer called on him to investigate. The English are very careful. Of course Mr. Voska had no trouble to show who he is, as he is a "Times" correspondent.
The English have also been watching us closely, but we move about here with a different feeling, as we are among friends. The bearing of the Englishman is less overbearing, and indeed the entire atmosphere is different. We are congratulating ourselves that we are out of the oppressive atmosphere of Austria, and of bullying, insolent Germany. The boasted "culture" of Germany is certainly displaying itself!
We were informed yesterday that the steamer "Teutonie" was taken by the government. It was to sail yesterday. We saw two passengers at the hold who had succeeded in getting 3rd class passage on our boat, the "St. Louis."
We see bodies of soldiers marching down the streets, and we have seen a few small camps in the country on our way here, but on the whole there does not seem to be any visible effect produced on the activities of the people. There is not that absence of men so noticeable in Austria and Germany, and evidently the English have not more than commenced to use their resources. This promises that England will have the final say in the decision of the great conflict vehicle which is sweeping the world.
[Page 103] In Liverpool (and London) I was struck with the large number of women employed everywhere. There are sales girls in almost every business, the fishmarkets, vegetable and fruit markets, etc., are conducted by them, there are bar maids in hotels, and I presume in drink shops generally, and everywhere they are in evidence. They sell papers on streets, etc.
The fishmarket at Liverpool is interesting. I visited it yesterday. The most common fish is the flounder. There are also eels, and a number of fishes which I do not recognize. Also crabs, lobsters, shrimps, oysters, claws, periwinkle, etc. What of this is cheap food, and such a market must be a blessing.
This is the day when we are filled with joy and hope at the prospect of starting for home! May the good Angel that has been with us continue to shield us! We finally landed, at almost 2 o'clock, on the St. Louis, after examination of eyes, & passports. We found when we got aboard that we were just into the steerage. I am now located in the lowest hold with 2 young Americans. We are trying to have matters improved, as we were sold 3rd class tickets and were then put into the steerage. A great crowd is aboard. …
We left the dock at 5:30 P.M., but delayed a long time before really going out. We are trying to sleep in the 2nd Cabin smoking room.
We have a good many German Americans on board, and most of them are German sympathizers, as might be expected. I found one exception, a New York German who says that [page 104] he has been in America 43 years, and this is his first visit, and he says that he will never go back. He came from Eastern Prussia, and saw the Russian invasion.
When we were on the tender Mrs. Cerny made the remark that we had our hardest time going through Germany. An old German (from St. Louis?) flared up when his daughter (?) told him what Mrs. C. had said, and declared that it was some "damned lies," and he was not a German! I told him that we know what we had experienced, and he did not. Things quieted down, but it is evident that there is much subdued German sentiment aboard.
The conversation of Englishmen on board indicates that they are beginning to realize the seriousness of the war. They make the war one of principle, for they resent the attack of Germany on Belgium. English papers are full of newer comments on the brutality of the Germans, and there is much raillery at their culture, etc. The German has certainly lost standing with the English, as well as with the rest of the world, and his vaunted culture is a byword."