All I want for Christmas (really) is an amaryllis in full bloom. It is lovely to see poinsettias, beautiful products of the Smithsonian Gardens Greenhouse in Suitland, Maryland, placed about the museums, but there is something special about the amaryllis as a seasonal plant. Poinsettias have become too traditional, too expected, too (well) durable.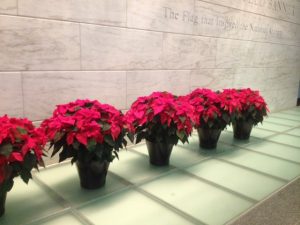 The amaryllis I had last year, a gift from a significant greenhouse, had faded as the holiday approached. The previous year's, although lovingly nurtured, was slow to unfurl its blooms, peaking much later in January. But who should complain about that? It is fun to watch the stalks grow each day, particularly in the gloom and dead of winter.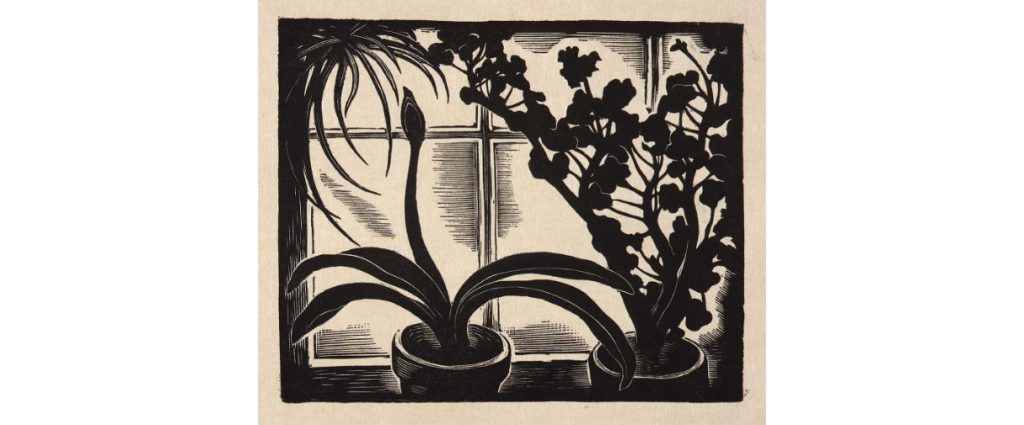 This year, since there is no bulb started due to travel and not counting on a gift, I'll turn to the Cullman Library's copy of one of the most significant botanical works published in 19th-century England: A Selection of Hexandrian Plants, Belonging to the Natural Orders Amaryllidae and Liliacae, from Drawings by Mrs. Edward Bury. Its preface begins: "An endeavor to preserve some memorial of the brilliant and fugitive beauties, of a particularly splendid and elegant tribe of plants." Indeed, the book succeeds wonderfully in capturing these elusive blooms.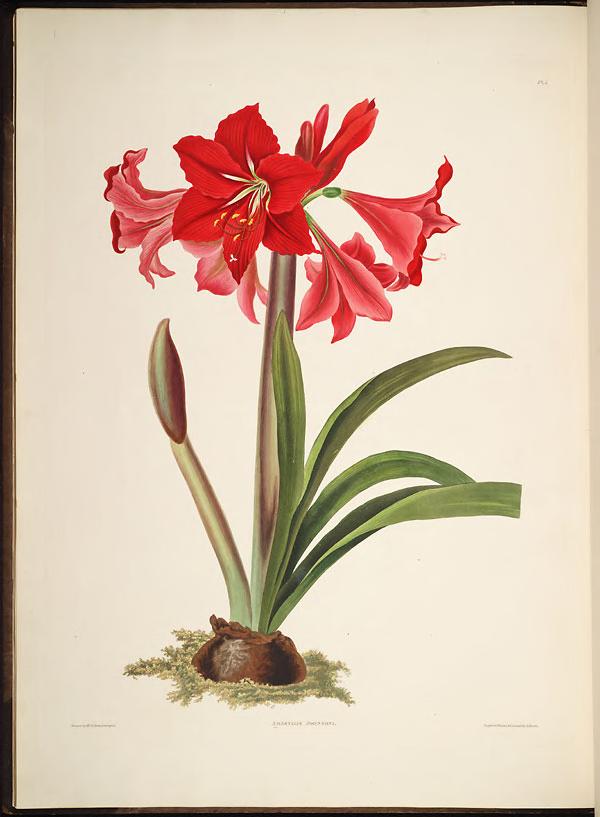 This exquisite example of a flower book (fQK495.A14 B97 SCNHRB) was published not in London (as would be expected) but in Liverpool. Its author, born Priscilla Susan Falkner (1799-1872), grew up on an estate nearby and was aided in her undertaking by the amateur botanist, historian, abolitionist, and bibliophile, William Roscoe. Author of the Monandrian Plants of the Order Scitamineae: Chiefly Drawn from Living Specimens in the Botanic Garden at Liverpool, Arranged According to the System of Linnaeus with Descriptions and Observations (fQK495 .A14R79 1828 SCNHRB), Roscoe was also the founder of the Liverpool Botanic Garden (now the Wavetree Botanic Gardens) where Falkner, soon Mrs. Bury (she married 1830) studied some of her plants.
Speaking of the Swedish botanist and zoologist Linnaeus, "Hexandrian" of the title refers to plants with six stamens, employing the old Linnean system for the descriptions of crinums, pancratiums, lilies, hippeastrums.  Linnaeus mixed the South American plants (now known as Hippeastrum) with the now more familiar South African bella-donna lily, taking the name Amaryllis from the shepherdess in Virgil's Eclogues. The Greek word means "to sparkle". Botanists and bulb enthusiasts have only recently battled it out and settled on the genus but we won't differentiate between the two here.
The wife of a noted and wealthy railway engineer, Mrs. Bury was, unnecessarily but not surprisingly given the times, deprecating in her efforts, writing that the work "relies on the indulgences and courtesy of those more able and learned … who may be induced to patronize the feeble attempts of an Amateur." But the undertaking stemmed from Bury's serious study of botany and keen observations of these new exotics in her father's hothouses and other nearby collections. The large format of the volume is comprised of fifty-one aquatint plates, each accompanied by a leaf of descriptive letterpress.
The color printing process of aquatint is rather complicated, involving heated copperplates and an acid bath. Hand finished with watercolors, the effect in A Selection of Hexandrian Plants is quite rich, even sensual. The engraver was Robert Havell Jr. (1793-1878). At the time of the issuing of the ten fascicles (that is, installments or parts) of this flower book, 1831 to 1834, Havell, with his printer father (who died in 1832), was also working on another elephant folio, John James Audobon's The Birds of America (1827-1838). Audubon himself is included on the list of subscribers (there were only seventy-nine) for the  Hexandrian Plants. Mrs. Bury's mentor, William Roscoe, is also named (although he sadly died in 1831 as production was just getting underway) as is her father, Edward D. Falkner Esq, Fairfield, who is memorialized in Liverpool today by the Falkner Square Gardens.
Quite rare in its complete state, the botanical "portraits" (as Mrs. Bury referred to them) in A Selection of Hexandrian Plants can be viewed on several websites. Copies have been digitized by the Biodiversity Heritage Library (the illustrations here are from that copy, belonging to the Missouri Botanical Garden), Botanicus, Nature Illustrated (New York Public Library), and the Internet Archive.
Amaryllis for all for happy holidays!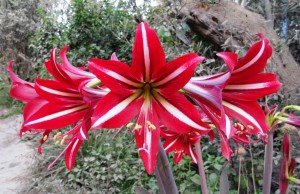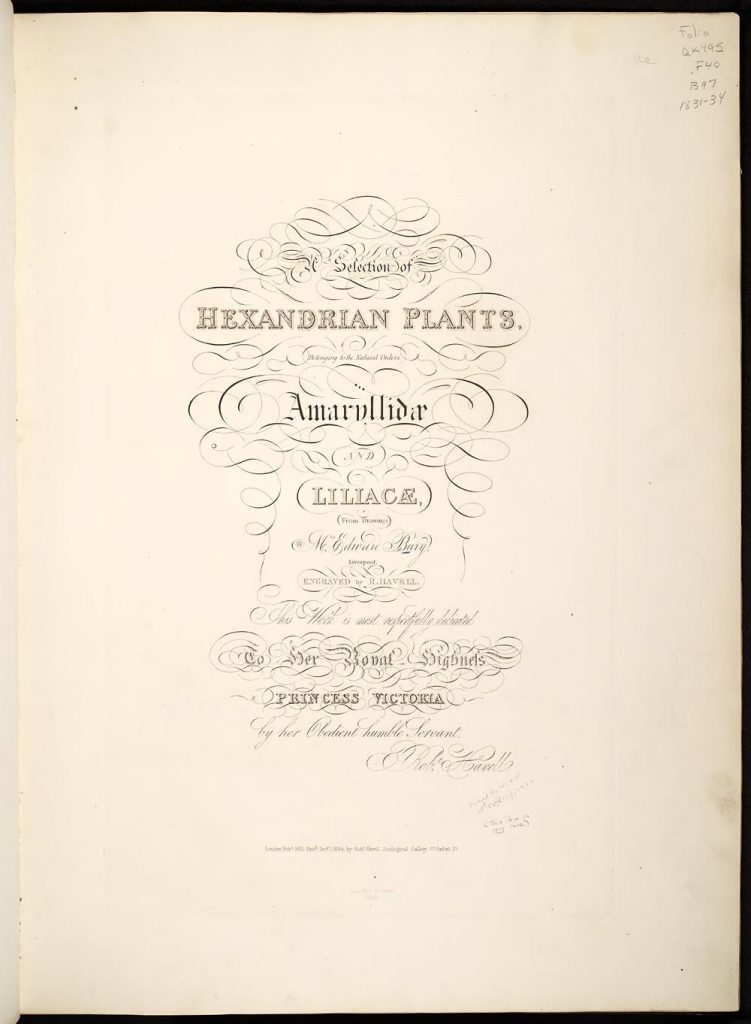 Notes
While Mrs. Bury provided illustrations for two serials, Botanic Garden and The Botanist, her only other publication was Polycystins: Figures of Remarkable Forms &c. in the Barbados Chalk Deposit. London, ca. 1869 (qQE771 .B97 1869 SCNHRB)
Twenty-five of Mrs. Bury's original watercolors are nearby in Washington, D.C., in Dumbarton Oaks Library, eighteen of which appear in her book.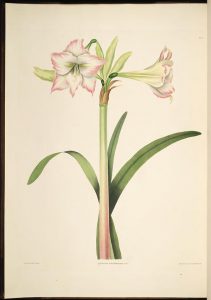 For more on the history of the amaryllis, please see link here.
Coats, Alice M. The Book of Flowers: Four Centuries of Flower Illustration (New York, 1973).
Dunthorne, Gordon. Flower and Fruit Prints of the Eighteenth and Early Nineteenth Centuries. (Washington, D.C., 1938), p. 71.
Pritzel, G.A. Thesaurus Literaturae Botanicae (Milan, 1950), no. 1403 "Opus splendidissimum".
Tomasi, Lucia Tongiorgi. An Oak Spring Flora (Upperville, Viriginia, 1997), no. 86.