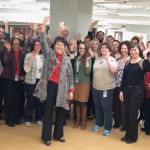 The Smithsonian Libraries has something for everyone, and with 20 libraries from NYC to Panama, we are proud to serve as the heart of the Smithsonian. Each day, we have the privilege of interacting with museum staff, scholars, and the public who visit us in person or online to use our collections.
As we reflect on the past year, we are grateful to our many supporters who, like you, value the resources and programming we offer. Because of you, we continue to repair the rare books within our libraries to ensure they are available for years to come. Because of you, we acquire new works, digitize a variety of materials, and make our treasures accessible world-wide. Because of you, we are able to host interns and scholars, create programming, and curate exhibitions so our collections can be on view in D.C. and across the country.
We specialize in increasing and diffusing knowledge, and we can't do it without you. As we look ahead to a new calendar year, we hope you will renew your commitment to helping us connect people to information in a meaningful way. Please consider a gift to the Libraries and help us inspire ideas that reach the world. Wishing you a safe and happy holiday season.
With Gratitude,
The Smithsonian Libraries' staff