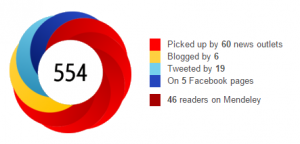 The digital age of publishing scholarly journals allows a wider variety of methods to evaluate usage and readership than that of traditional print articles. Online activity can be captured for each article almost immediately after publication, including number of times an article is viewed and downloaded or mentioned in online news outlets, twitter, blogs and other social media sites. (For more on altmetrics, see the earlier Unbound post.)
Recently the Digital Science company, Altmetrics released a list of the top 100 papers for article-level metrics from 2014. It doesn't appear that any Smithsonian papers were included but the Smithsonian Libraries staff have compiled a list of the 25 Smithsonian-authored papers with the highest altmetric score. While these measurements are still most useful to public affairs and communications professionals rather than for research evaluation, they are nonetheless interesting to a larger and larger audience.
Because article level metrics tend to measure readership and media attention, it isn't surprising to see that articles featured in  Science and PLoS One  make up more than half of the most-talked-about publications this year. (The tendency of news outlets to highlight findings from Science is well-known but readers of science news items in the popular press have undoubtedly noticed a recent increase in stories which are sourced from the open access journal, PLoS One.)
A visit to the website of these articles will show the online activity around each including stories in popular news outlets, blogs, tweets, downloads and other "alternative" metrics. Worth noting from the list below are papers dealing with:
The top 25 papers are listed below.
McLennan, S. M., Anderson, R. B., Bell, J. F., Bridges, J. C., Calef, F., Campbell, J. L., Clark, B. C., Clegg, S., Conrad, P., Cousin, A., Des Marais, D. J., Dromart, G., Dyar, M. D., Edgar, L. A., Ehlmann, B. L., Fabre, C., Forni, O., Gasnault, O., Gellert, R., Gordon, S., Grant, John A., Grotzinger, J. P., Gupta, S., Herkenhoff, K. E., Hurowitz, J. A., et al. 2014. Elemental Geochemistry of Sedimentary Rocks at Yellowknife Bay, Gale Crater, Mars. Science, 343(6169): 1244734 doi:10.1126/science.1244734  Altmetric details.
Lamanna, Matthew C., Sues, Hans-Dieter, Schachner, Emma R. and Lyson, Tyler R. 2014. A New Large-Bodied Oviraptorosaurian Theropod Dinosaur from the Latest Cretaceous of Western North America. Plos One, 9(3): 1-16. doi:10.1371/journal.pone.0092022 Altmetric details.
Grotzinger, J. P., Sumner, D. Y., Kah, L. C., Stack, K., Gupta, S., Edgar, L., Rubin, D., Lewis, K., Schieber, J., Mangold, N., Milliken, R., Conrad, P. G., DesMarais, D., Farmer, J., Siebach, K., Calef, F., Hurowitz, J., McLennan, S. M., Ming, D., Vaniman, D., Crisp, J., Vasavada, A., Edgett, K. S., Malin, M., Blake, D., et al. 2014. A Habitable Fluvio-Lacustrine Environment at Yellowknife Bay, Gale Crater, Mars. Science, 343(6169): 1242777 doi:10.1126/science.1242777 Altmetric details.
Seth, Anil C., van den Bosch, Remco, Mieske, Steffen, Baumgardt, Holger, Brok, Mark Den, Strader, Jay, Neumayer, Nadine, Chilingarian, Igor, Hilker, Michael, McDermid, Richard, Spitler, Lee, Brodie, Jean, Frank, Matthias J. and Walsh, Jonelle L. 2014. A supermassive black hole in an ultra-compact dwarf galaxy. Nature, 513: 398-400. doi:10.1038/nature13762 Altmetric details.
Raghavan, Maanasa, DeGiorgio, Michael, Albrechtsen, Anders, Moltke, Ida, Skoglund, Pontus, Korneliussen, Thorfinn S., Grønnow, Bjarne, Appelt, Martin, Gulløv, Hans Christian, Friesen, T. M., Fitzhugh, William, Malmström, Helena, Rasmussen, Simon, Olsen, Jesper, Melchior, Linea, Fuller, Benjamin T., Fahrni, Simon M., Stafford, Thomas, Grimes, Vaughan, Renouf, M. A. P., Cybulski, Jerome, Lynnerup, Niels, Lahr, Marta Mirazon, Britton, Kate, Knecht, Rick, et al. 2014. The genetic prehistory of the New World Arctic. Science, 345(6200): 1020 doi:10.1126/science.1255832 Altmetric details.
Ming, D. W., Archer, P. D., Glavin, D. P., Eigenbrode, J. L., Franz, H. B., Sutter, B., Brunner, A. E., Stern, J. C., Freissinet, C., McAdam, A. C., Mahaffy, P. R., Cabane, M., Coll, P., Campbell, J. L., Atreya, S. K., Niles, P. B., Bell, J. F., Bish, D. L., Brinckerhoff, W. B., Buch, A., Conrad, P. G., Des Marais, D. J., Ehlmann, B. L., Fairen, A. G., Farley, K., et al. 2014. Volatile and Organic Compositions of Sedimentary Rocks in Yellowknife Bay, Gale Crater, Mars. Science, 343(6169): 1245267 doi:10.1126/science.1245267 Altmetric details.
Pyenson, Nicholas D., Gutstein, Carolina S., Parham, James F., Le Roux, Jacobus P., Chavarria, Catalina C., Little, Holly, Metallo, Adam, Rossi, Vincent, Valenzuela-Toro, Ana M., Velez-Juarbe, Jorge, Santelli, Cara M., Rogers, David R., Cozzuol, Mario A. and Suarez, Mario E. 2014. Repeated mass strandings of Miocene marine mammals from Atacama Region of Chile point to sudden death at sea. Proceedings of the Royal Society B: Biological Sciences, 281(1781) doi:10.1098/rspb.2013.3316 Altmetric details.
Byrne, Paul K., Klimczak, Christian, Sengor, A. M. C., Solomon, Sean C., Watters, Thomas R. and Hauck II, Steven A. 2014. Mercury's Global Contraction Much Greater than Earlier Estimates. Nature Geoscience, 7: 301-307. doi:10.1038/ngeo2097 Altmetric details.
Benson, Roger B. J., Campione, Nicolás E., Carrano, Matthew T., Mannion, Philip D., Sullivan, Corwin, Upchurch, Paul and Evans, David C. 2014. Rates of Dinosaur Body Mass Evolution Indicate 170 Million Years of Sustained Ecological Innovation on the Avian Stem Lineage. PLoS Biology, 12(5) doi:10.1371/journal.pbio.1001853 Altmetric details.
Cavanaugh, Kyle C., Kellner, James R., Forde, Alexander J., Gruner, Daniel S., Parker, John D., Rodriguez, Wilfrid and Feller, Ilka C. 2014. Poleward expansion of mangroves is a threshold response to decreased frequency of extreme cold events. Proceedings of the National Academy of Sciences of the United States of America, 111(2): 723-727. doi:10.1073/pnas.1315800111 Altmetric details.
Blonder, Benjamin, Royer, Dana L., Johnson, Kirk R., Miller, Ian and Enquist, Brian J. 2014. Plant ecological strategies shift across the cretaceous-paleogene boundary. PLoS Biology, 12(9): 1-7. doi:10.1371/journal.pbio.1001949 Altmetric details.
Pimiento, Catalina and Clements, Christopher F. 2014. When Did Carcharocles megalodon Become Extinct? A New Analysis of the Fossil Record. PloS One, 9(10): 1-5. doi:10.1371/journal.pone.0111086 Altmetric details.
Higginbotham, Sarah, Wong, Weng Ruh, Linington, Roger G., Spadafora, Carmenza, Iturrado, Liliana and Arnold, A. E. 2014. Sloth Hair as a Novel Source of Fungi with Potent Anti-Parasitic, Anti-Cancer and Anti-Bacterial Bioactivity. Plos One, 9(1): e84549. doi:10.1371/journal.pone.0084549 Altmetric details.
McCully, Curtis, Jha, Saurabh W., Foley, Ryan J., Bildsten, Lars, Fong, Wen-Fai, Kirshner, Robert P., Marion, G. H., Riess, Adam G. and Stritzinger, Maximilian D. 2014. A luminous, blue progenitor system for the type Iax supernova 2012Z. Nature, 512: 54-56. doi:10.1038/nature13615 Altmetric details.
Antón, Susan C., Potts, Richard and Aiello, Leslie C. 2014. Evolution of early Homo: An integrated biological perspective. Science, 345(6192) doi:10.1126/science.1236828 Altmetric details.
Dillon, Michael E. and Dudley, Robert K. 2014. Surpassing Mt. Everest: extreme flight performance of alpine bumble-bees. Biology Letters, 10(2) doi:10.1098/rsbl.2013.0922 Altmetric details.
Halfwerk, W., Jones, P. L., Taylor, R. C., Ryan, Michael J. and Page, Rachel A. 2014. Risky Ripples Allow Bats and Frogs to Eavesdrop on a Multisensory Sexual Display. Science, 343: 413-416. doi:10.1126/science.1244812 Altmetric details.
Farley, K. A., Malespin, C., Mahaffy, P., Grotzinger, J. P., Vasconcelos, P. M., Milliken, R. E., Malin, M., Edgett, K. S., Pavlov, A. A., Hurowitz, JA, Grant, John A., Miller, H. B., Arvidson, R., Beegle, L., Calef, F., Conrad, P. G., Dietrich, W. E., Eigenbrode, J., Gellert, R., Gupta, S., Hamilton, V., Hassler, D. M., Lewis, K. W., McLennan, S. M., Ming, D., et al. 2014. In Situ Radiometric and Exposure Age Dating of the Martian Surface. Science, 343(6169): 1247166 doi:10.1126/science.1247166 Altmetric details.
Parsons, E. c. m., Favaro, Brett, Aguirre, A. A., Bauer, Amy L., Blight, Louise K., Cigliano, John A., Coleman, Melinda A., Côté, Isabelle M., Draheim, Megan, Fletcher, Stephen, Foley, Melissa M., Jefferson, Rebecca, Jones, Miranda C., Kelaher, Brendan P., Lundquist, Carolyn J., Mccarthy, Julie-Beth, Nelson, Anne, Patterson, Katheryn, Walsh, Leslie, Wright, Andrew J. and Sutherland, William J. 2014. Seventy-One Important Questions for the Conservation of Marine Biodiversity.Conservation Biology, 28(5): 1206-1214. doi:10.1111/cobi.12303 Altmetric details.
MacLean, Evan L., Hare, Brian, Nunn, Charles L., Addessi, Elsa, Amici, Federica, Anderson, Rindy C., Aureli, Filippo, Baker, Joseph M., Bania, Amanda E., Barnard, Allison M., Boogert, Neeltje J., Brannon, Elizabeth M., Bray, Emily E., Bray, Joel, Brent, Lauren J. N., Burkart, Judith M., Call, Josep, Cantlon, Jessica F., Cheke, Lucy G., Clayton, Nicola S., Delgado, Mikel M., DiVincenti, Louis J., Fujita, Kazuo, Herrmann, Esther, Hiramatsu, Chihiro, et al. 2014. The evolution of self-control.Proceedings of the National Academy of Sciences of the United States of America, 111(20): E2140-E2148. doi:10.1073/pnas.1323533111 Altmetric details.
Mulcahy, Daniel G., Martínez-Gómez, Juan E., Aguirre-León, Gustavo, Cervantes-Pasqualli, Juan and Zug, George R. 2014. Rediscovery of an Endemic Vertebrate from the Remote Islas Revillagigedo in the Eastern Pacific Ocean: The Clarión Nightsnake Lost and Found. Plos One, 9(5): 1-8. doi:10.1371/journal.pone.0097682 Altmetric details.
Hauser, Marc D., Yang, Charles, Berwick, Robert C., Tattersall, Ian, Ryan, Michael J., Watumull, Jeffrey, Chomsky, Noam and Lewontin, Richard C. 2014. The Mystery of Language Evolution.Frontiers in Psychology, 5(401): 1-12. doi:10.3389/fpsyg.2014.00401 Altmetric details.
Averill, Colin, Turner, Benjamin L. and Finzi, Adrien C. 2014. Mycorrhiza-mediated competition between plants and decomposers drives soil carbon storage. Nature, 505: 543-545. doi:10.1038/nature12901 Altmetric details.
Kistler, Logan, Montenegro, Álvaro, Smith, Bruce D., Gifford, John A., Green, Richard E., Newsom, Lee A. and Shapiro, Beth. 2014. Transoceanic drift and the domestication of African bottle gourds in the Americas. Proceedings of the National Academy of Sciences of the United States of America, 111(8): 2937-2941. doi:10.1073/pnas.1318678111 Altmetric details.
Rocha, L. A., Aleixo, A., Allen, G., Almeda, F., Baldwin, C. C., Barclay, M. V. L., Bates, J. M., Bauer, A. M., Benzoni, F., Berns, C. M., Berumen, M. L., Blackburn, D. C., Blum, S., Bolanos, F., Bowie, R. C. K., Britz, R., Brown, R. M., Cadena, C. D., Carpenter, K., Ceriaco, L. M., Chakrabarty, P., Chaves, G., Choat, J. H., Clements, K. D., Collette, B. B., et al. 2014. Specimen collection: An essential tool. Science, 344(6186): 814-815. doi:10.1126/science.344.6186.814 Altmetric details.