Smithsonian Libraries is pleased to welcome Michael Keeling to the Preservation Services Department. Michael is a D.C. native and a graduate of Johns Hopkins University and the NYU creative writing program. Previously, he worked as a collections care technician at the Library of Congress.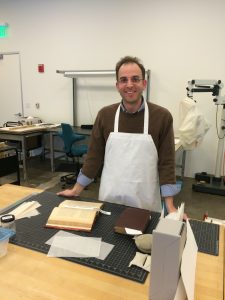 His interest in conservation began in high school during a visit to the Metropolitan Museum of Art when he fell backwards into the painting conservation lab and was fascinated by what he saw.  "The knowledge and skills it takes to do that kind of work is so cross-disciplined, it is science and art and it is fascinating."
Michael looks forward to working with the diverse staff and collections that are unique to the Smithsonian Libraries.