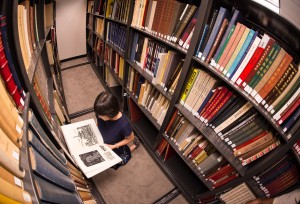 The Smithsonian Libraries is pleased to announce two opportunities for Fall 2015 internships. Each project offers a unique learning experience that would benefit any student interested in library work. For students in undergrad or graduate library and information science programs, we are happy to work with universities to help students obtain academic credit or fulfill practicum requirements. These projects are particularly well suited for students with enthusiasm for instructional design or collections management. Applications will be collected until July 27 or until filled.
Biodiversity Heritage Library Instructional Design:
Interns will work closely with the BHL Collections Coordinator to explore learning outcomes and codify them for staff. Intern will learn how to design instructional materials that meet a variety of learning styles. Interns will gain expertise in written instructional documentation and video tutorials, as well as have the opportunity to provide live and webinar-style training sessions for BHL and Smithsonian Libraries staff. Interns will be encouraged to gather and assess feedback regarding their instructional projects and implement improvements.
This project will be based in the National Museum of Natural History, with the possibility of some telework. It is intended for students pursuing a Masters in Library & Information Science or recent graduates of an accredited MLIS program. Ideal candidates will have strong communication and presentation skills. Students who have demonstrated experience designing instructional materials to support a variety of learning styles will build on that knowledge. It would be perfect for a student who is detail oriented, self-motivated, and enthusiastic about experimenting with creative teaching technologies to achieve the learning goals of Smithsonian Libraries and Biodiversity Heritage Library staff.
Museum-related Serials Evaluation
In preparation for  the future move of the Museum Support Center (MSC) Library and in an effort to address duplication of materials in Libraries, this internship will investigate museum-related serials held at multiple locations (notably MSC and the Museum Studies Reference Library). Working with Smithsonian Libraries staff, the intern will evaluate serials holdings and attempt to complete runs of titles at the appropriate location. The intern will work with library staff to analyze and determine which titles are better suited for a location.
The intern will learn collection management skills in a research/museum library environment. The student will gain experience in aspects of cataloging, research, and collaboration as well as the inner workings of a museum and research library. Project will be based in the National Museum of Natural History and the Museum Support Center (Suitland, MD) with travel to other DC-area branches. This project is ideal for candidates that are under grad or graduate student with an interest in library collection maintenance. A student with experience using Excel, searching library catalogs and WorldCat holdings and knowledge of e-resources preferred. An independent worker with excellent decision-making skills would make a great candidate.
For additional information about our internship opportunities, see our Internships page.