As a book conservator for the Smithsonian Libraries I've been given ample opportunity to expand my knowledge through workshops, seminars and professional meetings. One of the most interesting opportunities I've recently had was to attend a week long workshop, "Understanding Leather: From Tannery to Collection," in Northampton, England. The workshop was held at the Leather Conservation Centre, an international center for leather conservation and research, on the campus of the University of Northampton. The course was a mixture of theory and practice with sessions held in a classroom and in the University's tannery. The goal of the course was to understand the process of leather production to better understand why and how leather deteriorates and therefore better care for it from a preservation angle.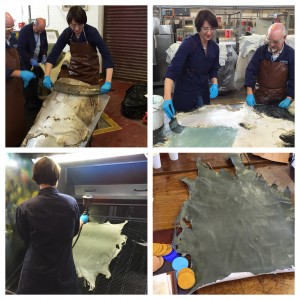 The group of 12 participants were mostly conservators and museum curators hailing from 8 different countries. On the first day we donned our Wellington boots and lab coats and went straight to work in the tannery de-fleshing and de-hairing hides. Each participant tanned a full hide by the end of the course using a mixture of medieval and modern techniques.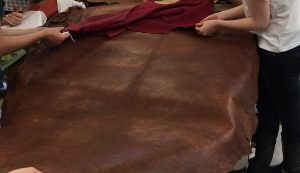 The practical sessions included sessions on the theory and chemistry of leather, the deterioration of leather and leather identification. The latter included samples of various leathers that included ostrich, chicken, manta ray and shark! We were also able to inspect a piece of leather recovered from the Metta Catharina shipwreck – a diced Russian hide from 1786 that was in perfect condition despite over 200 years underwater.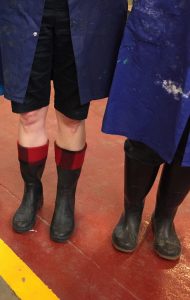 The only glitch was the weather – the course took place during the hottest summer on record in the UK. With no A/C and the need to wear Wellington boots and long sleeved lab coats creative solutions were in order – shorts and boots!