This post was written by Adrian Vaagenes, intern in the National Museum of American History Library.
One of the things that's wonderful about a library is the chance it provides to get lost down a rabbit hole, to discover something or someone you never heard about before, and bring it back up to light. One such rabbit hole I discovered last week started while shelving books at the National Museum of American History Library. I ran across a title that caught my eye, Sinbad of the Coast Guard . Written in 1945, the book chronicles the real life adventures of a dog who became the mascot for the USS Campbell during World War II. Coincidentally, tomorrow August 4th, marks the  225th anniversary of the creation of the "Revenue Marine", a maritime service to enforce customs laws which would later become the Coast Guard.  
The story itself is a fun one. After being snuck on board by one of the crew, Sinbad proves to be so popular among the men that he is actually enlisted by the Coast Guard, rising from the ranks of "Dog, First Class" to "Chief Dog."[1] His worldwide adventures include being kidnapped in Iceland, causing international incidents in Greenland, touring the Sultan's palace in Morocco, and battling German U-boats in the North Atlantic. Our copy of the book was not only owned by the Detroit mayor in 1945, Edward Jeffries, but is even signed by Sinbad himself with his very own paw print.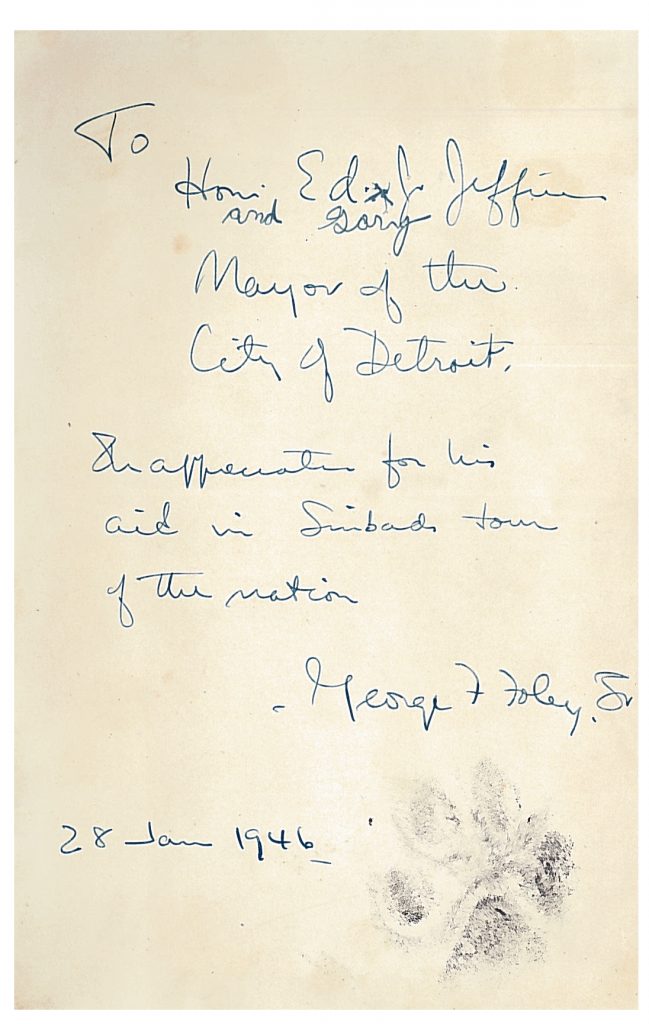 However, what captured me was not only the story, but the relief work by George Gray. His illustrations are incredible for their interplay of shadow and vibrant orange tone, perhaps channeling cartoonist Milton Caniff, a famed cartoonist of the period.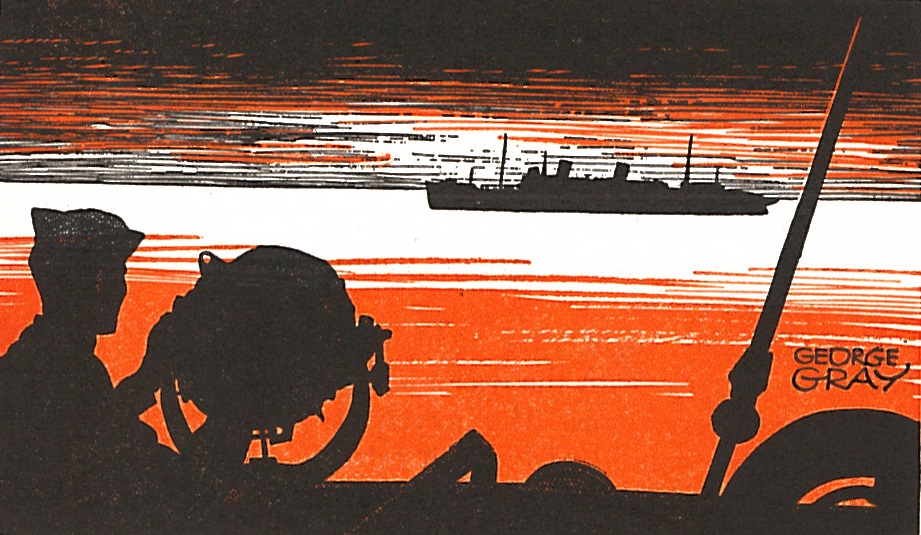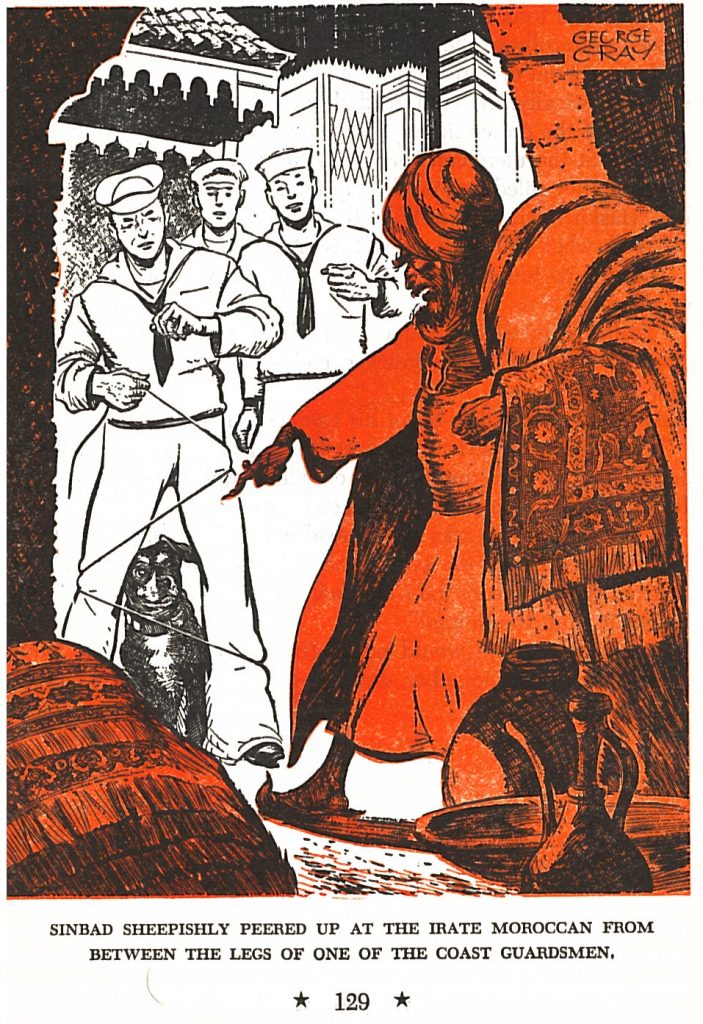 Some of the illustrations have an almost otherworldly quality, reminiscent of French artist Moebius: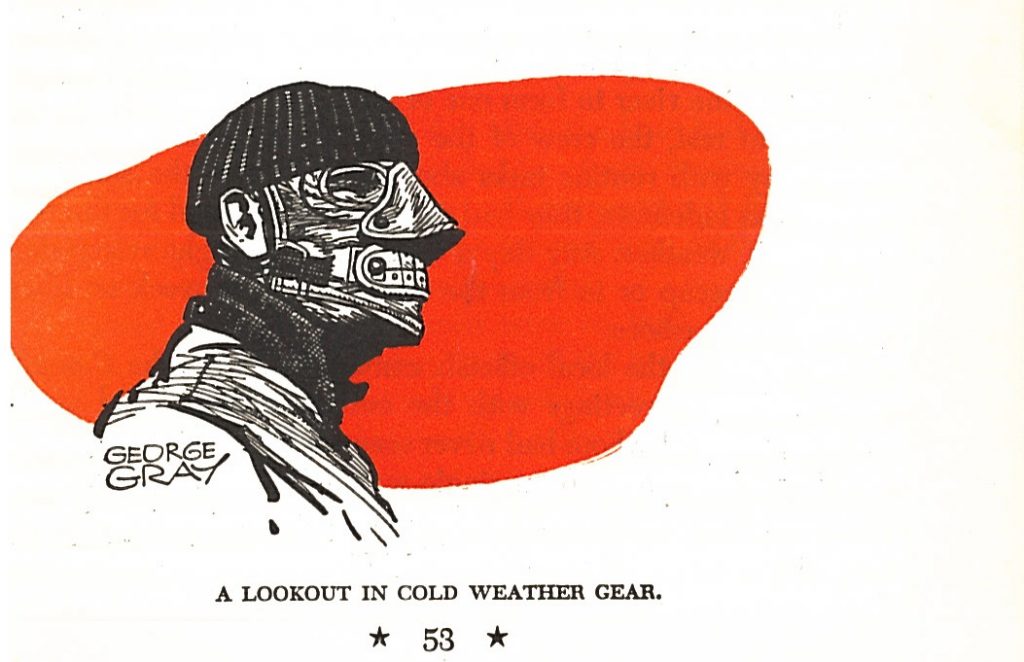 Though not without their comic strip influence, Gray's work isn't derivative, but motions beyond the confines of the comic rectangle. There are a number of illustrations that take up two pages, and seem to stretch beyond the book with their dynamism and scope. In each, the balance of figures and use of a space reveal an artist of uncommon ability.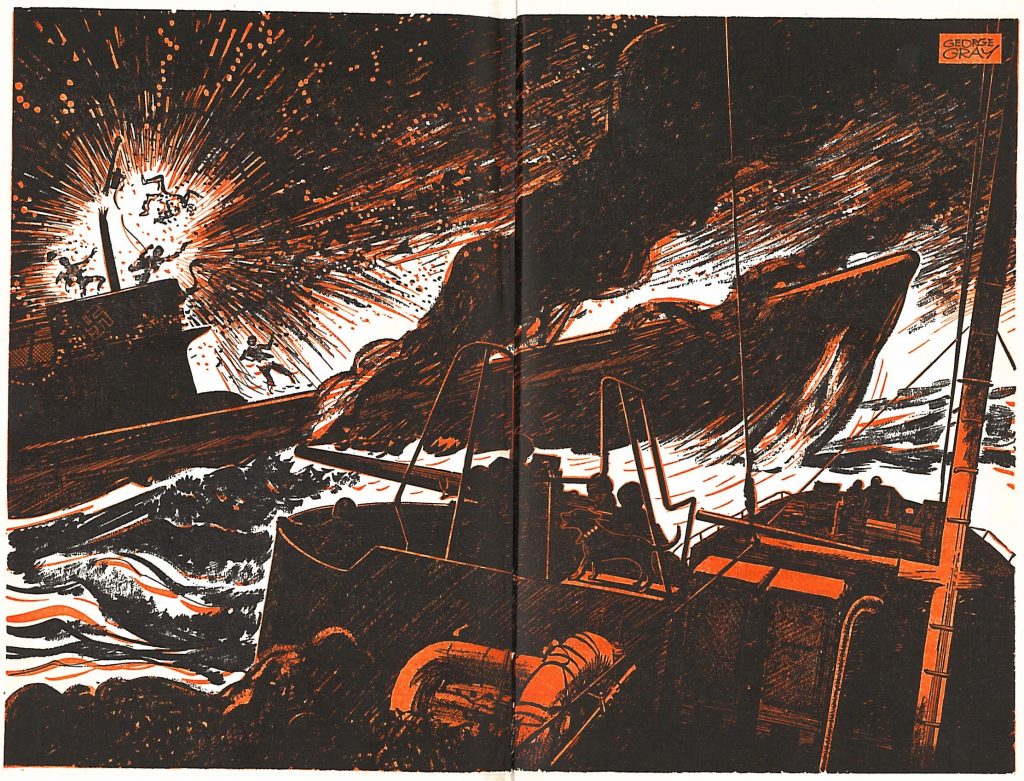 For someone of his skill, Gray is almost an unknown, and from what I could discover, illustrated only two other books, both travelogues of Scandinavia. After reaching out to the Coast Guard Museum, and digging through newspaper archives, journals, and government documents, I was able to fill in some of the pieces. Born in 1907 in Harrisburg Pa, Gray began his artistic career as a Works Progress Administration muralist for the American Hotels Corporation.[2] During the 1930's he painted over 200 murals depicting historic events all throughout the country for different hotels.[3] Unfortunately, only a few remain, two of which now hang in the New York State Military Museum . He also worked as an illustrator for the US Infantry Journal, the US Cavalry Journal, and served as staff artist for the New York National Guardsman Magazine.[4] In 1942, he enlisted in the Coast Guard, and served as a combat artist.[5] Gray's skills as a muralist, and familiarity with the military and combat, are in evidence throughout his work for Sinbad.
Though officially discharged from the Coast Guard in 1946, Gray remained involved with the military for the rest of his life. During the Vietnam War, he ran the NACAL program (Navy Art Cooperation and Liason Committee) in conjunction with the Salmagundi Art Club in New York, attracting artists for work in Vietnam.[6] When that program was disbanded, Gray helped create and direct a similar program for the Coast Guard in 1981, called COGAP (Coast Guard Art Program). Though Gray died in 2004 at the age of 97, the program continues to this day, with an award in his name given for artistic excellence.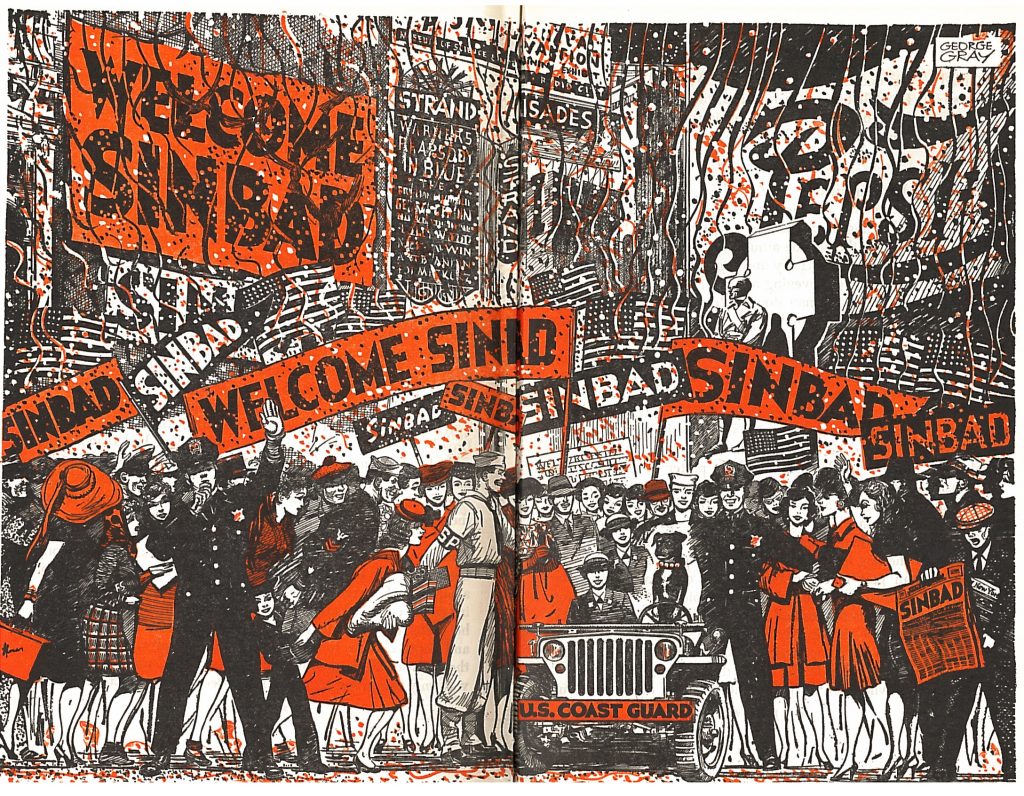 For those interested in reading more about Sinbad, and seeing Gray's marvelous illustrations in person, the book can be checked out at the NMAH Library.
Special thanks to Smithsonian Graphic Arts Curator, Helena Wright, and NMAH Reference Librarian, Jim Roan, in providing helpful direction for the research for this post.
[1] George F. Foley Jr., Sinbad of the Coast Guard, (New York: Dodd, Mead & Company, 1945), 110-111.
[2] H. Avery Chenoweth, Art of War: Eyewitness U.S. Combat Art from the Revolution through the Twentieth Century. (New York: Michael Friedman Publishing Group), 168.
[3]"Sinbad Author Guest Speaker", Nassau Daily Review-Star, November 13, 1945, pg. 5, accessed July 15, 2015, http://fultonhistory.com/Newspapers%2023/Freeport%20NY%20Daily%20Review/Freeport%20NY%20Daily%20Review%201945%20Nov/Freeport%20NY%20Daily%20Review%201945%20Nov%20-%200237.pdf
[4] Eric Durr, "Painting honoring Benedict Arnold Finds new Home in New York Military Museum", New York National Guard March 1, 2013, Accessed July 15, 2015, http://www.nationalguard.mil/News/ArticleView/tabid/5563/Article/574296/painting-honoring-benedict-arnold-finds-new-home-in-new-york-military-museum.aspx
[5] National Archives and Records Administration. U.S. World War II Army Enlistment Records, 1938-1946[database on-line]. Provo, UT, USA: Ancestry.com Operations Inc, 2005. Accessed July 15, 2015, http://search.ancestrylibrary.com/cgi-bin/sse.dll?gss=angs-c&new=1&rank=1&msT=1&gsfn=george+r&gsln=gray&mswpn__ftp=Harrisburg%2c+Dauphin%2c+Pennsylvania%2c+USA&mswpn=13708&mswpn_PInfo=8-%7c0%7c1652393%7c0%7c2%7c3244%7c41%7c0%7c822%7c13708%7c0%7c&MSAV=0&msbdy=1907&catbucket=rstp&uidh=9sj&pcat=39&h=5497584&recoff=10+11+12&db=WWIIenlist&indiv=1&ml_rpos=3
[6] Chenoweth, Art of War. 168.