The Smithsonian staff publications below are those that have generated the most media and online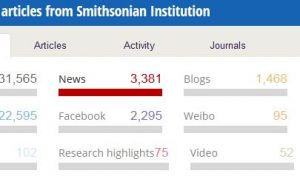 activity for 2015. Congratulations to those authors whose work has been picked up by news, bloggers and other social media users and whose ideas therefore are propagated beyond readership of the source publication.
This group was culled from among 1500 publications tracked by the online service, Altmetric and assigned a score based on online attention paid by interested parties. Those with the top 25 Altmetric scores are shown here.