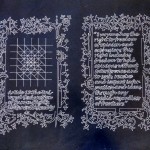 This post was written by American Art/Portrait Gallery (AA/PG) Library intern Sharon Wolff. Sharon is an MSIS grad student at SUNY at Albany in New York, and came down to DC to intern with the AA/PG from the end of December through most of January. She primarily worked on cataloging the Art and Artist Files while she was there, along with the upcoming Al-Mutanabbi Street Starts Here exhibit.
I wasn't entirely sure what to expect when I was accepted as an intern for the Smithsonian AA/PG Library in DC, but I certainly could not have predicted that I would accompany Anne Evenhaugen to George Mason University to pick up artists' books and prints for an exhibition on my second day. I wasn't even sure what an artist's book was, so the whole trip was a great learning opportunity for me!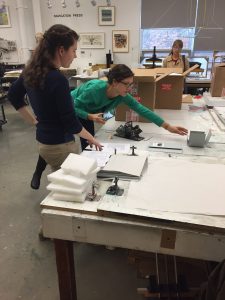 The materials were for Al-Mutanabbi Street Starts Here; an artistic endeavor to process and react to the bombing of al-Mutanabbi street in Baghdad in 2007. This was an event that took the lives of 30 people and destroyed a large section of a street that had been, and continues to be, inhabited by booksellers. The project has amassed an inventory of over 500 works of art from around the world and in many disciplines, including poets, artists, printers, and writers. The pieces intended for display in the AA/PG exhibit in 2016 were primarily broadsheets, prints, and artists' books.
Once we got there (and the concept of an artist's book was explained to me), we set about selecting prints for our exhibit and going through the artists' books that had been set aside for us. This was when the "real" learning started for me: I knew next to nothing about creating an exhibit display, only what my experiences as a viewer and basic common sense told me. I hadn't ever really had to consider the size of a piece as compared to the available display space and number of other works, or keeping a work intact while on display, all the while choosing pieces that fit with the institution's mission. I had to look at a work and move beyond "Ooh, pretty!" to "Ooh, pretty! And opens flat, takes up little space, has no loose parts, and is by an American artist!"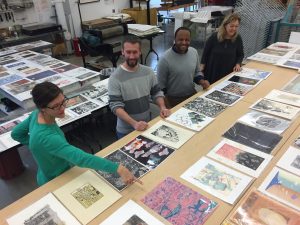 Later came more learning about how to actually put up an exhibit: what kind of supports the different works might need, where to put up informational signs, what to put in informational signs, what sort of food to put out on opening night (things that are easily carried and don't leave greasy marks or a mess, like nuts), and how the visitors should be allowed to interact with the works (varies by contract, in this case, not at all). But for the time being I was brimming with new information. By the time we left George Mason University, I had seen some wonderful artworks, met some great people, and had had a crash course in creating an exhibit; a full day if ever there was one. I thought that pieces we had looked at that day were going to make a pretty great display and I was feeling good about what would be in store for me for the rest of my internship. And so far, I was right.
More information about Al-Mutanabbi Street Starts Here can be found at the website for the DC 2016 festival, which will feature numerous exhibitions, readings, workshops and events between Jan-Mar 2016.  More information on "Come Together: American Artists Respond to Al-Mutanabbi Street" can be found on AA/PG Library events page.