The Smithsonian Libraries are contributing an Ozzy blog post in honor of The National Museum of American History's kickstarter campaign to #Keep Them Ruby.
Sometimes referred to as "the Harry Potter of its time", The Wonderful Wizard of Oz was an enormous success. Published in 1900, author L. Frank Baum and illustrator W.W. Denslow created what is widely regarded as America's first fairytale. The popularity grew into a series of 40 stories, as well as countless pastiches exploring the land which Baum created.
The World of Oz extends beyond books, there were a number of theatrical presentations and films about Oz, including the 1939 MGM classic. The International Wizard of Oz Club, "founded in 1957 to bring together all those interested in Oz, its authors and illustrators, film and stage adaptations, toys and games, and associated memorabilia. Today it has members of all ages throughout the world" (ozclub.org visited 11/15/2016). Be them scholars, collectors, theater or film buffs, Oz enthusiasts worldwide find a variety of ways to embrace the world and enduring legacy created by Baum.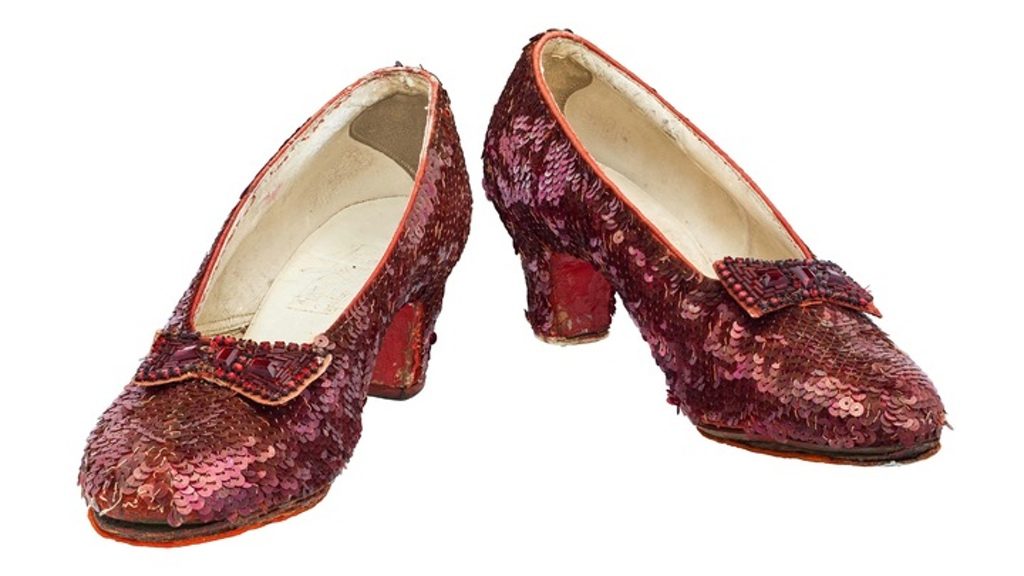 This Ozophile librarian, who has collected Oz materials since grade school and focuses on non-movie memorabilia and translations of the stories, interviewed a fellow Oz enthusiast, Michael Gessel, about his collection for this blog post. Michael is the recipient of the 1999 L. Frank Baum Memorial Award from the Oz Club. He has served as editor-in-chief of the Oz Club publication, The Baum Bugle, and currently serves as the Treasurer for the Oz Club.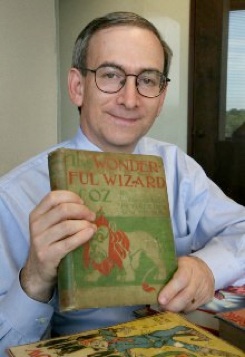 Interview between Carrie and Michael, November 1, 2016
Carrie: How did you get started collecting Oz?
Michael: I've always been a collector, starting with shells, rocks, stamps, and coins. My mother, who was a librarian, encouraged me to read the books in the Oz series, which I discovered the summer after third grade. I was immediately enthralled by the books, and I set out to buy copies for my own library. I learned that the earlier editions had beautiful color illustrations and many non-Oz books by Baum were out of print. That sent me scurrying to used book stores to track down those early volumes. From there, I branched out to collecting other authors associated with Baum and Oz.
Carrie: Within the world of Oz collecting, what is your main interest?
Michael: I'm particularly interested in anything that predates the 1939 M-G-M motion picture. That includes books written by L. Frank Baum and all the memorabilia associated with the early Oz movies, games, and theatrical productions. (The Wizard was a smash Broadway musical in 1903 and there were several motion pictures that predated the Judy Garland classic.) I also have some promotional material from the M-G-M film and later motion picture and stage versions of Oz. I focus on books, paper, and two-dimensional objects—anything that can be stored on a bookshelf or in a flat file. I also collect books, drawings, posters, and prints by W.W. Denslow, who illustrated The Wonderful Wizard of Oz and a few other books by Baum. And I have a particular interest in Jack Snow, who came from my hometown of Dayton, Ohio. Snow wrote two books in the Oz series and was an enthusiastic Oz collector himself.
Carrie: Have you shared your collection and knowledge with the public in the past, and if so, how?
Michael: I think it's every collector's dream to pull his treasures out of the closet and share them. The biggest thrill was having some of my items on display at the Library of Congress for an exhibit The Wizard of Oz, An American Fairy Tale, marking the 100th anniversary of the publication of The Wizard. I've loaned drawings and posters for exhibits at the Eric Carle Museum of Picture Book Art, the Brandywine River Museum, and Wright State University. I organized an exhibit of Denslow's books for children at the University of Pennsylvania and loaned a number of items from my collection. From time to time, I've given talks on various aspects of Oz. Two topics I've covered are Jack Snow and the myth that the Wizard of Oz is a political allegory. (The Oz-as-allegory theory makes a good story, but sorry, it's not true.)

Carrie: What is available for Oz collectors?
Michael: Oz is a bonanza for collectors. The Wizard has been translated into just about every language and illustrated by dozens of different artists. There are comic books, games, audio records, puzzles, dolls, plates, posters, figurines, postage stamps, postcards, and promotional tie-ins with everything from hamburgers to soap. There are even obscure Oz collectibles like a piano roll and carpet sweeper. The Wizard was just the first of 40 books in the Oz series, and books are still being written with Oz characters. Many of those books are the basis for movies and theatrical productions, each generating more promotional materials and tie-ins.
Carrie: What is the enduring appeal of Oz?
Michael: The initial success of The Wonderful Wizard of Oz was due to Baum's power as a storyteller and Denslow's charming book designs. But that doesn't explain how the Wizard of Oz has gone to be a success in other media, including movies and stage musicals. The Wizard is the great quest because in the end, Dorothy finds that what she is seeking she has all along. She gets what she wants through her own strength, not from a figurehead who pretends to be powerful. This a timeless message of hope that can have meaning for everyone. The story also poses the question of whether brains, heart, or courage is most important. The story appealed to American children at the beginning of the 20th century, and it has captivated people of all ages all over the world ever since.
The Smithsonian Libraries want to thank Michael for graciously agreeing to contribute to this blog post about The Wizard of Oz in its many incarnations. You can view Baum's Ozma of Oz (1907) from the Smithsonian Libraries collection in the exhibition Fantastic Worlds: Science and Fiction, 1780-1910.
Save
Save
Save
Save
Save
Save
Save
Save
Save
Save
Save