I See Wonder is a resource designed for educators that provides a wonderful way to spark inquiry, analysis, and discussion. By visually exploring our images, you can bring the Smithsonian Libraries collections into your classroom. Use I See Wonder as a morning exercise, a way to introduce a new topic, or to discover your students' interests. Share what you See.  Awaken your Wonder. All through February start your journey and help us find our missing mascot, WONDER.  Jump into the scavenger hunt created by our teen council, VAULT, to help find WONDER and browse our collections. We encourage teachers, students and life-long learners to join the hunt!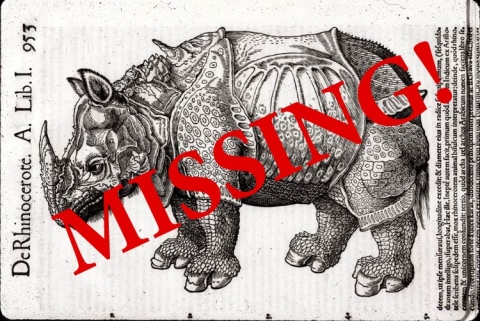 Download the PDF for instructions!
#WHEREDIDWONDERGO? JUMP INTO THE VAULT SCAVENGER HUNT TO FIND OUT!
WONDER, our mascot has been taken!
His book was a mess, there was a break in
We need your help, we're all too shaken
Search the I See Wonder collections
From image to image find clues and directions
It's up to you to make the connections
Start with our missing pal, the rhino
follow the trail and let us know
#wheredidwondergo?
–Good luck, and let us know on Twitter or Facebook if you found out #WhereDidWonderGo?
Save
Save
Save
Save
Save
Save
Save