This year, February 4th marks the 115th birthday of one of America's heroes of flight: Charles Lindbergh. To commemorate his birthday, the Smithsonian Libraries examines The First Flight from New York to Paris by Colonel Ch. A. Lindbergh.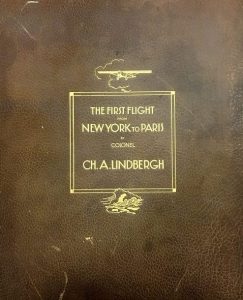 Housed in the DeWitt Clinton Ramsey Room in the National Air and Space Museum Library, the colossal book weighs in at 26 pounds and is one of only 13 original copies published in 1927 by the Vacuum Oil Company of New York. While the other copies were presented to Lindbergh, foreign dignitaries, and executives of the Vacuum Oil Company, this particular copy was dedicated to the Smithsonian Institution.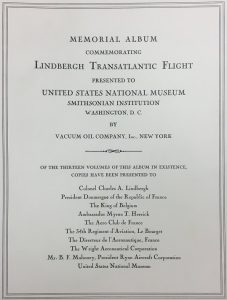 In an time when we are almost 50 years separated from man first setting foot on the moon and now capable of virtually instantaneous communication around the planet, fully appreciating Lindbergh's accomplishment requires a better sense of perspective. In Lindbergh's time, traveling across the United States still required trains, and traveling across the Atlantic and Pacific Oceans could only be accomplished by ocean liner. Such voyages took days, if not weeks.
In 1919, however, Raymond Orteig went before the Aero Club of America in New York City and announced that he would offer a prize of $25,000 to the first person who could cross the Atlantic Ocean–alone and non-stop. While there were several unsuccessful attempts, it would be eight years before 25-year old Charles A. Lindbergh accomplished the feat in 1927.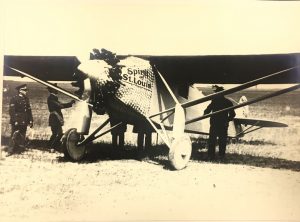 Using the famous Spirit of St. Louis, Lindbergh flew over 33 straight hours in an aircraft lacking a front window. A marvel of aerodynamic design, the Spirit of St. Louis had four fuel tanks (one of which was placed in front of the cockpit) and an engine designed to maximize fuel efficiency.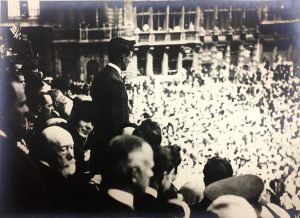 Upon completion of the feat, Lindbergh used the Spirit of St. Lous to tour around Europe, meet with foreign dignitaries, and promote air transportation. His travels are well captured in The First Flight from New York to Paris by Colonel Ch. A. Lindbergh, through an abundance of rich photographic images and fold-out replicas of newspaper clippings.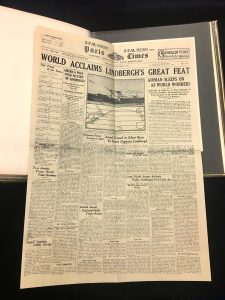 For more on this fascinating book, please visit F. A. Bernett Books' blog entry, "The First Flight from New York to Paris."
Save
Save