Mark your calendars! In conjunction with Smithsonian Gardens, Smithsonian Libraries is pleased to present the first two events in our Cultivating America's Gardens programming. Explore and celebrate the history of American gardening with us!
World's Fair Gardens: Shaping American Landscapes and Garden History
3:30pm, Tuesday, May 16, 2017
Warner Bros Theater at the National Museum of American History
12th Street and Constitution Ave NW
Washington, DC
Cathy Jean Maloney, author of World's Fair Gardens: Shaping American Landscapes,  will describe how nine World's Fair landscapes forever changed America's major urban green spaces and private backyards. Sharing color images from the gardens of America's greatest expositions, she will show how these trends filtered into home gardens and growers' hothouses. From Frederick Law Olmsted's work at Chicago's 1893 World's Fair to a "dream team" of landscape artists at the 1940 New York World's Fair, Ms. Maloney will bring the gardens of the world's fairs to life.
Additional event details and RSVP information: http://library.si.edu/event/worlds-fair-gardens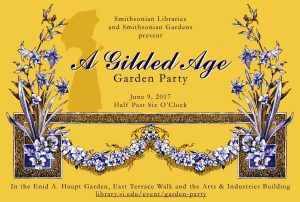 A Gilded Age Garden Party
Friday, June 9, 2017, 6:30pm
East Terrace of the Enid A. Haupt Garden
Arts and Industries Building
900 Jefferson Drive, SW, Washington, DC
Dubbed America's 'Gilded Age' by Mark Twain and Charles Dudley Warner, the period between 1870 and 1900 was a time of both great opportunity and extreme economic disparity. Fabulous fortunes were made. The rich displayed their wealth in ornate mansions and grand gardens, and the era saw a surge in philanthropic support for libraries, museums, and public gardens. Garden parties, both extravagant private affairs and public festivities, were a hallmark of the age. On June 9 we invite you to step back in time to celebrate this important time in American garden history with us.
Tickets available now. Additional details: http://library.si.edu/event/garden-party
Save
Save
Save
Save
Save
Save
Save
Save
Save
Save
Save
Save
Save
Save
Save
Save