This post was written by Abigail Espiritu, a summer intern focusing on social media and the Libraries' blog. This fall, Abigail will be entering her freshmen year at the University of Maryland where she will be majoring in journalism.
On August 8th, 2017, the Smithsonian Libraries opened their newest exhibition in the National Museum of Natural History (NMNH), Dazzling Diversity: The Insect World. The exhibition is located on the Ground Floor of the museum, showcasing a selection of the Libraries' very own books that go along with the "Dazzling Diversity" insect display featured in Objects of Wonder on the second floor of NMNH.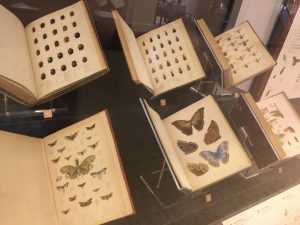 The historic books on display offer a better look at the most diverse species on this planet, insects! Not only are these on physical display, but the books have been digitized by the Libraries and are in the Biodiversity Heritage Library, available to the public here. The books available in the Biodiversity Heritage Library constitute an amazing and extensive resource for the study of insects (as well as other life), providing a unique record of scientific knowledge, and now they are available to everyone.
Visit the exhibition's Flickr page here to see the gorgeous, detailed illustrations inside every book that is on display. Browse among a great collection of literature that provides insight and background to the display of insects in Objects of Wonder.
Here is a page taken from one of the books on display that has been digitized as well, entitled Papillons d'Europe, peints d'après nature [Butterflies of Europe, painted after nature]. To see more books and illustrations like this one, visit the full digitized collection as well as the physical display that will be available until October 2018. You can also follow along in social media with #DazzlingDiversity!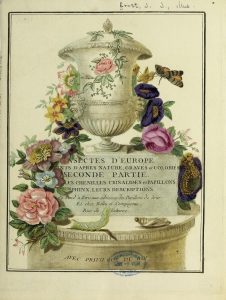 Save
Save
Save
Save