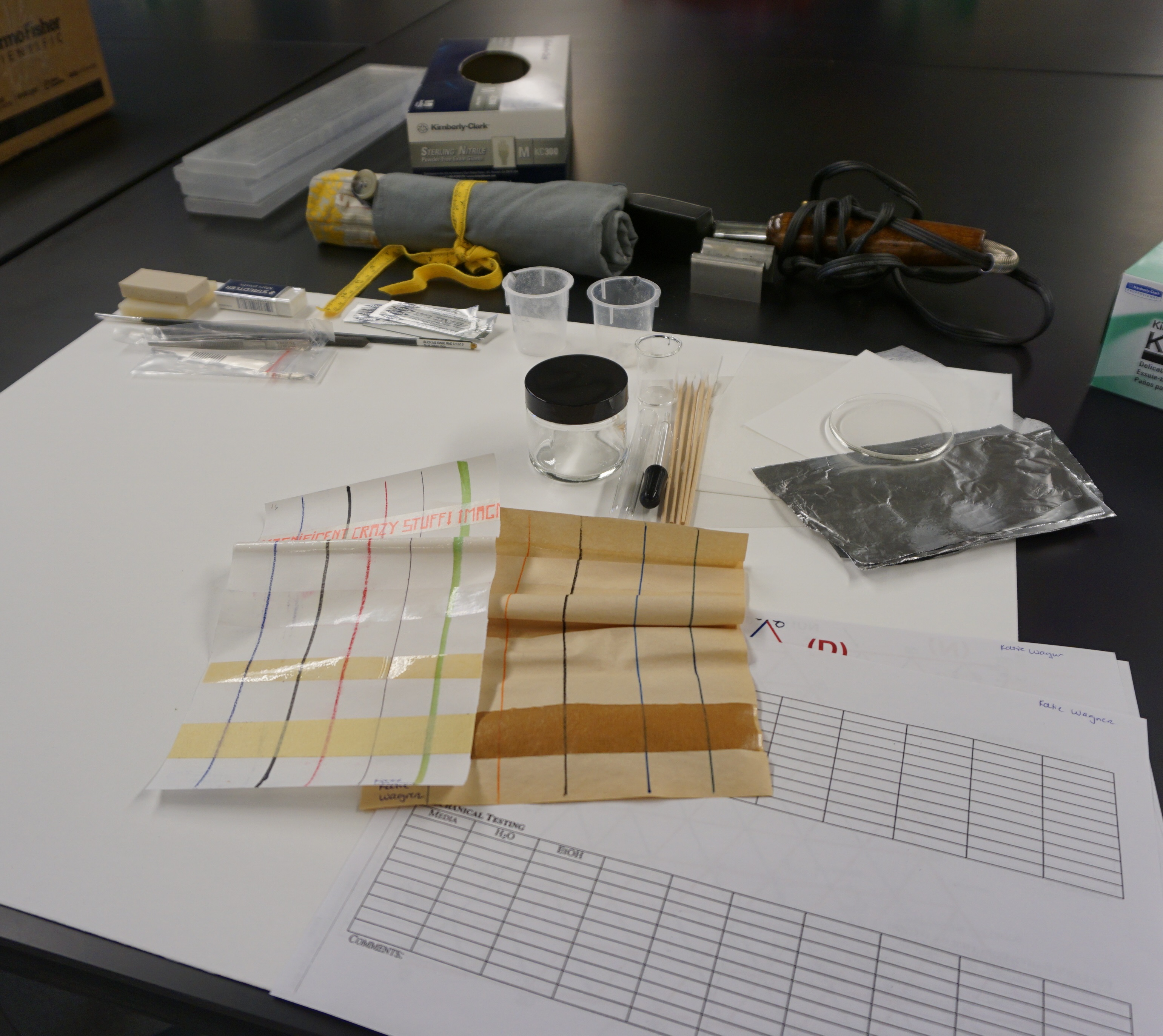 In early March, the Smithsonian Libraries Preservation Department hosted the workshop: "Removal of Pressure Sensitive Tape and Tape Stains". The instructors Linda Stiber Morenus and Elissa O'Loughlin have taught this course throughout the US and abroad for over 25 years. At our Smithsonian facility in Landover, Maryland, participants received in an overview of pressure-sensitive tapes, their production methods and manufacturing history, tape and adhesive identification, removal techniques, aspects of organic solvent use, stain removal using solvents, and collections care and decision making. The intense five-day workshop with 12 participants was a combination of lectures and practical applications of tape removal in the conservation laboratory.
Pressure-sensitive tapes consist of two parts – the backing (or carrier, made of plastic, cloth, paper, foil) and the adhesive. Two types of adhesives include those made from rubber and those made from acrylic polymers. Generally, adhesives consist of formulas that include elastomers, tackifiers, and plasticizers. It's ideal to remove the tapes soon after application if at all possible. Otherwise, the adhesive's solubility parameter can change, causing more damage and possible penetration of adhesive into the paper substrate. Therefore, making the distinction between tape varieties and their condition, interaction with various materials and media, and identifying the purpose for removal is most important for performing a successful treatment.
Discussions initially focused on the practice of dry and mechanical removal of the carriers with scalpels and microspatulas. Also explored was the use of heat to remove carriers, poultices made with Fuller's Earth to control the movement of solvents, and the use of solvents directly on the residual adhesive and stains.
It was quite a revelation to identify the variety of tapes that have been used on library and archive materials. Of course, keeping up with developments and trends in tape production can assist to guide future conservation approaches in this area.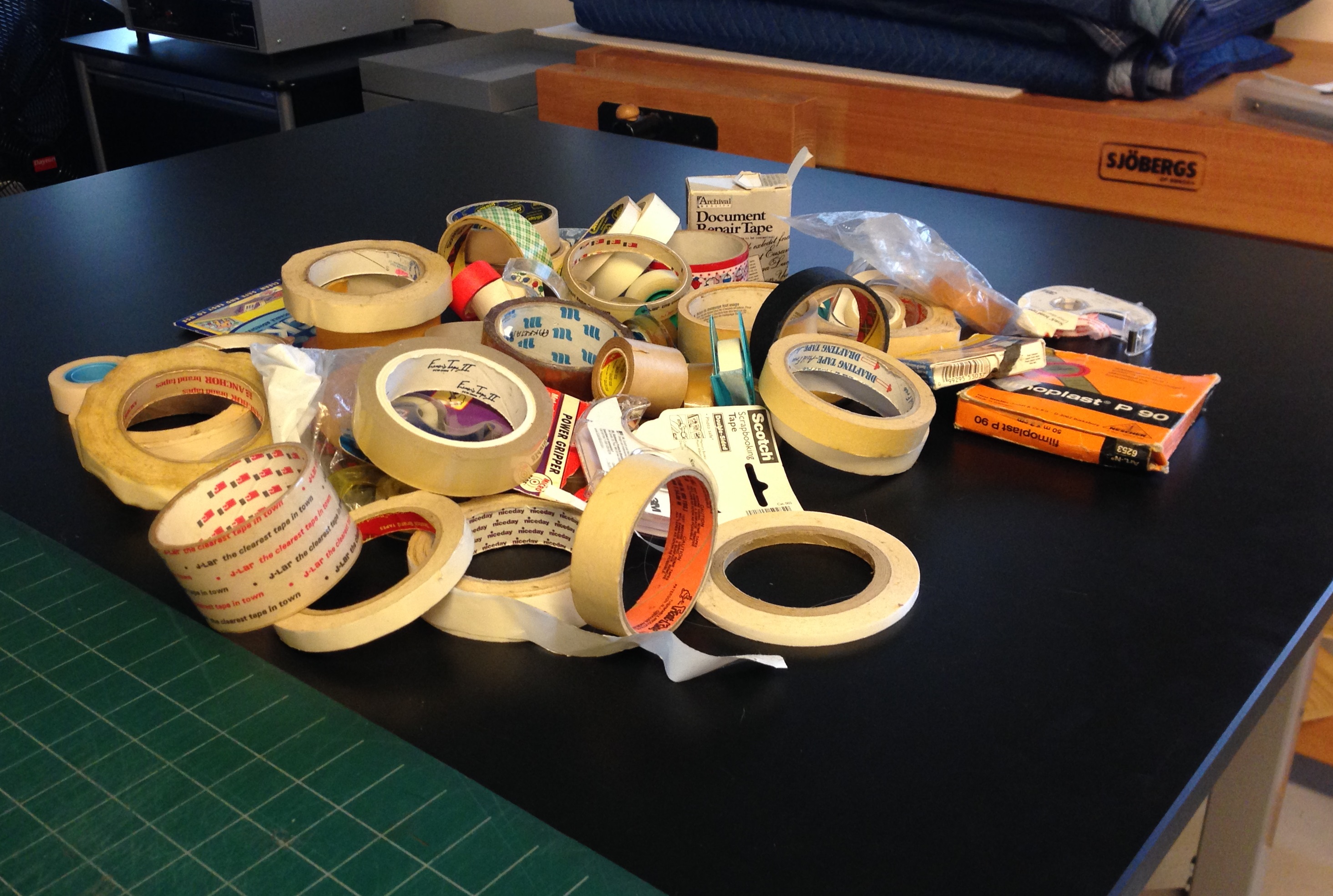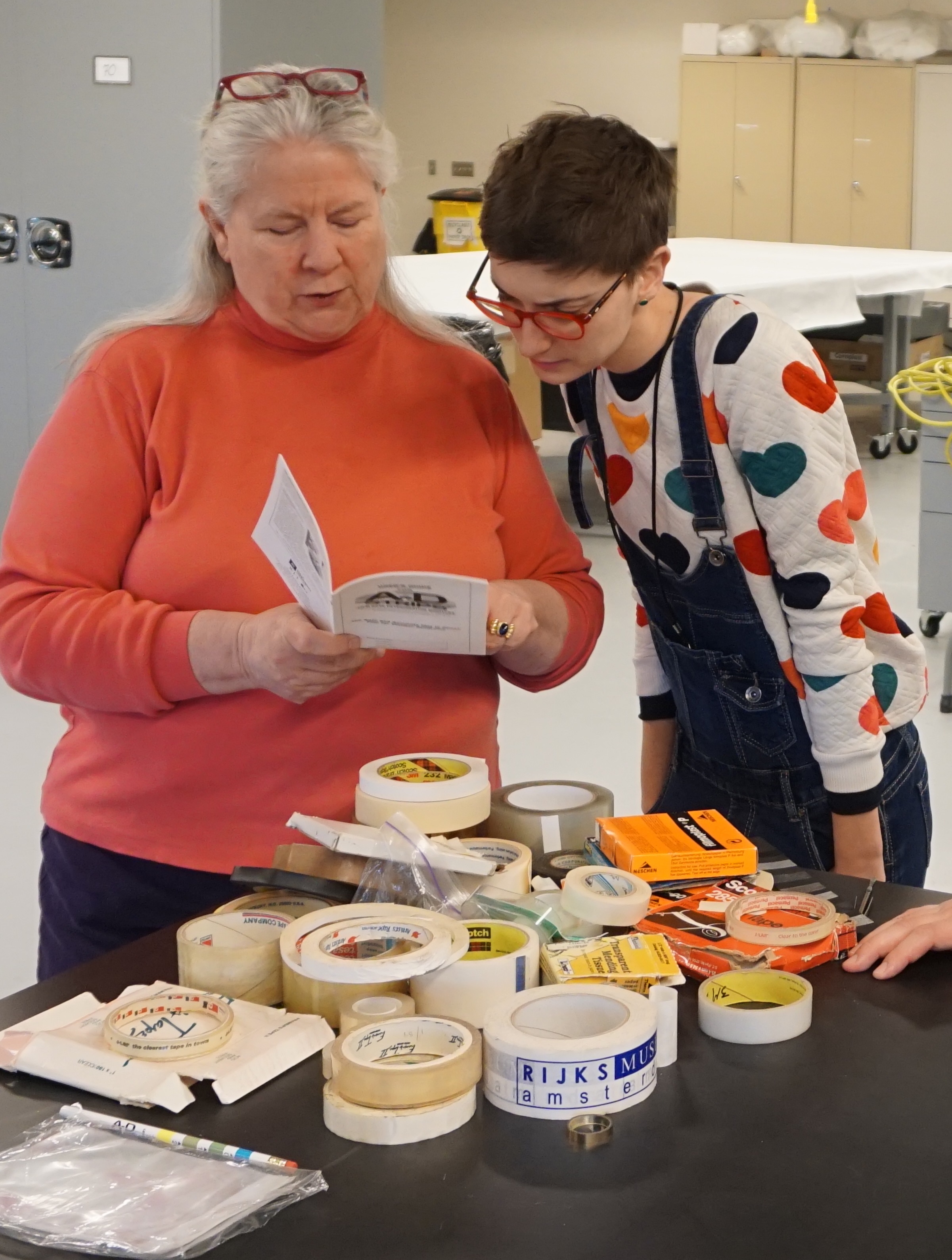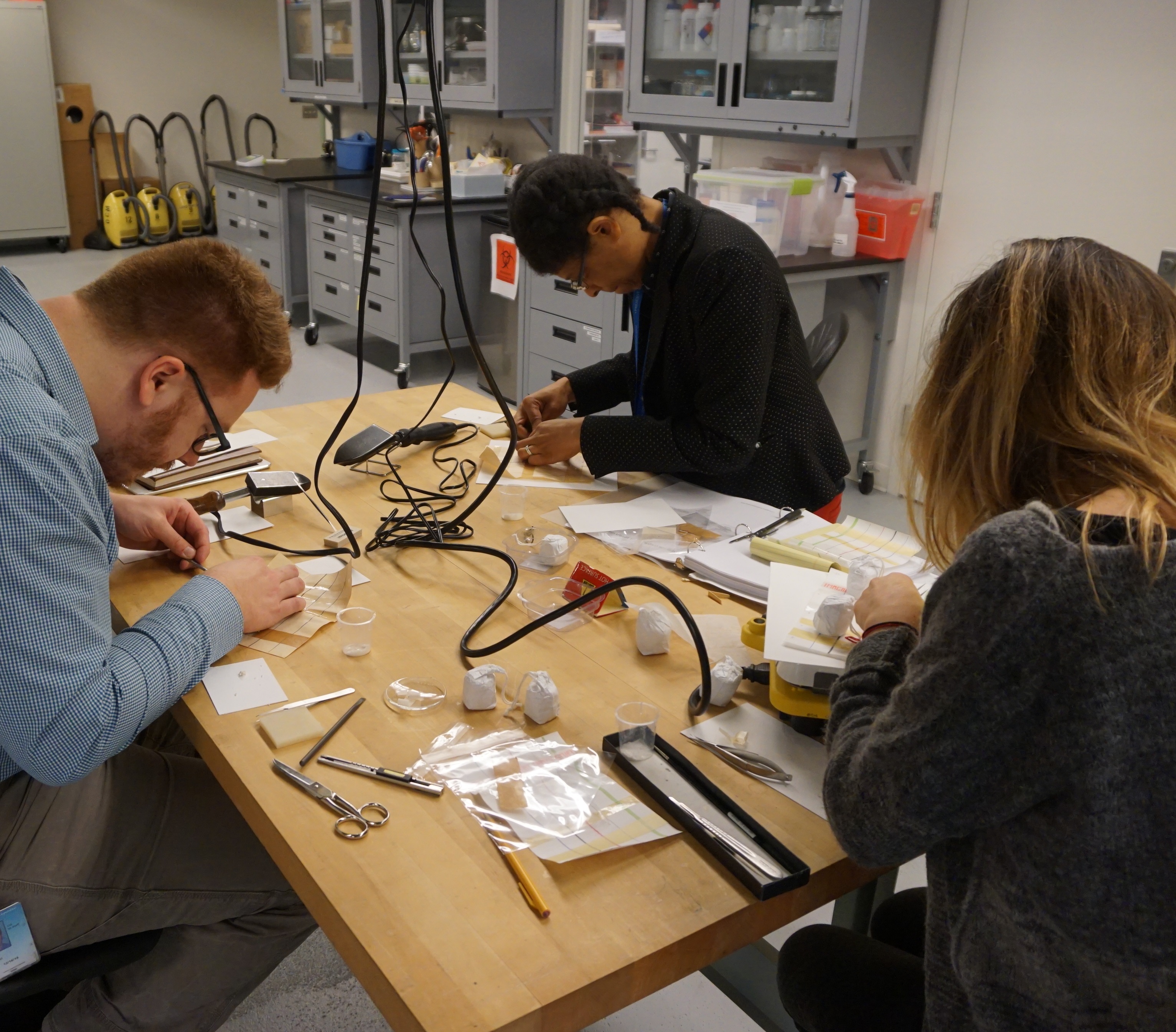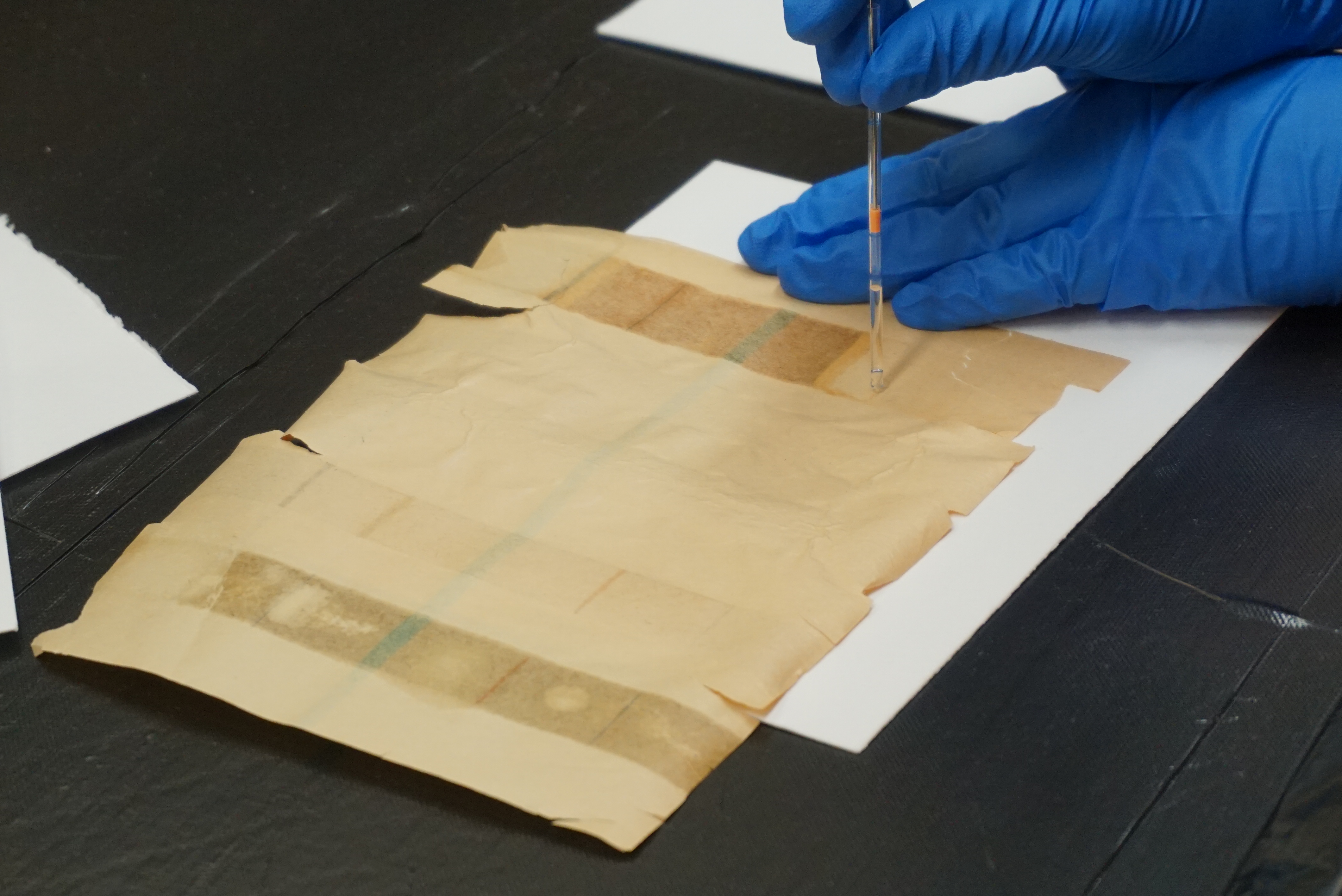 I'd like to extend a huge thank you to all participants for their enthusiasm and the Smithsonian Libraries for their continued support. Thank you to Book Conservator, Katie Wagner, for her photographs. Many thanks go to the National Museum of African American History and Culture who shared their conservation lab space.  And, of course, a special thanks to Linda and Elissa for their patience, dedication, and encyclopedic knowledge.