As might be expected, firefighting equipment from the late 19th Century was a bit different from what we are used to seeing today. This trade catalog takes us back in time for a glimpse of the uniforms, trucks, and other equipment firefighters might have used in that time period.
Fire Apparatus and Fire Department Supplies of Every Description is a circa 1879 trade catalog by Caswell Fire Department Supply Co., which was successors to Caswell Improved Coupling Co. It includes illustrations and descriptions of hook and ladder trucks, hose carriages, hoses, nozzles, uniforms, and more.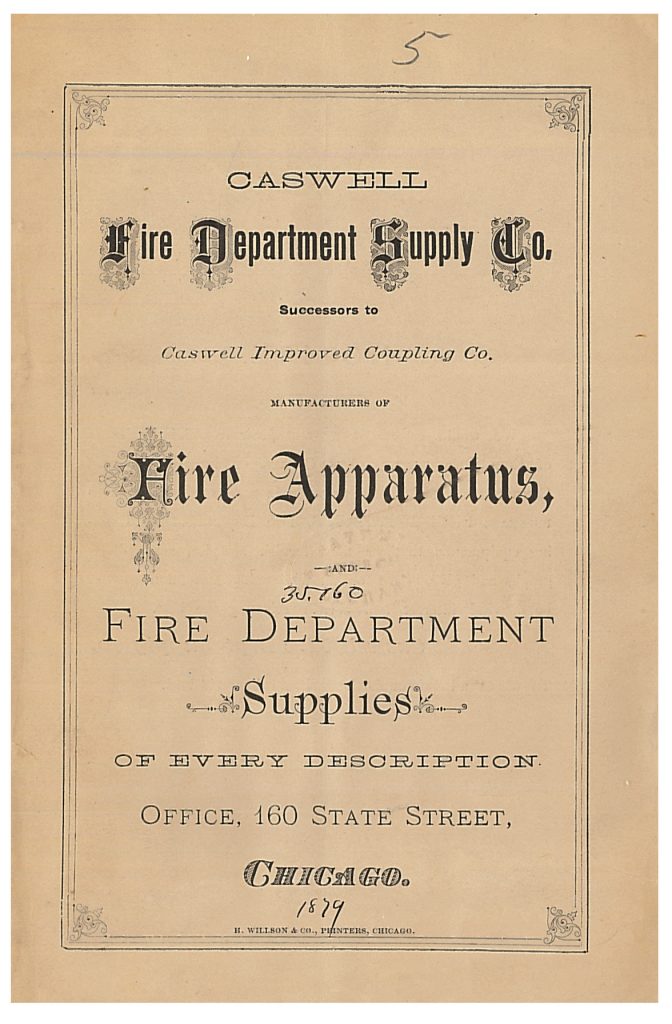 An essential thing for a fire department is the truck to reach the scene of a fire. Illustrated below are several types of trucks and carriages, horse-powered of course. There were hand hook and ladder trucks designs for small cities and large villages as well as horse-led hook and ladder trucks suitable for large cities. The hook and ladder truck, shown below in the top left illustration, was led by two horses and was equipped with apparatus to steer the truck. Two hose carriages for carrying hose to the scene of a fire are also shown below. One or two horses led these carriages.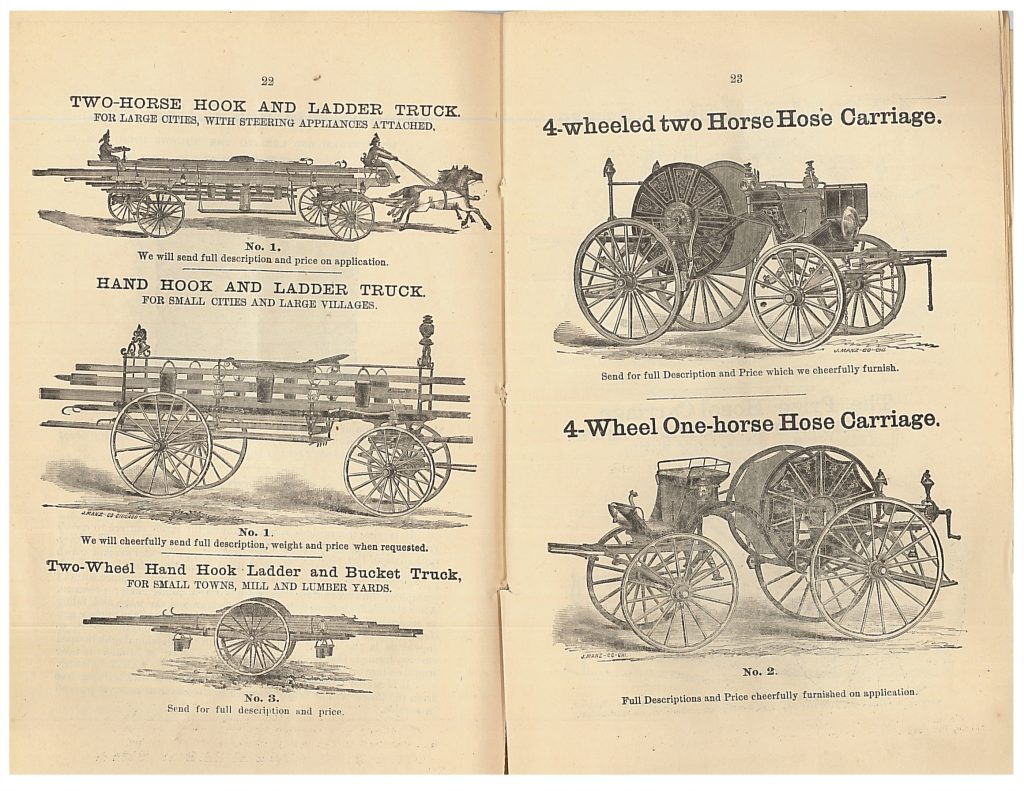 Another piece of equipment a firefighter in the late 19th Century might have used was Caswell's Improved Air Nozzle. According to the catalog, this nozzle had the ability to hold together a solid stream even at long distances. It was able to do this by drawing in air at the base and surrounding the stream as it left the tip. This was helpful for firefighters needing to reach long distances on upper floors.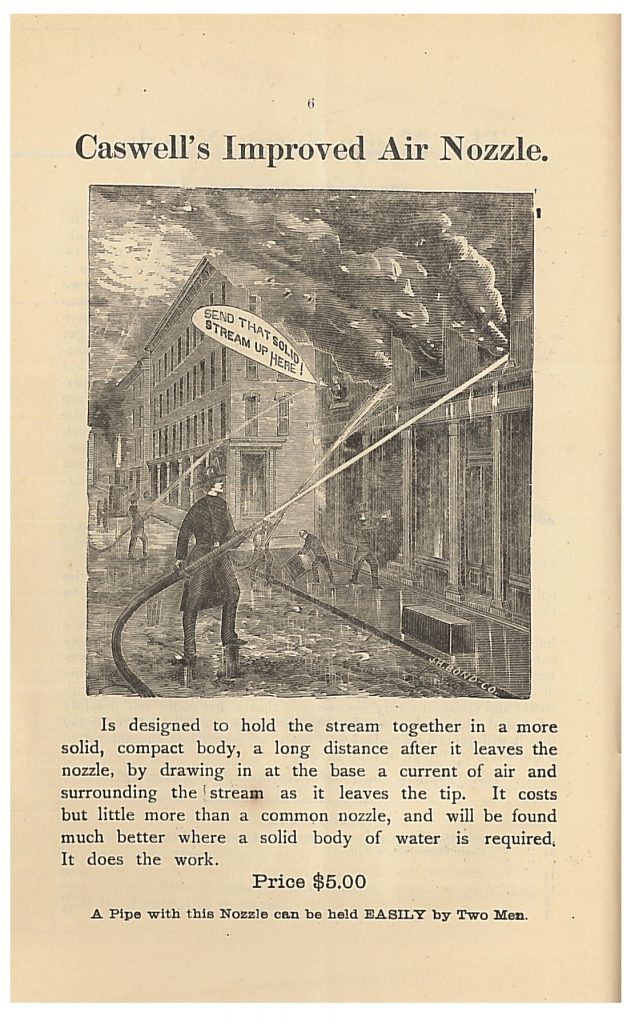 Caswell Fire Department Supply Co. also sold uniforms, including shirts and hats. One type of hat was the Fire Department Regulation Eight Cone Hat, which looks similiar to the helmets still used today. These hats were available in black with white letters on the front. They came in light, medium, or heavy weight. The initials of the city or town fire department could be included on the hat as well as words such as Steamer, Engine, or Hose. The catalog warns against customization for a specific firefighter: including initials of a firefighter's name made it difficult for a departing firefighter to give his hat to another coworker.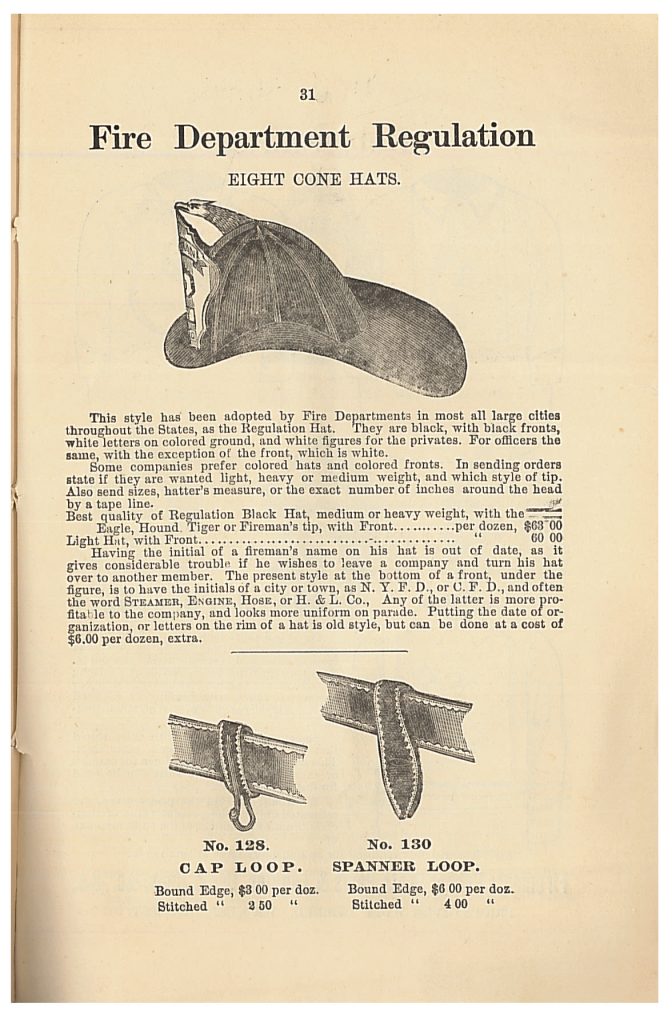 Duty Shirt Style No. 1 was a plain style. It was available in dark blue or red flannel. Duty Shirt Style No. 2 was also made of flannel, but included white cloth letters or figures on the front with a stripe around the collar, cuffs, and shield.
Another style was the Short Jacket Shirt, which opened on the front or side and was worn outside the pants. The shirt was plain, but if desired, an extra shield could be buttoned onto the plain shirt. The plain shirt was for regular everyday work while the buttoned-on extra shield was for special events, such as parades.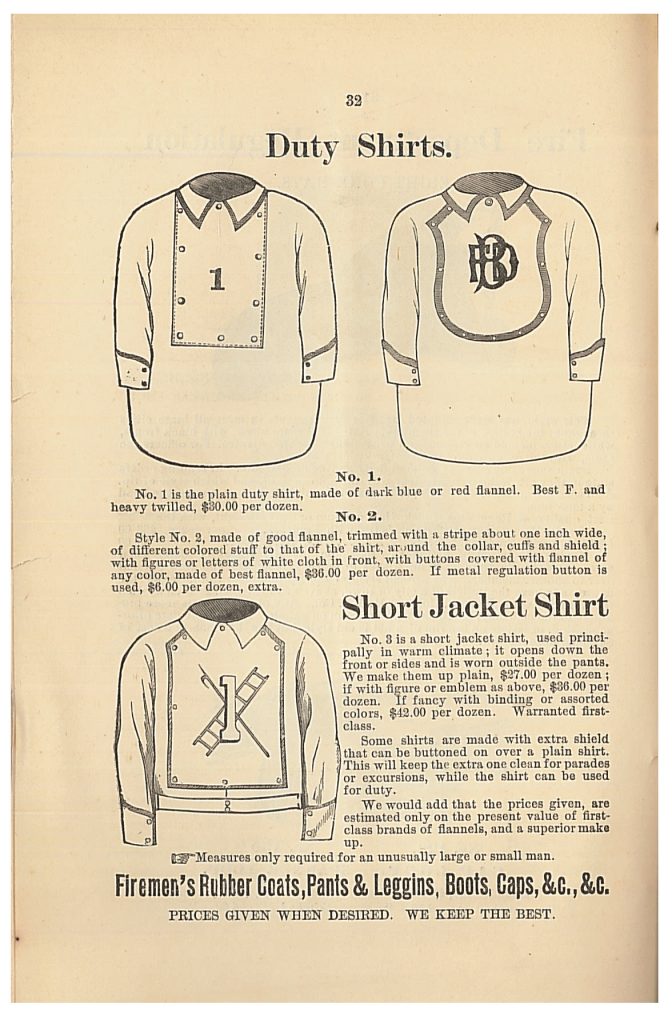 This trade catalog by Caswell Fire Department Supply Co. and others by Caswell Improved Coupling Co. are located in the Trade Literature Collection at the National Museum of American History Library.
Save
Save
Save
Save