This blog post is part of a series from Smithsonian Libraries highlighting Unearthed, a new collection of paleobiology literature in Biodiversity Heritage Library curated by Smithsonian Libraries in celebration of the opening of the National Museum of Natural History's David H. Koch Hall of Fossils – Deep Time exhibit. Follow the series throughout 2019 as Smithsonian scientists and librarians discuss the collection, identify their favorite books within it, and explain the importance of paleobiology literature in research today. This post was written by Hans Sues, Smithsonian's National Museum of Natural History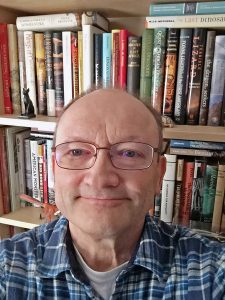 My name is Hans Sues. I am Senior Scientist and Curator of Fossil Vertebrates in the Department of Paleobiology at the Smithsonian's National Museum of Natural History. My principal research interests are the evolutionary history and paleobiology of late Paleozoic and Mesozoic amphibians, reptiles, and mammal precursors. I received my Ph.D. from Harvard University.
Unlike disciplines such as engineering and chemistry, natural history in general and paleontology in particular are scientific fields that draw heavily on literature from around the world and dating back some 300 years. Scientific hypotheses change over time, but innumerable older articles and monographs retain great value because they include much essential primary information – for example, the original descriptions of new animal and plant species.
The Smithsonian Libraries are one of the most comprehensive resources for literature on natural history in the world. In addition to housing vast numbers of books and journals, the Libraries has partnered with other major academic libraries to create the Biodiversity Heritage Library (BHL). BHL provides an excellent, ever-growing online source of often very rare books and older journals (for copyright reasons, primarily predating 1923), which are immensely useful to any researcher in natural history. Smithsonian Libraries continues to make concerted efforts, in collaboration with Smithsonian scientists, to identify and digitize as much of the primary literature in natural history as possible. In my own research, I frequently draw on this resource.
Now the Smithsonian Libraries has gathered a selection of its BHL Paleobiology literature collection in one convenient web page, Unearthed! A Digital Dig into the Smithsonian Libraries' Paleobiology Collections, in celebration of the opening of the National Museum of Natural History's David H. Koch Hall of Fossils – Deep Time exhibition.  The new, 31,000-square-foot fossil hall invites visitors to explore the epic story of how Earth's distant past is connected to the present and informs our future.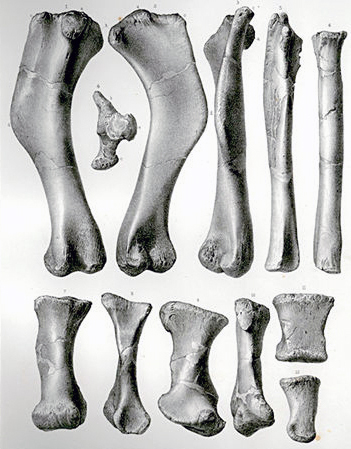 One important highlight of the Smithsonian Libraries' collection is Smithsonian Contributions to Paleobiology. Since the mid-nineteenth century, the Smithsonian Institution has issued a large number of scientific publications that have reported the work of its own scientists and many researchers affiliated with the institution. Early works include classic monographs on fossil mammals and reptiles from the United States. In my area of expertise, a large number of monographs have been published in the Smithsonian Contributions to Paleobiology since the 1960s. Many of these volumes are not easily obtainable as print copy, but now the Smithsonian Libraries and BHL have made the series (through no. 95, 2011) digitally accessible to paleontologists and avocational fossil collectors around the globe. More recent issues are available through Smithsonian Scholarly Press.