The Smithsonian Libraries invites you to the second in a series of talks related to our newest exhibition, Magnificent Obsessions: Why We Collect: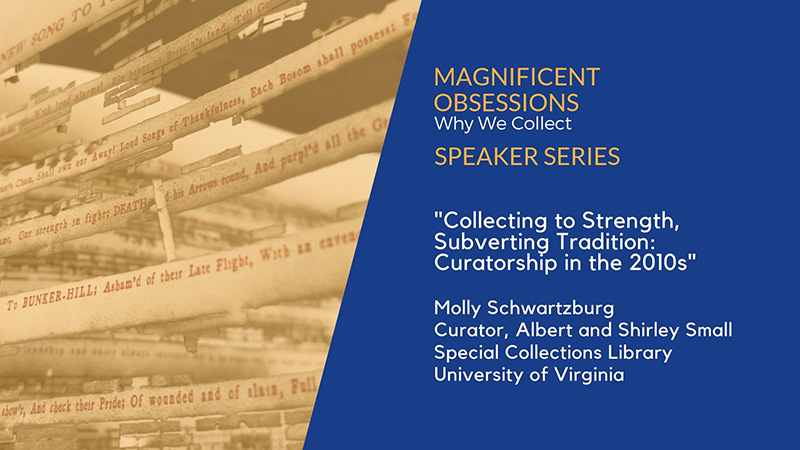 Collecting to Strength, Subverting Tradition:
Curatorship in the 2010s
featuring
Molly Schwartzburg
Curator, Albert and Shirley Small Special Collections Library
University of Virginia
Friday, July 19th, 2019. 1 pm ET
National Museum of Natural History
Q?rius Theater
Selecting books, manuscripts, and archives for a particular special collections library requires respecting the past and speculating about the future. In this talk, Molly Schwartzburg will discuss some of my experiences collecting rare materials at University of Virginia over the last seven years, a time of great turbulence for the university, Charlottesville, and the nation. Special Collections are, on the surface, sites of scholarly stability, but our collection development mirrors the challenges around us. What should we collect, and what shouldn't we collect, in a time of cultural turmoil?
This event is free and open to the public. Please RSVP to reserve your seat: https://s.si.edu/2XoXjxz
About the speaker:
Molly Schwartzburg is a curator at the Albert and Shirley Small Special Collectionsat the University of Virginia, where she builds collections of rare books, manuscripts, and archives, with particular emphasis on modern and contemporary materials. Her most recent exhibition was The University of Virginia in 100 Objects (2017-2018). Exhibitions in development include Oliphant: Unpacking the Archive (Fall 2019) and Drafting World Peace: The Founding of the United Nations (2020).
Magnificent Obsessions: Why We Collect is now on view in the National Museum of American History.
Image: Detail, Bethany Collins, America: A Hymnal, 2017. Courtesy of University of Virginia Library.