Updated March 12, 2020: These events have been canceled or postponed for a later date. As a public health precaution, the Smithsonian is postponing or canceling all public events through May 3. See si.edu/events for details. Museums and the National Zoo remain open at this time. We are monitoring the guidance of the CDC and local public health officials.
Join us over the next few months for several opportunities to emhance Wikipedia articles with Smithsonian Libraries resources. We're hosting a series of edit-a-thons in honor of Women's History Month with Art + Feminism DC in February and March. Then in April, we'll be working with Biodiversity Heritage Library and Smithsonian Earth Optimism to edit pages related to endangered species.
We hope you'll join us! Additional details below.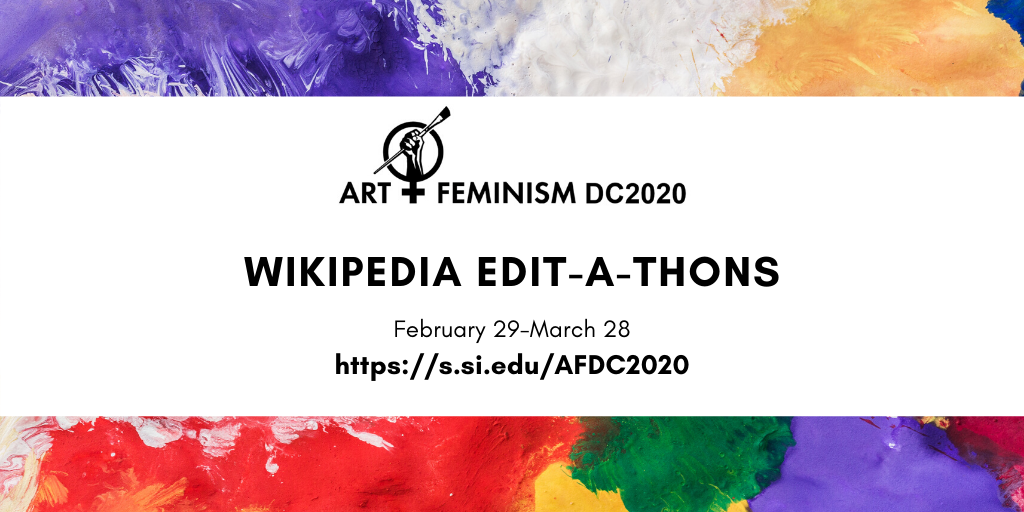 The year 2020 marks a turning point in history for American women, and to celebrate the anniversary of the 19th Amendment, Washington D.C. cultural organizations have joined together to host a series of Wikipedia edit-a-thons during Women's History month. This coordinated series of events is in conjunction with the Art+Feminism campaign to address gender gaps in content and participation on the encyclopedia, especially related to art and artists.
Join DC arts and cultural organizations for in-depth or behind-the-scenes tours of relevant exhibitions, the chance to learn more about women artists from around the world, and the opportunity to help tip the gender imbalance. Smithsonian Libraries staff members have helped plan several of these edit-a-thons and we hope to see you there!
Hirshhorn Museum and Sculpture Garden in conjunction with Smithsonian Libraries
Saturday, Feb 29, 10:00am-4pm
Theme: Media and Performance Artists
More info & sign-up here!
Smithsonian American Art Museum in conjunction with Smithsonian Libraries
Friday, Mar 13, 10:30am-3pm CANCELED
Theme: Painters
More info & sign-up here!
National Museum of African Art in conjunction with Smithsonian Libraries
Friday, Mar 27, 10:30am-3:00pm CANCELED
Theme: African Women Artists
More info coming soon!
This year marks the 50th anniversary of Earth Day. In celebration, the Biodiversity Heritage Library (BHL) and our partners are joining the global Earth Optimism movement. Spearheaded by the Smithsonian,Earth Optimism is a global event and movement to shift the conservation conversation from one of doom and gloom to hope and optimism. Occurring throughout 2020, Earth Optimism invites participants to celebrate conservation success stories and inspire continued success through social media, events, and other outreach opportunities.
Help improve information in Wikipedia about endangered species as part of the Earth Optimism Wikipedia Workshop on Endangered Species hosted by the Smithsonian Libraries (Washington, D.C.) with support from Wikimedia DC.
Drawing on BHL's free and extensive online collections as source materials, attendees will help to improve information about endangered species in Wikipedia — the third most-visited website in the world in 2019. By including citations to materials in BHL, attendees will provide easy access points for researchers and the public alike to primary data about these species while also helping to raise public awareness about many endangered species, which can be the first step in gaining momentum for conservation activities.
Laptops are required. Please bring your own. Wikimedia has two laptops to loan. Reserve one by emailing info@wikimediadc.org. This event is free and open to the public, but space is limited, so register today. POSTPONED FOR A LATER DATE
Registration is required:
More Information: