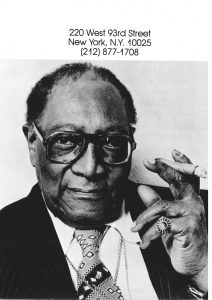 This post was researched entirely from materials in the American Art/Portrait Gallery Library collection. Additionally, the images featured in this post are from exhibition pamphlets in James Van der Zee' s file, part of the AA/PG Art and Artist file collection.
The Harlem Renaissance could be described as black America's first golden age. It was the era promoting black dignity and self-actualization reflected in the ideas of Alain Locke's New Negro and the poetry of Langston Hughes. It was a time when blues and jazz artists rose to prominence with music that made the whole world dance. Most of all, it was a time documented by the camera of photographer James Van der Zee. You may not know his name, but if you've seen images of  dapper Jazz age Harlemites, you've seen his pictures. Artist and historian Deborah Willis explained his significance this way, in 1982:
"During the 1920s and 1930s, Van der Zee photographed many of Harlem's important residences and events. As the official photographer of Marcus Garvey and the Universal Negro Improvement Association, Van der Zee photographed their families, conventions, rallies, and parades. It is the most comprehensive documentation of this historical moment."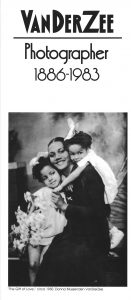 James Van der Zee was born in 1886 in Lennox, Massachusetts. His parents, former servants of Ulysses S. Grant, raised their six children in a home filled with music and art.  His older sister was recognized for her drawing talent in the local community and James himself could produce respectable landscapes. Faces, though, he found difficult. Perhaps this is what turned 14-year-old James's interest to the medium of photography. In 1900, the young man saw an advertisement "offering a camera outfit as a premium for selling packets of sachet at ten cents each." (Perry, 1973). Van der Zee sold the perfume and earned his camera—which wasn't very good. Undaunted, he studied the instructions that came with his prize and later purchased a better camera. By the time he left for Harlem at 20, Van der Zee had a small reputation taking pictures of family and friends in Lennox.
Van der Zee moved to Harlem in 1906 as it was becoming the cultural capital of black America. He met and married his first wife, Katie Brown. The pair briefly moved to Virginia but returned to Harlem in 1908 so James could work on his true passion: music. He taught private lessons, played for clubs and dances while occasionally booking gigs with big names like the Fletcher Henderson (Perry, 1973).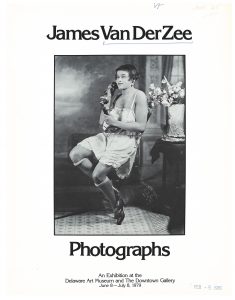 During this time, he continued developing his photography skills, which led him to a job with the darkroom of Gertz's Department Store in 1915.
The store's photography studio specialized in fast and cheap portraits but when Van der Zee acted as substitute photographer, he put a great deal of care in the clients' poses. Eventually he became more popular than his employer. After a year of demonstrating his initiative without an increase in his low salary or a promotion, James struck out on his own, opening the Guarantee Photos studio in Harlem (Perry, 1973). It wasn't long before photography was Van der Zee's sole occupation.
"His devotion to the art of photography distinguished him from other portrait studios in his area. [Van der Zee] used a number of means to attain a desired effect –skillfully painted backdrops, hand-tinting and retouching negatives for 'beautification and dramatization.'" (Willis, 1982)
A Legacy of Representation
A century after the start of the jazz age, it is probably difficult for many of us to imagine how few genuine and dignified depictions of black people existed in popular culture. Black voices were absent from mainstream newspapers as were black struggles. Widespread lynching, the horrors of 1919's Red Summer, and 1921's Tulsa Race Riot were under-reported, if not completely ignored. Most black people worked as domestic help, doormen, drivers, or in menial positions, laboring in the background of other's lives. The black musicians who brought jazz from New Orleans to Chicago and New York were often forced to work in segregated clubs (Finley, 2002).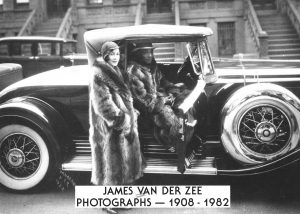 In this context, what could it have meant to residents of Harlem to be depicted with dignity and respect? What could it have meant to be seen as you see yourself? To be seen and recognized by another black person? The son of domestic help and a musician himself, Van der Zee would have understood this all too well.
"He recognized the power of the image and that what was at stake for black people in America was the ability to control their own images—to have someone who would depict them in the light and favor they demanded and deserved." (Finley, 2002)
Van der Zee's client list was filled with the black glitterati of the day: from union-leader Adam Clayton Powell and singer, Florence Mills. But to the church  groups, wedding parties and every day Harlemites that made up his clientele, James Van der Zee used his camera  to reveal the grace and dignity of black American. "For Van der Zee, beauty was resistance." (Finley, 2002)
Works Cited
Finley, Cheryl. "Harlem Guranteed: Day or Night, Rain or Shine: the Photographic Legacy of James Van Der Zee," James VanDerZee : Harlem Guaranteed: September 12-November 2, 2002, New York : Michael Rosenfeld Gallery, 2002
Perry, Regina A. "Introduction," James Van der Zee, Dobbs Ferry, N.Y. : Morgan & Morgan, 1973.
Willis-Thomas, Deborah. "James Van der Zee: a Community Visionary," Harlem Heyday : the Photography of James Van der Zee ,New York : Studio Museum in Harlem, 1982.