During this hectic time, it's always great to be able to learn new and exciting things. From a recent social media discussion, I found out about an especially inspiring  endeavor from our Smithsonian Family.  For those not aware, the Smithsonian Asian Pacific American Center created a Care Package. This care package features music, projects and inspirational material for communities during this time.  
This inspired me to search the Libraries' collection of digital books. I have found that our team has collectively made it easier to access our Digital Collections. In considering what we could add to a Libraries' care package, I thought it would be interesting to include useful handicraft books such as sewing, knitting and the like, similar, and in the tradition of the historic Care Package seen in the National Museum of American History from 1962.  
I found a title, dedicated to the "American Woman of the Day" a Mrs. Potter Palmer, (Bertha Palmer) who served as the President of the Board of the Lady Managers of the World's Columbian exposition, the Dainty Work for pleasure and profit . It starts "We have tried in the following pages to include a love for home beautifying; to show how every home in this broad land can be rendered beautiful…" Embroidery became a vehicle for artistic expression as well as financial gain to women at this time. Herstory highlights this movement in a short blurb. 
The book begins with a discussion on materials and delves into techniques and some example design patterns. As I continued to browse, I saw examples of the simple outline stitch and figure images of cording, close, and twisted outlines.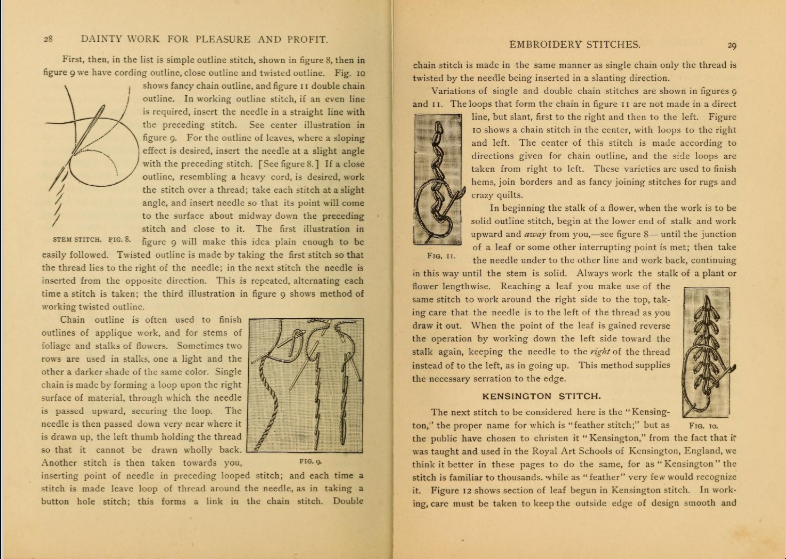 The book goes into detail about other versions of stitches to create patterns and designs such as flowers, stars and the infamous honeycomb, seen below. The greatness lies in its textual explanation (side anecdotes!) and the usefulness to American Women at the time. We have several of these types of books littered throughout the Smithsonian Libraries.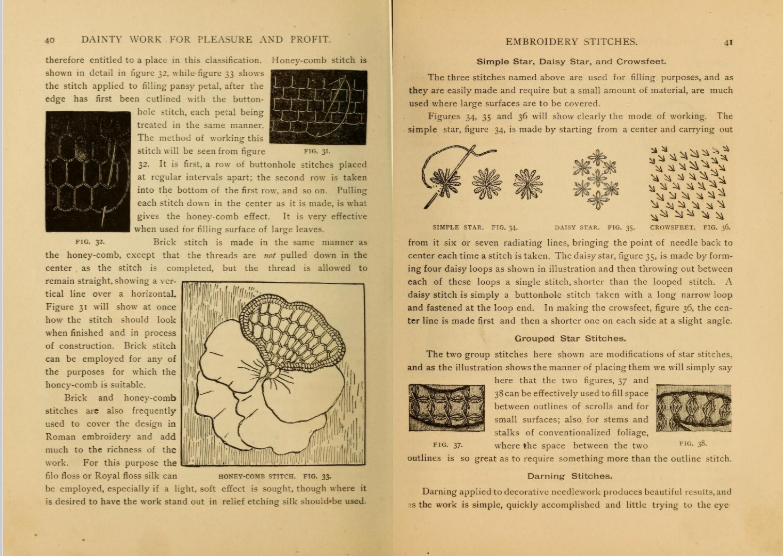 I finally came upon pages dedicated to "Art or Flat embroidery."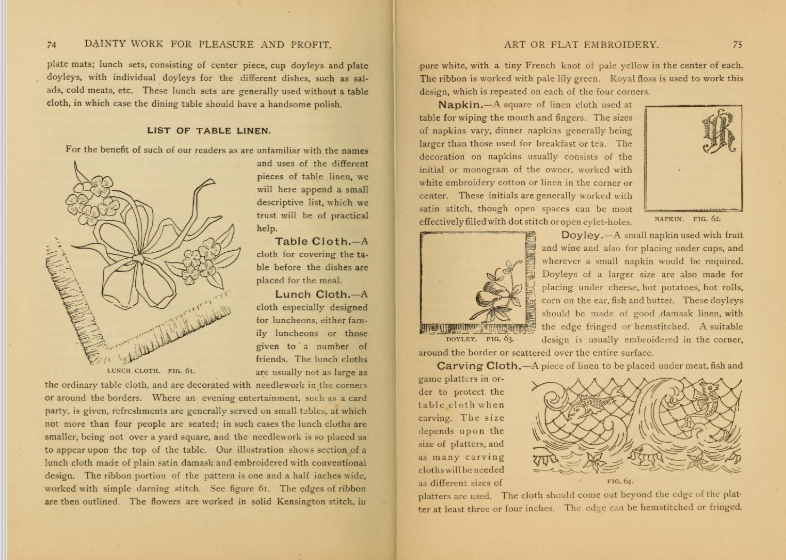 Let it be known, I am not artistic, although I appreciate great artwork. It has been amazing to search through the Cooper Hewitt Textile Collections online and see several of their embroidery pieces, such as this counted stitch example acquired in 1925 from Eleanor and Sarah Hewitt, early founders of the Cooper Hewitt, Smithsonian Design Museum.  Entranced by this page and fascinated with the concept of "flat embroidery" I wondered as limited as my resources are, what I can do at home to replicate any of these amazing stitches and put them to use. Luckily, I came upon this "handi hour" crafting video of embroidering on paper from the Smithsonian American Art Museum!  
I only had some paper, a sewing needle and black thread but it worked. I gathered my supplies and 15 minutes later Voila! I may need to buy correct material for a better art project, but I thought it was a great first attempt. Maybe it will be a second career choice! Have a great day everyone!  
Others handicraft titles to explore in our Digital Library: 
Alphabete

 

für

 die 

Stickerin

: A German book from 1900 filled with embroidery patterns. 

Home Decoration

: A book from 1881 that includes needlework instruction as well as tips for crafting draperies and wood carving.