In 1906, industrialist Charles Lang Freer gave his collection of Asian and American art and related materials in a gift that began the Freer Gallery of Art. This gift included books which are now in the Freer-Sackler Library . Among them, some that contain Freer's personal notes and marginalia. One of these is a first edition copy of Herbert Giles' book An Introduction to the History of Chinese Pictorial Art. This book, originally published in 1905, was the first to provide a comprehensive history of Chinese painting in a European language. Freer made margin notes throughout the book, which help show his personal interests as he was building his art collection. His copy of this book has been digitized by the Smithsonian Libraries and Archives and can now be examined online.
An example of Freer's notes can be found on page 75. Here Freer has underlined "Hsu Hsi" (Xu Xi), a Five Dynasties Southern Tang (tenth century) Chinese painter, and has written in the left margin: "Two ducks + flowering plant called 'hung-loo-hua' Hong Kong." This seems to be a reference to the painting "Mandarin Ducks under Smartweed" which Freer purchased in 1909 from a Hong Kong dealer. Freer believed the painting to be by Xu Xi, although it is now known to be a Ming Dynasty reproduction.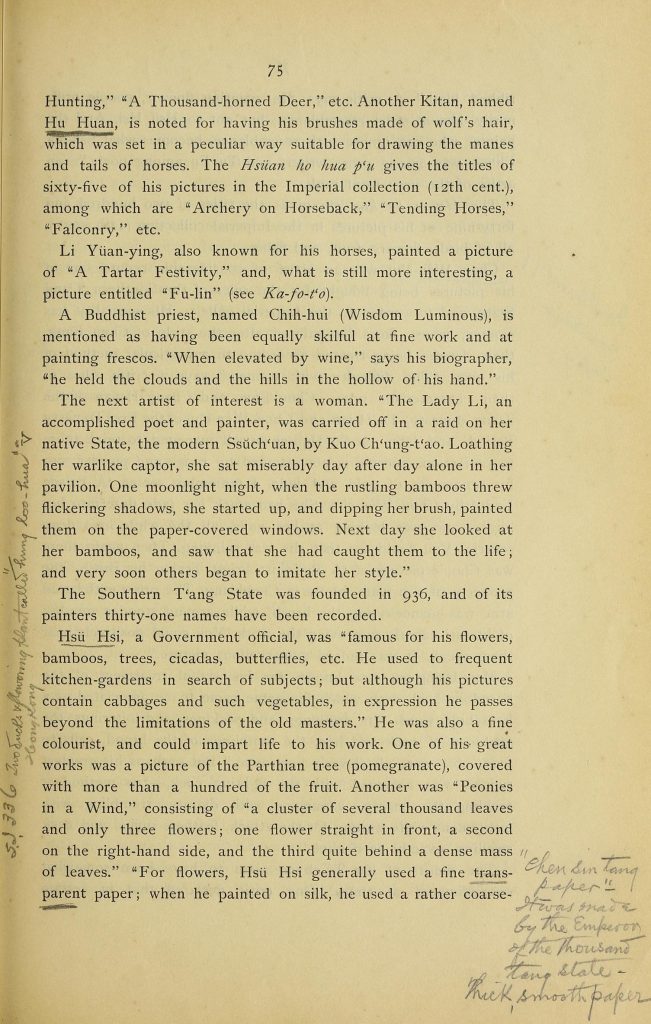 On the same page in the lower right hand corner, Freer has underlined the word "transparent" relating to a type of paper on which Xu Xi painted flowers. He has written: "Chen Sin Tang paper" — it was made by the Emperor of the Thousand Tang State. Thick, smooth paper." This is a reference to a type of Chinese paper that originated in the Five Dynasties Southern Tang that became much sought after in the Northern Song Dynasty. Over the centuries an air of legend and mystery came to surround Chengxin Tang paper, such that in the Qing Dynasty the Qianlong Emperor made it a project to try to recreate it.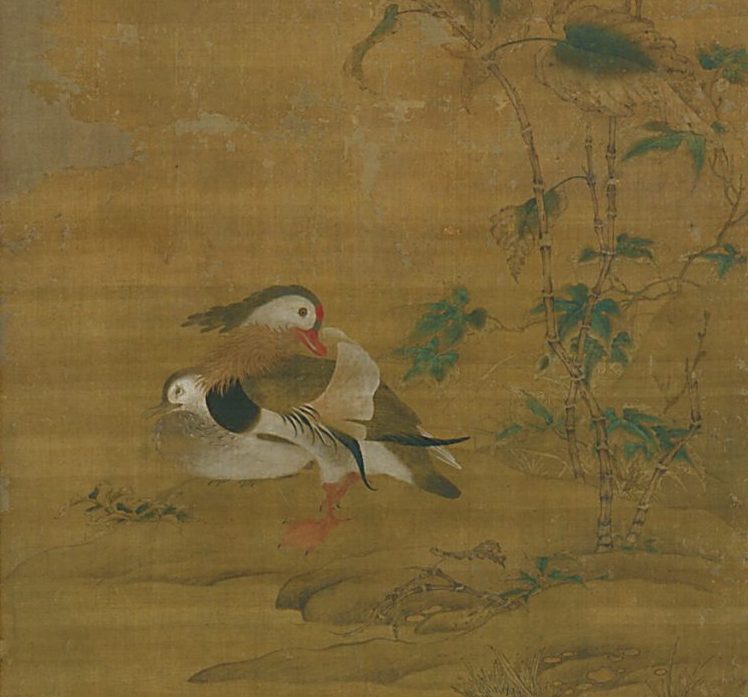 As the digitization of Freer's books continues, more of the marginalia contained in them will be available for online research.
Reference:
He, Yan-chiuan. Chengxin Tang Paper and the Qianlong Emperor: With a Discussion of His Connoisseurship of Ancient Paper. The National Palace Museum Research Quarterly 33:1 (2015).
Thank you to Freer and Sackler Archivist Ryan Murray for his reference assistance.