Will you be in Washington, DC for the American Libraries Association Annual Conference and Exhibition this June? If so, we look forward to meeting you! The Smithsonian Libraries and Archives will offer several opportunities for conference attendees to get to know our services, staff, and collections. Whether it's during a tour of one of our locations or at a conference session, we hope to connect with you.

Tours
Before and after the conference, we're offering tours of four of our locations in downtown DC – Smithsonian Institution Archives, American Art/Portrait Gallery Library, the Joseph F. Cullman Library of Natural History, and the National Museum of Natural History Library.
In addition, we're offering special curator-led visits to our newest exhibition, Music HerStory, which opens June 22nd. This is a great opportunity to learn more about the role of American women in music history with Meredith Holmgren, Curator of American Women's Music, and see the exhibit without the crowds!
Space for each tour is limited and registration is required. Learn more and sign up here: https://s.si.edu/sla-ala-tours
Conference Sessions and Posters
Several Smithsonian Libraries and Archives staff members will be speaking in sessions, sharing their work and experiences. Check the ALA Conference Scheduler as sessions are updated.
APALA President's Program: Change in and Barriers to Library Leadership for Asian and Pacific American Library Workers: A Panel Discussion, Saturday, 10 am.
Our anthropology librarian Amanda Landis will participate in this session hosted by the Asian Pacific American Library Association.  This panel discussion will center on the voices of AAPI library leaders and their challenges and opportunities in the profession at large, and how to rethink about new opportunities going forward. Based on an IMLS funded project called, "Path to Leadership," the discussion will focus on the experiences of forum participants and how they envision change in the profession at large and its leadership going forward. This session is co-sponsored by the Chinese American Librarians Association (CALA).
Core President's Program: Dear Librarians, No more trauma, no more pain: Reclaiming Our Value and Choosing To Win featuring Tamar Evangelestia-Dougherty. Saturday, 4 pm.
Director Tamar Evangelestia-Dougherty will challenge attendees to recenter their emotional investment in the hierarchical conflicts among themselves and honestly engage with the realities of contemporary library work and how our work as librarians is viewed by society at large. In an era of unprecedented turnover, global health crisis, and crushing student debt, it is not a surprise that the Great Resignation is hitting libraries hard. Cynicism continues to take root more than solidarity and solution-focused outcomes. The punishing consequences to library workers are dangerous and systemic. This professional climate in LIS not only demands new library leadership competencies, behaviors, and ideologies but also requires librarians to courageously implement radical accountability to develop frameworks for understanding how to deescalate traumatic work experiences in libraries to prioritize elevating experiences of fairness and respect.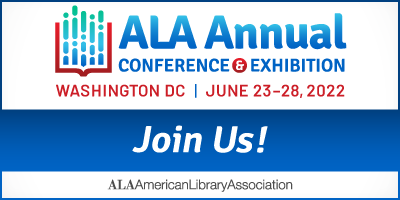 Library of Congress Open House
Last but not least, we are thrilled to participate in this year's Library of Congress Open House for ALA Attendees on Saturday, June 25th. Smithsonian Libraries and Archives staff will be on hand to tell you more about our 21 branch libraries and institutional archives as well as the services and programs we offer. Plus, there will be giveaways and a raffle.