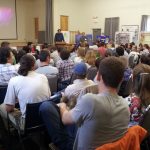 One of the truly wonderful "perks" of working at the Smithsonian Institution is being able to participate in presentations of current research.  Recently I was lucky enough to attend a daylong Science Convivium at the Front Royal, Virginia headquarters of the National Zoological Park's science arm, the Smithsonian Conservation Biology Institute (SCBI).  What's a convivium, you ask?  Briefly, according to Webster's Third New International Dictionary a convivium is a convivial gathering.   Hmmm, alright.  And if you're being convivial you're "relating to, or occupied with feasting, drinking, and good company".  Well, there was definitely good company, a nice lunch and a wine and cheese social hour in the afternoon!
The day's sessions were kicked off by a brief statement from Steve Monfort, head of the SCBI.  He reminded everyone there are differences in the kind of research being done at Front Royal and at the National Zoo's Rock Creek location and quite often staff in one location are not aware of the research being done in the other. But occasionally a cooperative project is conducted by one researcher (or more) from each.  Events like this convivium create opportunities to share and appreciate this work.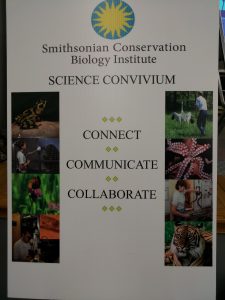 The first presenters (one based at Front Royal, one at Rock Creek) talked about their collaboration on lion physiology and how hormones affect reproduction.  [Fun fact revealed: in order to isolate and identify which hormones, derived from fecal samples, came from which of several lions, different colored glitter was put in each animal's food].
The second presenter's topic was his project on monitoring animal movement covering long distances and large areas.  He has brought several physicists in on this project as they bring expertise on quantifying and analyzing metrics to problems in gathering conservation ecology data, which has been error-prone in the past.
The third presentation covered the successful attempt at cross fostering a singleton cheetah cub by another female cheetah which had recently given birth to her own singleton cub.  Singleton cubs do not typically survive so the collaborating biologists and veterinarians were pleased with the results.  A video of the first time the "foster" cub was introduced to the female was shown.
After these presentations convivium attendees were invited to break into two groups to visit "open houses" at either the Veterinary Hospital Clinic & Labs or the Crane Yards.  Lunch, provided by the organizers, followed.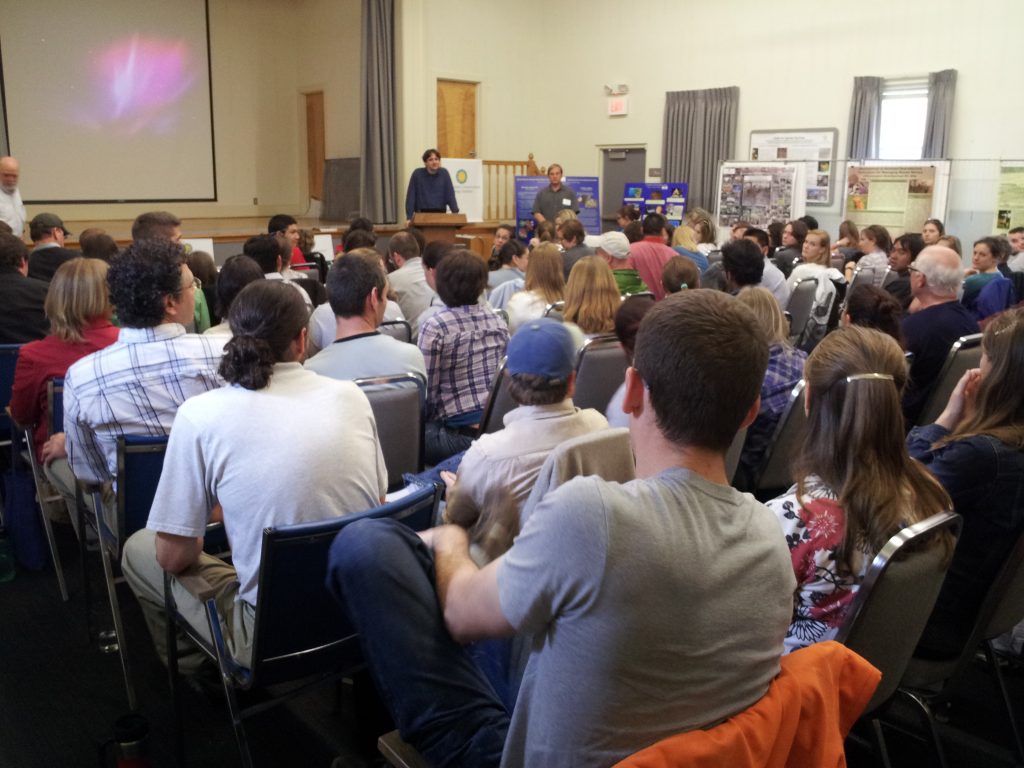 The keynote speaker started off stating that conservation opportunities can be found in the most degraded places and cities can harbor significant biodiversity.  He described studies on bird mortality due to collisions with tall towers.  His concluding section was on a controversial subject that involved feral cats, migratory birds, "trap-neuter-release" advocacy groups and local politics, in this case, Los Angeles County.
NZP director Dennis Kelly closed the presentations by emphasizing that the research done in all parts of SCBI build bridges for now and the future.  A poster session and social hour followed.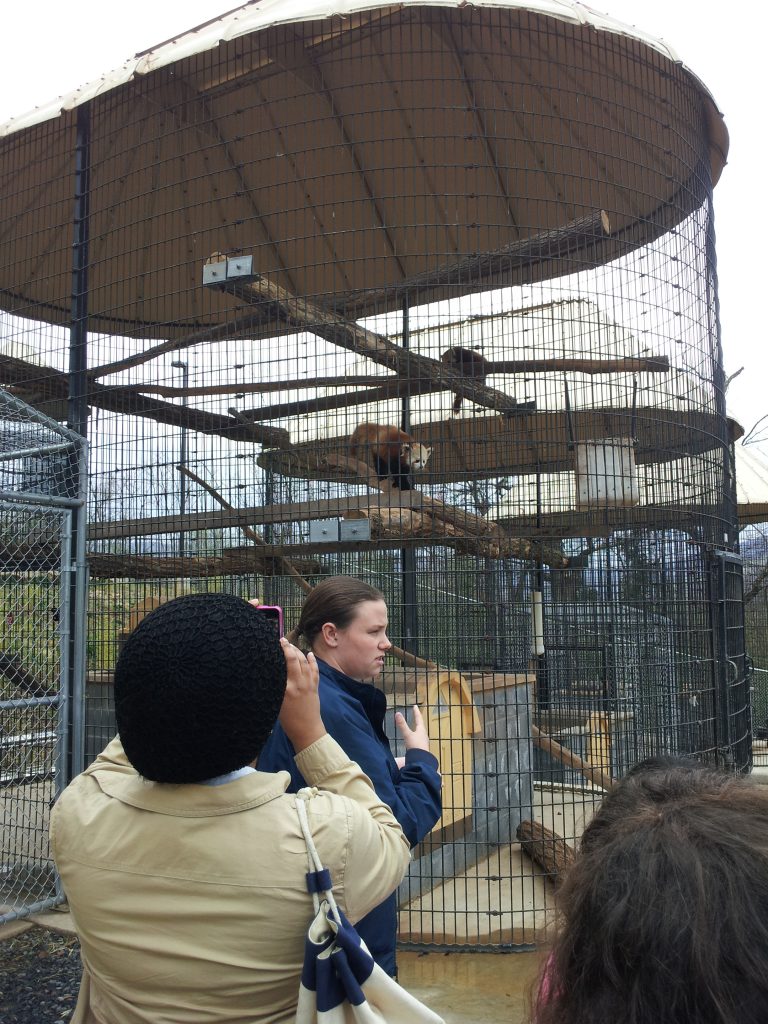 For the final portion of the day the attendees broke up into smaller groups.  Each group got to go to the remote areas of the Front Royal facility where we were able to see many of the animals that are usually off limits to everyone except the animal keepers, such as cheetahs, red pandas and clouded leopards.  It was an absolutely fun and learning-filled day!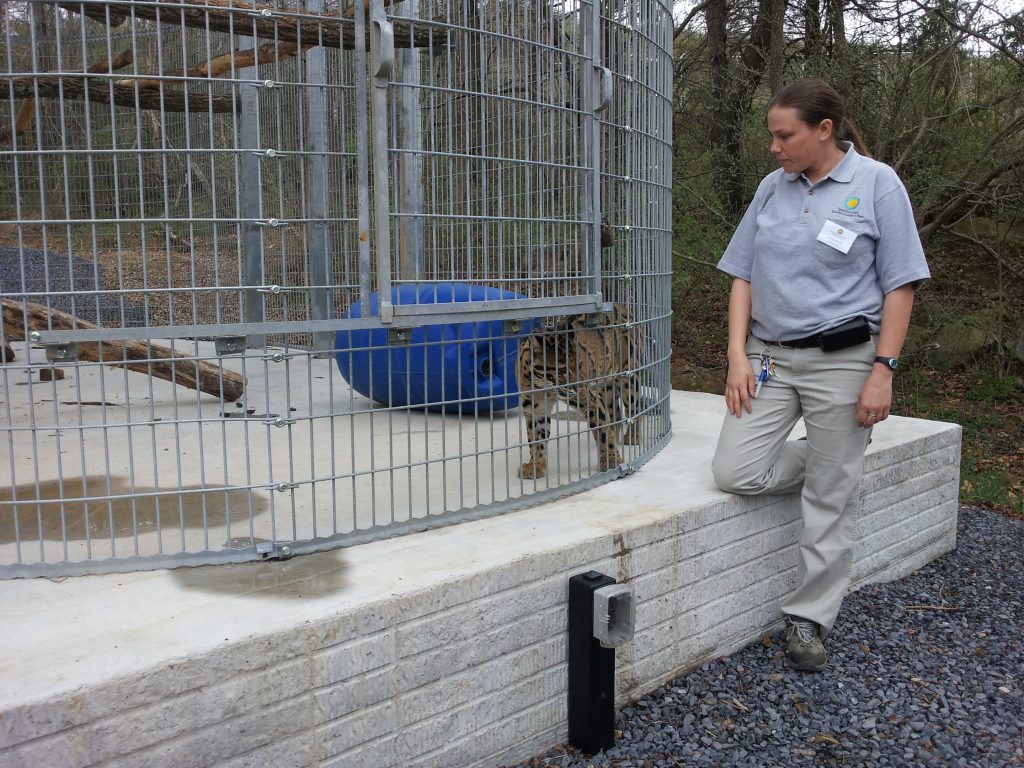 -Polly Lasker, Reference Librarian, Natural History Library/National Zoological Park Library