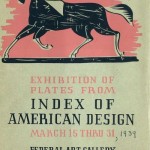 This post was written by Kate Wilson, a 2012 spring intern at the Smithsonian American Art Museum/National Portrait Gallery Library (AAPG Library).
I have background and work experience in both library and archival science – I've worked equally in both types of institutions and enjoy the hands-on, primary resources I find in archival work but the interaction, service, and reference I get from working in libraries. The AAPG Library's Art & Artist File combine my love of primary documentation and reference work, and it is in this unique collection that I found a trove of original promotional materials for the short-lived Federal Art Project, the fine arts arm of the Works Project Administration.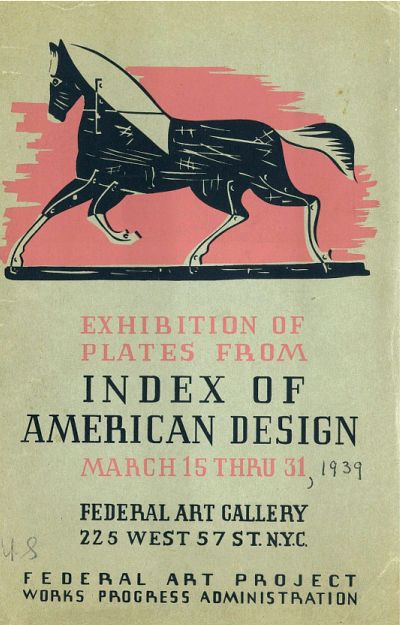 I've always been drawn to anything New Deal-y; FDR, the Social Security Administration, Progressivism, the Civilian Conservation Corps, and the WPA, the Works Projects Administration which funded the Federal Art Project. The FPA, operated between 1935-1943, employed out-of-work artists to create murals, posters, and paintings for non-federal government buildings, totaling more than 200,000 individual works. Jackson Pollock and Diego Rivera were both artists supported by the project early in their careers.
The works produced are inspiring and great in their own right, but rather it is the posters, exhibition catalogs, and gallery invitations that I appreciate above all. I am drawn to the bold hand-lettering and the single tone color scheme. The invitation to an opening of watercolors and prints show by artists Hugh Collins, David Morris, Nelson Rosenberg, and Howard Swenson is very unassuming and matter-of-fact, employing no fancy engravings, letterpress, or printing methods. Rather, it is a normal piece of typing paper pre-printed with the generic WPA logo and DC Allocations Gallery address with the artists' names and dates typed directly onto the invitation with a standard issue typewriter. The efficiency and normalcy of this invitation appeals to me far more than a stylized, ornate, and descriptive invitation to an opening at a more prestigious gallery of the time. To me, these invitations, posters, and catalogs are examples of a classic American aesthetic melding with a hint of the avant-garde.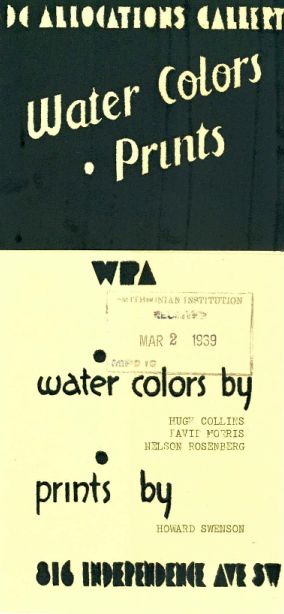 My admiration for these materials isn't only because I find them visually appealing — they are testaments to our desires to keep and record all of our history. These items are all stamped with the date they were acquired by the Smithsonian Libraries: 1939. The librarians and curators working during this time saw the value in these ephemeral objects and kept them for future research. So much of archival work is caring and preservation records of the past, but it is also key to keep accurate records of our current events.
Just as library staff collected materials for the vertical files in 1939, library staff today comb newspapers, mailings, and exhibition catalogs for any current information on new and emerging artists, collectors, and museums that may be of use in future research. The Library's vertical files are a premiere resource for new and emerging artists with information that is not often found in other places.  It is my hope that the hard work and dedication that library staff and volunteers devote to this collection will continue to add value to our collective American History in unique ways.