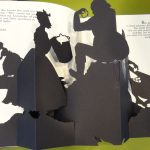 Many of the artists' books in the Smithsonian American Art & Portrait Gallery Library's collection tell stories—from personal struggles with addiction, to pictorial descriptions of how to create a human salad, to universal stories of historical conflicts, such as Kara Walker's book "Freedom: A Fable."
Kara Walker is well-known for her modern take on the delicate craft of silhouettes. Her artwork often addresses weighty themes of power, repression, history, race and sexuality, using black paper cut-out silhouettes. Walker uses racial stereotypes, for example, exaggerated representations of slaves, alongside southern belles and gentleman engaged in acts of violence or lewd acts.
Her vignettes of slavery and plantation life in the antebellum American South are often life-size and span entire walls. The Smithsonian American Art and Portrait Gallery Library, however, owns a much smaller example of Walker's work, in the form of an artist's book. Kara Walker's Freedom: A fable. A curious interpretation of the wit of a Negress in troubled times, with illustrations.
Walker's Freedom is a snippet of a story of a young black woman, named N—, recently emancipated after the Civil War. Suffering abuse at the hands of her owner, she dreams of going "Back to Africa" where brown skin means nothing. Instead, she finds herself on a floating ship with other "contraband of war." She waxes philosophical despite her precarious situation: the ship has no crew, no destination nor food, and the other passengers believe she is crazy (and ponder whether to throw her overboard or keep her around in case they starve.)
The book's story, layout and images were conceived by Walker in the style of her larger-scale silhouettes. She used a combination of dainty Victorian silhouettes and the pop-up medium, often seen in books for young children, to contradict the dire situation in which her heroine finds herself. The precision-cut black paper pop-ups open to three-dimensional images of a Southern plantation house, or N— birthing children on the sea while smoking a corncob pipe, and the historical feeling of the story is further enhanced by the book's physical features, such as the antique font and fine leather covers. The book was sponsored by the Peter Norton Family Christmas Art Project in 1997 and printed in an edition of 4,000. Walker worked with designers to create a personal object of art, small in size but encompassing big ideas.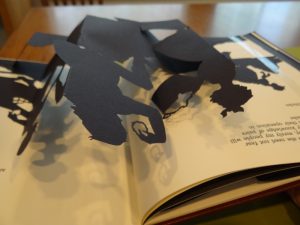 If you are interested in more information about pop-up books, check out the online catalog for the Smithsonian Institution Libraries exhibition "Paper Engineering: Fold, Pull, Pop and Turn".  For more information on Walker, see the Walker Art Center's website, "The Art of Kara Walker", or listen to the Hirshhorn's podcast with Walker discussing the work of Andy Warhol.