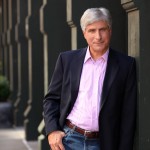 On October 18, internationally acclaimed New York Times bestselling author Steve Berry and the Smithsonian Libraries will join forces to present a writers' workshop, Lessons from a Bestseller, to teach general writing skills while benefitting the Rare Books, Special Collections and Preservation Programs at the Smithsonian Libraries.

Berry will teach the craft of writing, including story structure, effective dialogue, point of view and his 11 Rules of Writing. The workshop will also include a session on The Business of Publishing by Elizabeth Berry, who will draw on her expertise as the Executive Director of International Thriller Writers and her work as a literary marketing and sales professional.
The workshop at the National Museum of Natural History will run from 9:30 a.m. to 3:30 p.m. followed by a rare books tour of the Joseph F. Cullman 3rd Library of Natural History. A reception with Steve Berry will follow from 6:30 p.m. to 8:30 p.m. in the Evans Gallery of the National Museum of Natural History.
For online registration, please visit http://donate.sil.si.edu/product-p/berry-workshop.htm.
Please contact the Smithsonian Libraries Development Office at 202-633-2241 or SILRSVP@si.edu.