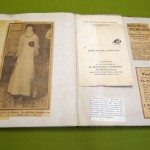 –This post was contributed by Allison Brice, American Art and Portrait Gallery Library intern.
I often joke with those who ask me about my academic studies that I am getting a degree in 'old stuff'. With a major in history and two minors in art history and medieval studies, I must admit that I find anything from the last half-century rather boring. So when my supervisor at the American Art and Portrait Gallery Library told me to go down into the rare books section and find some 'old stuff' to put up for our Adopt-a-Book project…well, I was in heaven.
Among the many amazing books that I found in our collections – including stunning maps, exhibition catalogs and signed monographs – there was one in particular I was looking for. I had heard a rumor that we had in our collection a book signed by Picasso himself. In the middle of this quest, I opened up a gray book box, in the hopes that inside was the signature I was looking for, but instead I found a mundane-looking notebook. I never found the Picasso signature, but in the notebook I did find another librarian's mystery.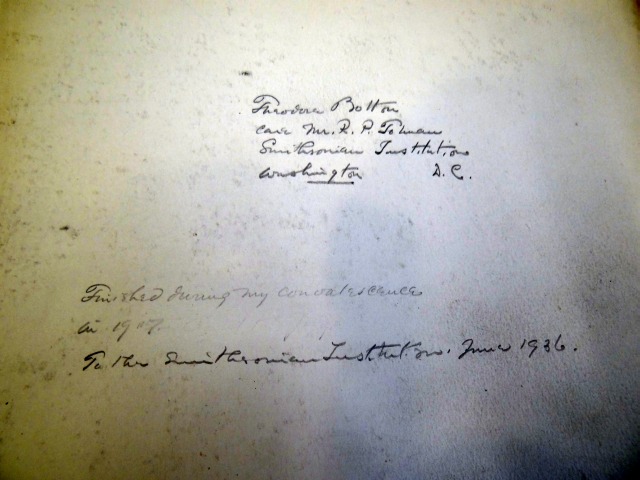 What originally looked like an unassuming marble notebook turned out to be a one-of-a-kind specimen from noted art historian Theodore Bolton, who donated this notebook, his personal study of a contemporary, James McNeill Whistler, to the Smithsonian in 1936. Whistler, who is now regarded as one of the greatest artists to ever come out of America, and whose gorgeous studies of landscapes and women are priceless in today's art world, had recently died at the time of Bolton's notebook. With the care of a senior scholar, Bolton collected exhibition catalogs, reproductions of etchings, newspaper clippings and even quotes from other art historians relating to the artist, and compiled them all into his own notebook, completed in 1917. As I thumbed through the pages, I knew that I had discovered a true treasure of American art history.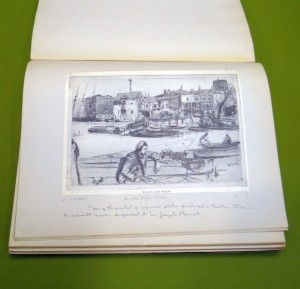 But this story only gets more interesting. As I tried to do more research on this notebook and where it had come from, I confronted a conundrum. Neither the notebook's call number nor title existed in the online Smithsonian catalog. In addition, the only records I could find of any donation from Bolton were in 1956, a full twenty years after the date inscribed in the notebook.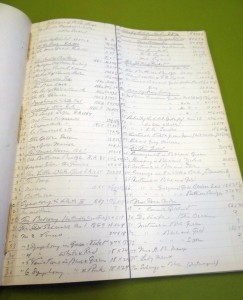 So I turned to the Smithsonian Institution itself. Across the hall, in the Archives of American Art, the friendly and knowledgeable archivists helped me investigate Bolton's other donations to the Smithsonian, and I found that there were no records of this particular notebook, neither in this branch library nor in any other. The answer finally came from a desperate reference question pegged to the Smithsonian Institution Archives themselves. The reference librarian showed me the accession records for Bolton's various donations; and while the notebook itself did not appear, a hypothesis was formed. When the museum tried to return several of Bolton's donations in 1956, he simply suggested that they be destroyed instead. Perhaps, in the midst of this cleaning out process, a librarian saw the notebook and took a liking to it. The notebook was given a call number and placed in the rare books section, where it has remained ever since.
The Bolton notebook still remains in the rare books section of the AA/PG Library, though we are now working to catalog it. And though there were no grand revelations about how this notebook came to be with us, my quest for 'old stuff' still led me through a fun journey. Between the Archives of American Art, the Institution's Archives, and the Freer-Sackler Gallery, where I went to learn more about Whistler, one notebook turned out to have wide-reaching connections through the long history of the Smithsonian. I never found my Picasso book, but in the rare books section, I learned more about the history of art in America than two years of higher education had ever taught me. Though I'm sad to leave the Smithsonian to return to my studies, I'm excited about future research opportunities that will hopefully take me back through the Smithsonian once again.
Allison Brice is a Georgetown University student who interned for the American Art and Portrait Gallery Library from June to August, 2012.