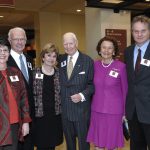 It is with great sadness that I tell you of the death of Russell Train, one of the Libraries' major benefactors. Russell was a close friend of Joseph F. Cullman 3rd and it was Joe's suggestion that brought Russell to us and ultimately resulted in his donation of the Russell E. Train Africana Collection, which resides in the Cullman Library. The donation was singular since it came with a full inventory of the collection, which he developed, including evaluations of individual items.
It was Russell's friendship with others, such as Roger Sant and Lee Folger, that stimulated Mr. Folger's gift of the two magnificent exhibition cases in the Natural History lobby. Russell continued his interest in the Libraries and his collection and continued to donate items after the major gift had arrived. We have held several exhibitions that featured works from the Train collection, including "The Art of African Exploration" and the current one in the Natural History Museum, "Fascinating-Endangered RHINO". The Natural History Museum collection includes specimens that Russell gathered on one of his early safaris. In a thank-you celebration at the museum, both books from the Train collection and specimens he had gathered were displayed.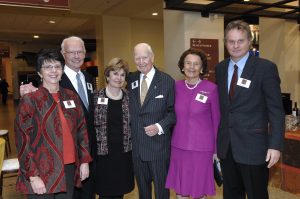 Russell and Aileen served as honorary chairs of two of our galas, and supported us in many other ways.They were always glad to lend a hand if we asked.  Russell was a courtly gentleman from the old school, but full of wit and the occasional spice. Aileen was always at his side and together they maintained an active social life. Russell was a friend, as well as a supporter, and he will be deeply missed. Below is a link to the New York Times obituary.
www.nytimes.com/2012/09/18/science/earth/russell-e-train-92-dies-helped-create-the-epa.html?_r=1&pagewanted=all
To read more about our "Art of African Exploration" exhibition, click here.
– Dr. Nancy E. Gwinn, Director, Smithsonian Libraries