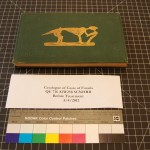 A treatment we commonly perform in the Conservation Lab is re-backing.  A weak point in many case bound books is the gutter.  When it fails the spine typically deteriorates and falls off the back of the book.  A re-backing replaces the original spine and enables the book to be used again without sustaining further damage.
An example of this is type of repair was recently undertaken on "Catalogue of Casts of Fossils from the Principal Museums of Europe and America" by Henry A. Ward, 1866.  As the title suggests, the book is a catalog of fossil casts taken by Henry Ward in his travels and offered to museums for display and study purposes.
The book arrived in the Conservation Lab with the front cover and spine detached. The endpapers were also detached and acidic and the back cover was barely attached.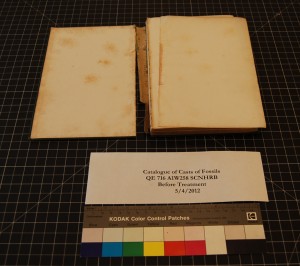 The first step in creating a new cover was to clean the spine to remove acidic animal glue and to provide a new acid free lining better able to support the textblock.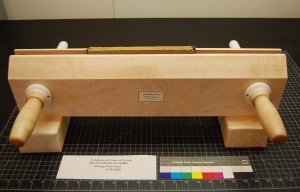 A new spine was made from a piece of airplane linen (the high thread count raw linen used on biplane wings!) toned to compliment the original spine color. This new spine piece was inserted under the cover boards and the old spine was then re-adhered to the new spine.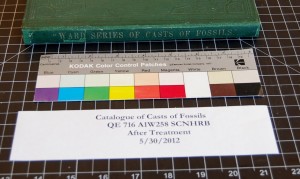 The repair is visible only where there were existing areas of loss ( in this case at the head and tail of the spine and along the gutter.)
The book can now be used by researchers without risking further damage to the original item. This title was also scanned as part of the Biodiversity Heritage Library project and may be viewed online in full-text.