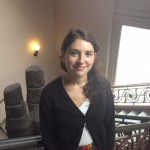 My name is Emily Somach and I am a new intern at the Smithsonian Institution Libraries. I am originally from the North Shore of Massachusetts but have been living in the Maryland/DC area since February. I graduated from Northwestern University in 2010 with a B.A. in English Literature and will soon be applying to the MLS program at University of Maryland. My internship here at the Smithsonian centers on the archival arrangement of files from the Institution's Forum on Material Culture, and I will be working under the supervision of Mary Augusta Thomas. I also plan to help resurrect the forum's newsletter and assist in its writing, editing, and production.
Material culture refers to the physical objects, resources, and spaces that people use to define their culture. The Forum on Material Culture has helped maintain the Institution's sense of scholarly community since March 1988, when it held its first quarterly meeting. Although not convening as frequently now, the Forum still allows researchers to meet with colleagues in other museums and disciplines, share information, consider alternative methods of research, and develop new collaborations. Meetings are open to all staff and members of the outside academic community; they usually involve three or four scholars from different fields sharing their contrasting perspectives on a specific subject of material culture. Afterwards, to promote further discussion, the Forum holds both a free reception and a dinner requiring a fee and reservation. A newsletter for the Forum has not been published for some time, but was previously issued quarterly. Issues included a summary of the most recent meeting and a notification of the next meeting, as well as exhibition or research related articles and relevant pieces of news.
The files from the Forum on Material Culture are located both in the Smithsonian Institution Archives and the National Museum of Natural History Library. They include correspondences and memoranda, historical information, meeting minutes and audiotape recordings, reports, articles, budget summaries, and planning group information for the forum's bulletin. Since the files are only loosely organized, and located in two distinct locations, I will be consolidating, weeding, and arranging them more effectively. As an intern, I hope to acquire some basic archival organization skills, gain experience writing a newsletter, and also learn about material culture. I am incredibly grateful for this opportunity and excited to gain some hands on experience in the field.
-Emily Somach