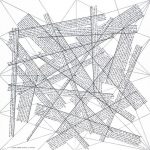 Though American conceptual artist Sol LeWitt (1928-2007) worked in every media, he is known best for his wall drawings and series of investigations of lines, colors and shapes. If you have ever been to an exhibition of LeWitt's wall drawings, you'll agree there is a sense of awe ("How could someone draw so many tiny straight lines across that entire gallery?") mixed with a sense of vertigo ("How could someone draw so many tiny straight lines across that entire gallery?").
The Smithsonian American Art Museum and the Hirshhorn Museum both own numerous examples of his drawings, prints and sculptures. The libraries for both museums own several art works by LeWitt, as well, in the forms of his numerous artists' books. LeWitt created books as art works since the early days of artists' books in the United States, even before they were recognized as art forms. Along with Lucy Lippard and others, LeWitt was instrumental in the founding of the artists' books publisher and promoter Printed Matter in New York City, partially in response to the fact that LeWitt's books were not taken seriously as art works.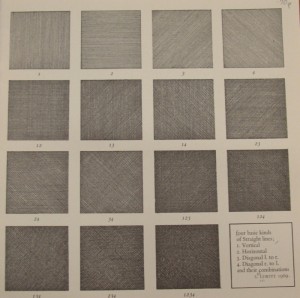 LeWitt's books were an extension of his general artistic practice, in which he often focused on serial studies of individual basic components of art, such as lines, angles and colors. An example of this is the book Four basic kinds of straight lines: 1. Vertical. 2. Horizontal. 3. Diagonal l. to r. 4. Diagonal r. to l. and their combinations. LeWitt presented the titular directions as fine parallel lines in every logical way one could think of, completely filling each page of this small book as though each line was text. He assigned each of these types of lines a numeric value and created a table of contents at the beginning of the book with "thumbnails" of the numbered combinations in a grid.
Another example is his The Location of Eight Points, in which LeWitt  illustrated the position of eight plus-shaped marks (+) on the pages of the book, and described each in relation to the others in great detail. Without the images he provided, the text alone should, in theory, allow the reader to recreate his eight points and their locations. But LeWitt's description is so rambling and self-referential that it would prove nearly impossible (at least impossible without getting a migraine!).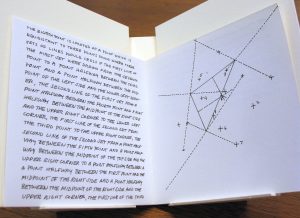 Some of the AA/PG Library's copies of LeWitt's artists' books were initially mistaken as exhibition catalogs of some sort when they were accessioned in the 1970s, kept in the main circulating stacks with other secondary source research materials, only to be identified later as art works. This was the case with LeWitt's 1980 artist's book Autobiography because it looked like a cheaply produced photography book. In it, LeWitt documented every aspect of his immediate physical surroundings, from every electrical outlet, wall crack and clock in the studio to family photographs, personal notes and his own artworks. Without words, more than 1,000 black and white photographs arranged in a three by three grid create a self-portrait of the artist. As such, an ideal fit for the artist's book collection at the American Art and Portrait Gallery Library, and one can read Autobiography or any of the Library's other artists' books without an appointment.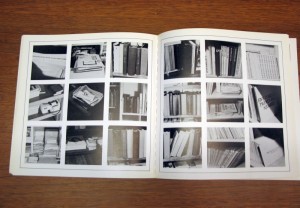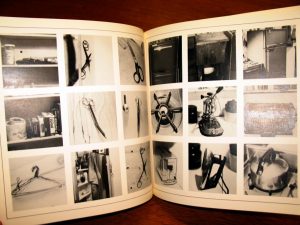 Resources consulted include:
Ault, Julie. Interview with Lucy R. Lippard on Printed Matter. December 2006.
Oral history interview with Sol LeWitt, 1974 July 15, Archives of American Art, Smithsonian Institution.
Sol LeWitt: a retrospective. San Francisco: San Francisco Museum of Modern Art, 2000.
Sol LeWitt Art & Artist File, Smithsonian American Art Museum/National Portrait Gallery Library, Washington D.C.
Sol Lewitt: the Museum of Modern Art, New York. Edited and introduced by Alicia Legg; designed by Sol Lewitt ; essays by Lucy R. Lippard, Bernice Rose, Robert Rosenblum. New York: The Museum, 1978.
Tonkin, Steven. "Cover to cover: Sol Lewitt's artist's books." The Kenneth Tyler Collection at the National Gallery of Australia website, accessed 3 January, 2013.