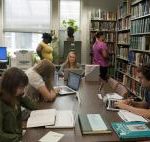 Applications are now open for summer Professional Development Internships! Paid internship opportunities at the Smithsonian Libraries are designed for current graduate students or recent graduates interested in working in research and/or museum libraries. This year, applicants may select from six projects. These projects are in a wide variety of areas, including preservation, art librarianship and cataloging.
We encourage library students and recent grads to review the potential projects below. Interested candidates may visit our website for more information and then apply via the Smithsonian Online Academic Appointment system. Applications are due March 11, 2013.
Special Collections in Smithsonian's Art Libraries: Evaluating our future
The intern will conduct research on current policies and selection criteria used in the identification of special collections and rare book materials in art research libraries.  This research will produce a report that will include but not be limited to: defining art special collections and rare books, developing guidelines for transfer to special collections, addressing collection housing locations, and suggestions for collection development policies.  Intern will then apply this knowledge to evaluating areas within each of the five Smithsonian Art Libraries (primarily electronically) that need to be considered for review and possible transfer.  One blog post will also be required summarizing their internship experience with SIL.
Chinese Book Backlog Cataloging Project
Intern will catalog books in Chinese by copy-cataloging OCLC records in Connexion Client.  Cataloging is done in MARC/RDA, according to AACR2, RDA, LCSH, and the LC/NACO Name Authority File along with guidelines for monograph cataloging.  The intern's ability to read and romanize the Chinese titles and ability to understand the content of the books are the two key points for the success of the project.  Intern will gain experience in the unique field of cataloging Chinese materials as well as learn about the day to day operations of an art library.
NASM Sheet Music Project
This project involves the cataloging of sheet music in the Bella C. Landauer Collection of
Aeronautical Sheet Music at the National Air and Space Museum Library.  Intern will catalog sheet music by upgrading existing brief records in an OCLC Connexion Client save file.  Cataloging is done in MARC, according to AACR2 or RDA, LCSH, and the LC/NACO Name Authority File along with guidelines for sheet music cataloging.  One of the special objectives of this project is to provide access to the graphic content of the publications, usually an illustrated title page (sometimes referred to as a sheet music cover). Intern will gain specialized experience in sheet music cataloging and cataloging of graphic material.  Intern will develop an understanding of the role of metadata in a digitization project.
Special Collections and Preservation
Overview of basic preservation needs and treatments involved with caring for library collections. Treatments may include: dry cleaning, washing, paper repair, leather consolidation, board reattachment, construction of custom enclosures. Cooperation and involvement with decision-making is necessary for treatment recommendations.  The intern can demonstrate the incorporation of knowledge in book/printing history with library research needs.
Native American Artist Files
The Deloria Library Artist's Files has half of its vertical holdings in the SI Artist Files catalog, with approximately 400-450 artists and subject files ready for arrangement, cataloging, and access. In addition, intern will simultaneously arrange subject files relating to the Artist Files and the general vertical collection, including the recently acquired vertical collection from the National Geographic Society.  Intern will utilize SIL's Art and Artist File/database template to create new Artist records, including name authority, accurate description of folder contents, subject headings, and time periods; and, update current files in the SI Artist Files database. All in accordance with AACR2 cataloging and Name Authority rules, appropriate MARC coding and LC subject headings. Intern will also learn how to arrange individual files, add and record its contents, utilize preservation methods (i.e. sleeves for original news clippings or photographs, slides, etc.,) for sensitive or delicate items, and file new records in collection. Intern will also attend learning opportunities presented by the Smithsonian museums and departments.
Biodiversity Heritage Library Virtual Reference Intern
The Biodiversity Heritage Library is the world's largest open access digital library of natural history literature (http://biodiversitylibrary.org/). BHL Virtual Reference Interns will work closely with the BHL collections team to process scanning requests received from users and issue digitization assignments to the appropriate library within the BHL's 14-member international library consortium. Interns will utilize an issue tracking system to manage the scanning request workflow. Routine activities will include the need to research literature citations provided by users, investigate BHL member consortium library holdings to determine the best scanning candidate, monitor requests as they are processed by BHL staff, and correspond with users. Interns will also work in the collection's back-end database to correct bibliographic metadata for BHL titles and volumes as needed.