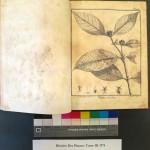 Moldy books are the bane of every book conservator's existence.  They often appear in the lab after a water emergency or less than ideal temperature and humidity controls.  We are asked to "eliminate" the mold.  What we actually can do is make the mold dormant and clean it up.
Some strains of mold are killed in the freezing process and others revert to a dormant state. We vacuum the books to remove spores and also dry clean areas to improve the appearance of the paper.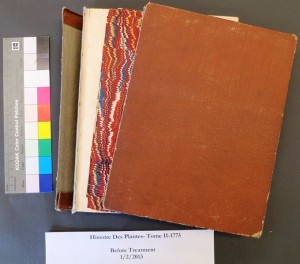 This set of four volumes of Aublet's "Histoire Des Plantes de La Guiane Françoise" is a typical example.  They arrived in the Book Conservation Lab as part of the Smithsonian Libraries Adopt-a-Book program.  We froze the books, vacuumed them and attempted dry cleaning of the pages with the heavy stains.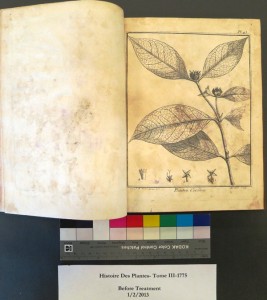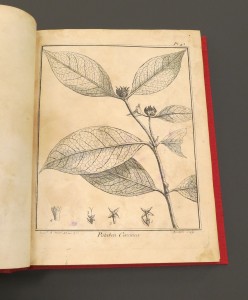 The Aublet set came to the Lab re-bound in library buckram that had failed at the gutter, leading to the covers detaching.  We felt there was no need to retain the binding as it was not original to the book.  A new case was created using a red linen bookcloth with spine labels stamped using our Kensol press.