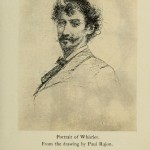 James Whistler was a Victorian dandy.  A staunch proponent of "art for art's sake", a prominent figure in Victorian society, and while born in America, he divided  his time between London and Paris. He advocated the decorative in art to such an extent, that his signature evolved into an apt symbol: the delicate, yet threatening, butterfly with a stinger.
The Library at the American Art Museum/National Portrait Gallery has recently digitized several volumes on James McNeill Whistler for the Cultural Heritage Library, currently found here.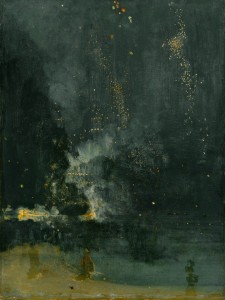 Among them, a slim volume titled Concerning the Etchings of Mr. Whistler (1910). The introduction of this title features the 11 propositions that constitute the basis for Whistler's abiding devotion to the decorative that were originally published in Whistler's own The Gentle Art of Making Enemies (1890). Soon to be digitized for the CHL, this title chronicles the events and testimonies surrounding the libel suit Whistler filed against art critic John Ruskin and his negative review of Nocturne in Black and Gold (pictured). 
The Whistler Journal (1921) may be the most comprehensive title we've scanned for this collection; it not only contains interpretations of Whistler's paintings and etchings, but also describes his life as a society figure.  Written by friends of James Whistler, Joseph and Elizabeth Robins Pennell, this title begins by detailing how the authors met and befriended the outspoken artist, spans the development of his philosophies and style, and concludes with his last "months and days" until his death in 1903.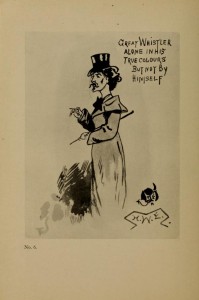 Each with 56 downloads, two titles are tied for most popular according to Internet Archive download statistics: Catalogue of an exhibition of Whistleriana from the collection of Walter S. Brewster (1917) and Oils, water colors, pastels & drawings by James McNeill Whistler (1911). Both catalogues feature several black and white plates, but the former also includes a bibliography and other related works.
For more information about the life and work of James Whistler, check out the University of Glasgow's Correspondence Collection or the Met's Whistler entry in their online Timeline of Art History.