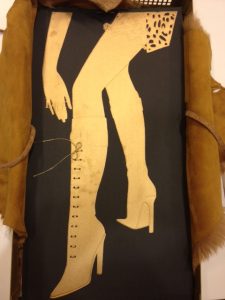 The Hirshhorn Library has had the benefit of receiving creative, non-traditional items from generous contributors that reflect a playfulness with format and materials found in contemporary art.  One such unexpected gift was that of the art and fashion periodical Visionaire , which has been published three times a year in limited quantities since 1991. Each issue has a particular theme that is illustrated in some form or another through the collaboration of Visionaire with contemporary artists and fashion designers from around the world.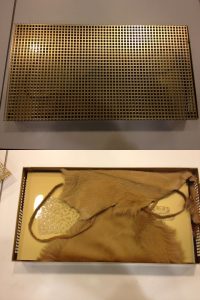 In particular, number 33 (2000) of Visionaire, entitled "Touch," is housed in a brushed gold metal box. Inside are cardboard pieces decorated with illustrations inspired by the fall and winter 2000-2001 fashion collections including such luxury labels as Fendi, John Galliano, and Alexander McQueen. Taking full advantage of the medium, Visionaire's Francois Berthoud molded, stitched, glued, and cut the cardboard pieces to represent his idea of the latest fashion trends. Working with the tactile theme of the issue, different textures are demonstrated on the pieces, including raised surfaces, hair, and fur (the unbound pieces are held together by a genuine pony-skin cache-col) tempting you to pick it up and touch.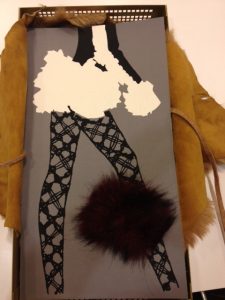 Residing in our Rare Book collection, this, along with out other Visionaire issues, are available to see by appointment and are a great resource for those interested in fashion and contemporary art. Artists who have works in the Hirshhorn collection, such as Yayoi Kusama, Andreas Gursky, and Cai Guo-Qiang, have collaborated with Visioinaire on several issues. Visionaire also has sister magazine that may be more familiar- and affordable- called V-Magazine which is also dedicated to art, fashion, and current culture.
Focusing on how art and popular culture flow into each other, Visionaire's multi-format approach allows for an interactive experience that few periodicals can provide while still conveying the same information about current and emerging creative minds. The Hirshhorn Library is proud to have such innovative- and of course fun- pieces within their collection that blur the line between "book" and "art."