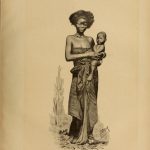 The Cultural Heritage Library (CHL) has been through a few incarnations over the last 3 years but the content remains the same. It is a digital collection that includes materials from the History, Art, and Culture libraries within the Smithsonian. The collection has been developed using branch librarian's selections as well as items that have been identified as being relatively scarce according to OCLC holdings. Subject headings are part of the descriptive metadata for each title and are available to browse from the Internet Archive website, providing an at-a-glance overview of the collection.
While the CHL is still in its infancy, there are several areas that stand out as distinct sub-collections, thanks to the curatorial efforts of the branch librarians. One such sub-collection is the Congolese Collection from the Warren M. Robbins Library, National Museum of African Art. Janet Stanley, the African Art Librarian, says:
We've been building this Congolese collection at the Warren M. Robbins Library for 33 years and are pleased to be able to share it with scholars and students globally, especially those living and working on the continent of Africa, where none of these books are likely to be found.  Of particular interest is the set entitled Congo illustré (1892), which contains historical photographs of Congolese society, Belgian colonial & missionary enterprises, and flora & fauna.
Currently at over 10,000 pages, the Congolese Collection continues to grow as fragile copies of the physical collection are repaired in advance of digitization.