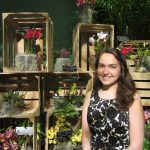 A dual citizen of the United States and the United Kingdom, Jackie Chapman joined Smithsonian Libraries staff in February. Jackie received an undergraduate degree in the College of Letters from Wesleyan University (Middletown, CT) and a Master of Science in Library Science degree from the University of North Carolina at Chapel Hill. Most recently, she worked at the North Carolina Digital Heritage Center, a statewide digitization project capturing the cultural history of North Carolina, where she spent almost two years immersed in digitization, digitization work flows, metadata and social media for the organization.
In a surprising twist, Jackie's early interest in technical theater provided the catalyst for her later interest in librarianship. As a member of Wesleyan's student-run production company Second Stage, she had always been interested in the group's history.  In choosing a topic for her undergraduate thesis, Jackie opted to investigate the founding and evolution of the organization, founded in 1973. Under the guidance of Wesleyan's Special Collections and Archives staff, Jackie studied archival practice and worked to collect, process, and describe the posters, programs, records, and other documents pertaining to the group. She continued her interest in documentation by concentrating in Archives and Records Management in the MSLS program at UNC. Jackie also earned a Certificate in Nonprofit Leadership from UNC-CH's School of Social Work in conjunction with her master's degree.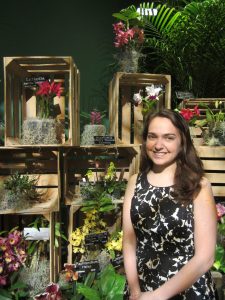 Although Jackie is a new employee, she interned at the Smithsonian Libraries last summer, completing work in the Digital Asset Management System (DAMS). Jackie describes working at the Smithsonian as a fusion of several of her primary interests: nonprofit leadership, education and libraries. She finds her current work with the Biodiversity Heritage Library (BHL) project particularly fascinating, with its ties to librarians and researchers from around the globe. In her position, Jackie will manage and improve the Libraries workflow by completing user requests in tracking system Gemini, getting requests to the correct BHL partner, working on Libraries contribution and collaborating on projects with other BHL staff.
Outside of the office, Jackie likes to travel, garden, visit her family in England (she is a big fan of tea!), go to the theater, play board games and closely follow the Fulham Football Club, part of the English Premier League. Her favorite spots in DC are the National Archives, the Hillwood Estate, Rock Creek Park and the Library of Congress. She is excited to see where her new position takes her, and looks forward to a long career in library and archival work.