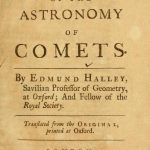 Did you know our Digital Library now hosts the Cultural Heritage Library (CHL)? Some things remain the same. You can browse the collection's subject headings or list of authors to discover the collection, or if you are looking for a particular art, history, or culture book published before 1923, use the search box.
But there are also new features that come along with the new space. Now, sub-collections are being added to the digital collection. For example, the Heralds of Science collection from the Dibner Library of the History of Science and Technology is now more easily browsed as a discrete collection.
In 1955 Bern Dibner, the noted science book collector and founder of the Burndy Library, published Heralds of Science as Represented by Two Hundred Epochal Books and Pamphlets Selected from the Burndy Library. Two things combined to inspire him to prepare this list. The first was the 500th anniversary of the invention of printing from moveable type ascribed to Johannes Gutenberg dating from approximately 1455. The second was a small exhibition, "First Editions in the History of Science," prepared at the Library of the University of California in 1934 for the meeting of the American Association for the Advancement of Science.  …read more"
Look for more subcollections added to the Digital Library's CHL collection over the next few months, including ways you can create your own!