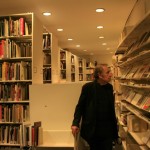 This post was written by Anna Brooke, librarian at the Hirshhorn Museum and Sculpture Garden Library.
"I hate the word 'artist.'" said Vito Acconci in an interview with Milena Kalinovska posted on the Hirshhorn Museum web page. Vito was in Washington D.C. for a Meet the Artist public program the evening of January 17, 2013 at the Hirshhorn Museum.  During the day, Vito prepared his presentation in the Hirshhorn Museum Library, using a carrel and examining our artist file on him. He is one of our most distinguished visitors. In addition to his writing and art activities, he was named Designer of the Year in 2012 by Design Miami.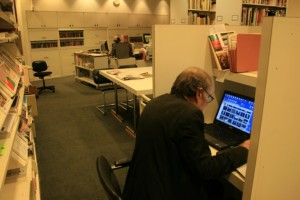 Vito began his career as a poet in the 1960s. He studied at the Iowa Writers' Workshop at the University of Iowa. In his interview he mentions "using the page as a space." Space, private and public, leads him to performance art.  From 1967 to 1969 he edited a journal with Bernadette Mayer called 0 to 9, in homage to Jasper Johns. The issues were mimeographed in editions of 100 to 350 and distributed in New York to bookstores and friends. Contributors to the journal included several artists represented in the Hirshhorn Museum collection including Dan Graham, Robert Smithson, Adrian Piper, Jasper Johns, Douglas Huebler, Lawrence Weiner, Robert Barry, Bernar Venet and others.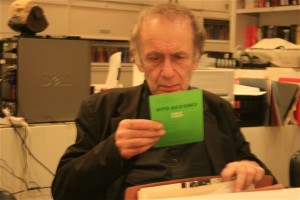 The Hirshhorn Museum Library provides books and artist files on artists who have art work in the museum collection or are included in museum exhibitions and programs. The Hirshhorn Museum owns one four panel work by Vito Acconci, "Combination (Six hour performance 112 Greene Street, New York, June 5, 1971)." Vito was one of six artists included in the Hirshhorn's exhibition, Metaphor: New Projects by Contemporary Sculptors, an exhibition organized by Howard Fox held in 1981-1982.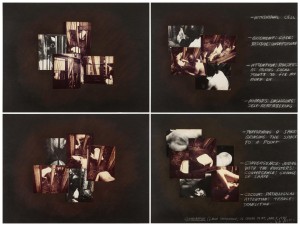 The Hirshhorn Museum Library has many books on Vito Acconci, including an artists' book: Public Space in a Private Time / / Vito Acconci. Docking, Norfolk, England: Coracle, 1992. 119 of 300. The book is scarce, only six copies are listed in the Worldcat database which lists library catalogs from all over the world.
Vito was also included in the exhibition of conceptual art by Lucy Lippard, 557,087, Seattle Art Museum, 1969. The catalogue, held by the library, is 95 loose cards by many of the same artists included in 0 to 9, including Acconci. During Vito's visit to our library he offered to give us any books or catalogues we lacked, a generous offer which we did not need to accept.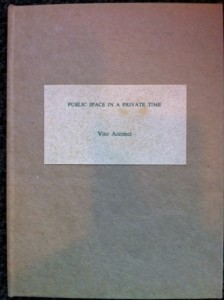 Artist and gallery donations are a major source of gifts to our library.
Bibliography:
Language to Cover a Page, the Early Writings of Vito Acconci. Cambridge, The MIT Press, 2006.
0 to 9: the Complete Magazine 1967-1969.
Brooklyn: Ugly Duckling Presse, 1969.