This post was written by Lilla Vekerdy, Head of Special Collections.
On June 24, 2013, The Dibner Library of the History of Science and Technology hosted a group from a national society interested in a special topic, steam vessel navigation. The Steamship Historical Society of America requested a rare book display and presentation following the encouragement of Brent Dibner, who is a Board Member of the association and knows about the Library's extensive holdings on the subject.  Mr. Dibner is grandson of Dr. Bern Dibner (1897-1988), the founder of the Library.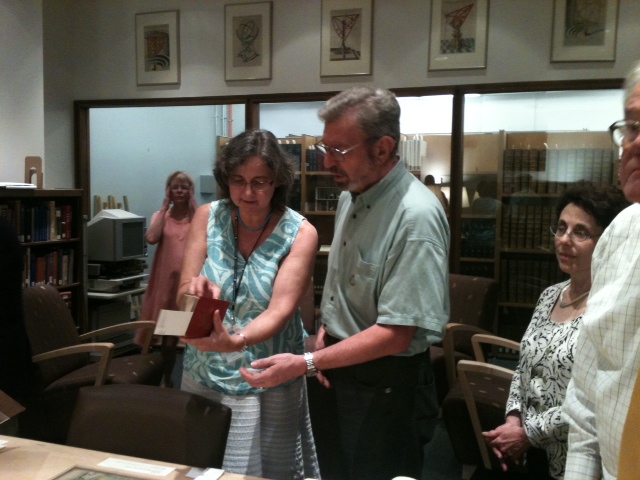 The display was organized around three major topics: the history of the steam engine in general, application of steam power in ships, and steamship routes and voyages. The three large research tables in the reading room were covered with rare books from the mid-18th century to the late 19th century. From Jonathan Hulls, British inventor, who possibly made the first ever plans for a steam-propelled ship in 1736, through John Fitch who was the first practical inventor according to others, to Robert Fulton, who is widely credited with developing the first commercially successful steamboat, all the major figures of this development were represented.
Lilla Vekerdy gave a short presentation about the history of the Dibner Library and about the advancement in steamship technology with the aid of the exhibited rare books. Deborah Warner, Museum Curator from the National Museum of American History, was also present and added interesting historical commentaries.