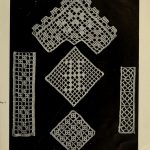 With over 40 volumes detailing the intricacies of lace collection and creation, the Cultural Heritage Library's Lace Collection covers a lot of ground. About half of the collection is in English, with titles like Directions for Making Poncetto Lace among the most popular. Downloaded 400 times since being digitized, this title offers instruction in the titular Italian knotted lace technique, complete with several patterns to follow.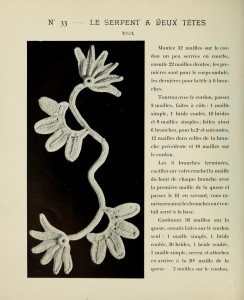 The rest of the collection is rounded out in French, German, and Italian titles.  The most popular title, again based on Internet Archive's download statistics, is a French title on Irish lace making: Album de Guipure d'Irlande (1900), downloaded nearly 700 times.  Hundreds of patterns are available for creating contemporary versions of these classics.
But perhaps you aren't quite ready to dive into the deep end with French patterns of Irish crochet? The Lace Collection also features general titles like History of Lace (1902).  From this title we learn that lace making originated with Egyptian embroidery and that Catherine of Aragon was an prodigious lace maker in Henry VIII's royal court.
The Lace Collection in the CHL is available via the Libraries' website and as always, feel free to suggest other titles for digitization by emailing Libraries staff.