A frequently overlooked service that librarians provide to their users is that of selection for collection development. From the universe of available books, this service determines which should be acquired for a particular collection. Reference and subject-specialist librarians pore over an increasing volume of new book announcements and publisher and dealer catalogs, picking out the best titles that are appropriate for purchase and addition to the collection they manage.

But like many things we librarians do, the Internet has changed the game. Most scholars are experts in their chosen field and often discover for themselves new works in their discipline, relying less and less on librarians to identify new publications. Together with a seemingly permanent pressure on acquisitions budgets, librarians at some research institutions have begun to experiment with the purchase-on-demand or patron-driven acquisition (PDA) model for selection. Acquiring only books that have been specifically requested appears (at least initially)  to be a more efficient use of dwindling funds while buying books based on anticipated and unspecific future need may be a luxury libraries can no longer afford. 

One could also see a similar development in the journal publishing world and the editorial selection of content. Editors at most scholarly journals not only manage manuscripts submitted by authors but also make judgments on whether the subject of an article meets a certain selection criteria for the journal.
With the open access (OA) battle largely over by now, the author-pays model of publishing seems for the moment to be the dominant way of doing business in this new world. And because discovery of online journal literature is no longer dependent on an institutional subscription or license, scientists no longer need to publish in the highest profile journal in order for their work to be found by readers. Tools like Google Scholar provide enough exposure to any paper so that potential readers can find it. Of course researchers still want to have their work published in Science or Nature for purposes of prestige, but wherever a paper is published these days, it be found it fairly easily by someone doing research on the topic.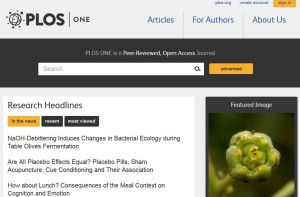 The emergence of mega journals such as PLOS One, which publishes over 20,000 articles per year, is evidence that scholars no longer need to worry about which journal will ensure the highest readership for their paper. Published on a very short turnaround time, these journals provide some minimal review of scientific rigor and technical details, but make no judgement about the importance of the work or of its possible interest to readers. In other words, these journals no longer provide selection or subjective filtering of journal articles. Previously this had been a service which the editor provided to readership when s/he accepted or rejected a manuscript based on its significance, potential interest or contribution to the field.
So it appears that the reader may become the decision maker in determining not only what materials are acquired for their library but which papers are most significant (based on usage statistics) in his or her discipline. Librarians and editors who once made these decisions may soon have to leave it up to the judgement of their readers.