Are you itching to contribute to the wealth of knowledge at the Smithsonian? Well, now you can from the comfort of your own home (or local coffee shop or library or bus station . . .).  The Smithsonian Institution is recruiting "virtual volunteers" to help unlock some of the mysteries in our collection through the Transcription Center.
With a team of volunteers from around the world, we hope to decode over 4,000 documents at the Smithsonian.  The Smithsonian Libraries has contributed one very special item to this project and we would love your help in transcribing it! The item is a manuscript entitled Poetry and Prose, created by a young Mary Jane Wynkoop in 1824: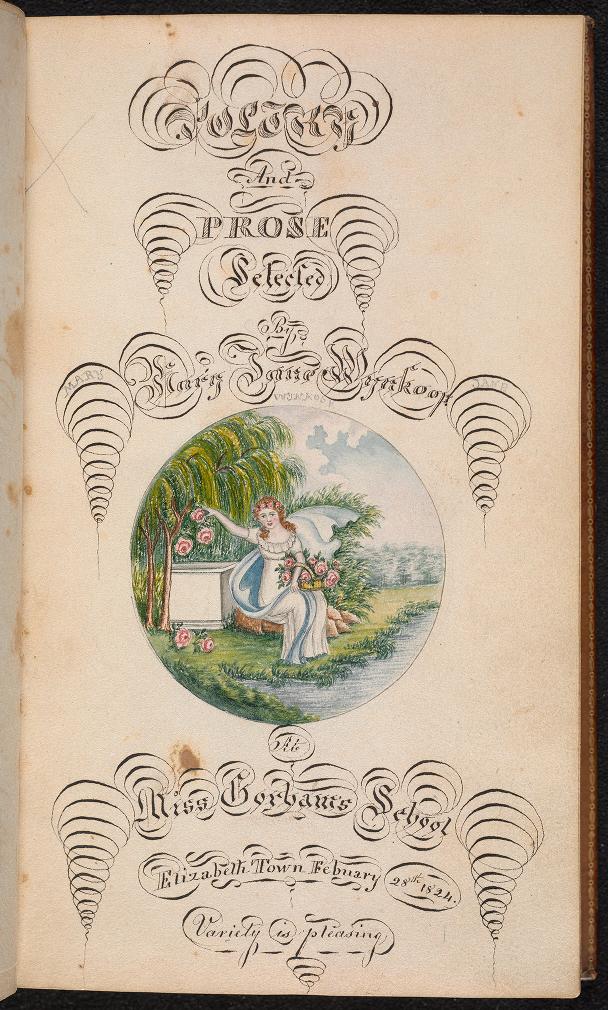 More information about the title:
Educational opportunities for women and girls became a focus of antebellum American efforts at reform. It was recognized that home and family life played an important part in a thriving society. Female seminaries began appearing in the early 19th century, preparing girls for their future roles as parents and educators. They provided a traditional curriculum in classical studies and religion, as well as an "ornamental" education, such as calligraphy, painting and drawing, and poetry writing. This book may well have been an assignment, showcasing the student's training.
This skillfully decorated volume is held in the Dibner Library. It was compiled by Mary Jane Wynkoop in 1824, likely written while she was a student at Miss Gorham's School in Elizabeth, New Jersey, still a rural area in the 1820's. Some of the selections may be her own compositions. Included among the poetry and prose and charming illustrations are a series of conundrums, riddles, charades and other puzzles.
Sound fascinating to you? Help us transcribe it and learn more. Work is already underway!