This post was written by Amy Lauder, summer intern in Discovery Services.
Sheet music was the primary way that popular music was circulated in the late 19th and early 20th centuries, before radio and the record industry took over. The Bella C. Landauer Collection of Aeronautical Sheet Music at the Smithsonian Libraries contains many pieces of music from this era, all having something to do with air travel. There was great progress in air travel technology at the same time that sheet music was most popular, so this is a unique way to learn about the history of air travel. There are pieces of music commemorating historic flights, popular songs that show people's excitement about air travel, and many images of hot air balloons, blimps, zeppelins, and many kinds of airplanes. Part of my task of cataloging the music in this collection has been to describe the images so that researchers can access that information.
The collection includes a lot of music from other countries around the world. Most of the music is from the United States, England, Germany, and France, but many other countries and languages are represented as well.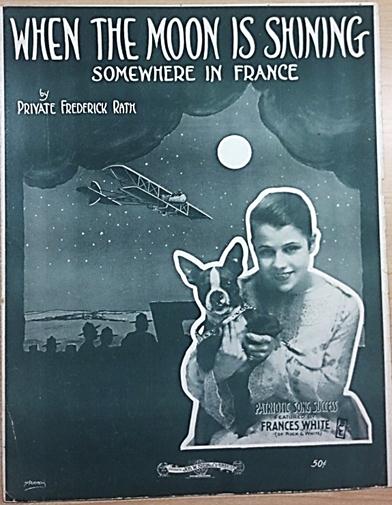 "When the Moon is Shining Somewhere in France" by Private Frederick Rath
New York City: 1917
"Patriotic song success featured by Frances White (of Rock & White)" –Portrait caption
This is one of many songs from World War I, the first war to use airplanes in combat. Along with patriotic marching songs there are also many like this, sentimental songs about missing family and friends who are far away. It was also very common for American sheet music of this period to have portraits of performers who sang the song on stage, though you don't usually see their dogs!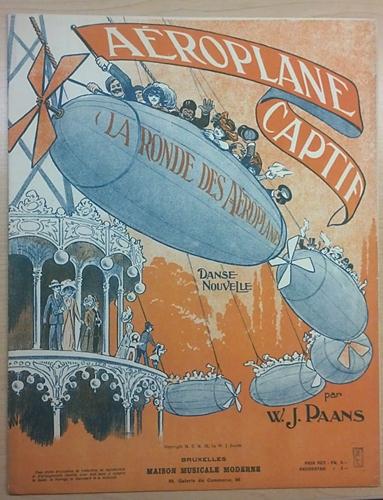 "Aéroplane Captif" (Captive Airplane) by W.J. Paans
Brussels, Belgium: 1909
This is a fun piece of dance music featuring a different kind of air travel on the cover!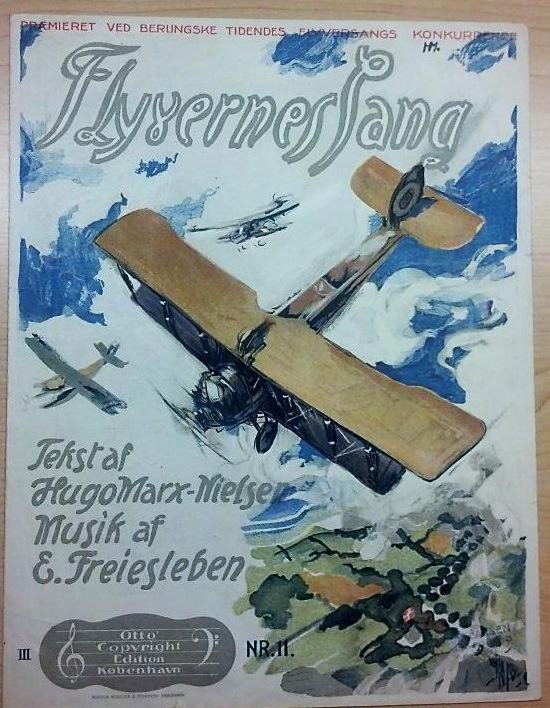 "Flyvernes Sang" (Flying Song) by Hugo Marx-Nielsen and E. Freiesleben
Copenhagen, Denmark: 1921
This song won a prize in a competition for songs about flying held by Berlingske Tidende, the oldest newspaper in Denmark. I particularly like it for the beautiful illustration.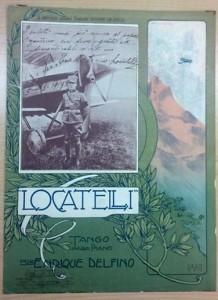 "Locatelli" Tango by Enrique Delfino
Buenos Aires, Argentina: 1919
This piece for piano is dedicated to the aviator Antonio Locatelli, who was the first to fly over the Andes in an airplane. There are many pieces of sheet music dedicated to celebrated aviators and commemorating historic flights.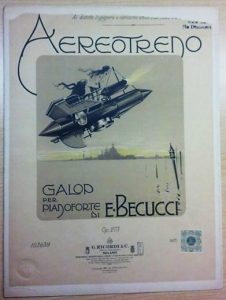 "Aereotreno" (Air-Train) by Ernesto Becucci
Milan, Italy: 1901
This is a great example of the kind of bizarre flying machines artists imagined before airplanes became common.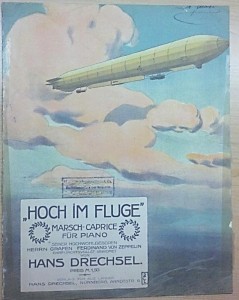 "Hoch im Fluge" (High in Flight) by Hans Drechsel
Nuremberg, Germany ca. 1900-10
Dedicated to Count Ferdinand von Zeppelin, who invented the rigid airships we call zeppelins. They were used by the German military and for passenger travel (even across the Atlantic!) until they lost popularity after the Hindenburg disaster in 1936.
Find out more about the Bella C. Landauer Collection of Aeronautical Sheet Music at:
http://www.sil.si.edu/ondisplay/music/index.htm
Or view full scans of some of the music at:
http://collections.si.edu/search/results.htm?q=Bella+C+Landauer+Collection+of+Aeronautical+Sheet+Music+%28Smithsonian+Institution+Libraries%29