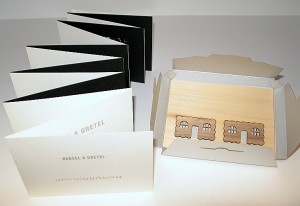 Through the generosity of an artists' book enthusiast (and a member of the Smithsonian Libraries staff), the American Art Museum/National Portrait Gallery (AA/PG) Library has recently acquired a copy of a new book depicting scenes from a classic Brothers Grimm fairy tale: Hansel and Gretel: A Shadow Theatre Book.
This book is a collaborative work by two American artists, Virginia Flynn and Joe Freedman and is a good example of an accordion or concertina binding. This is one of the simplest types of book binding, typically created by folding a sheet of paper back and forth or by attaching pages end to end to create the recognizable binding.
Joe Freedman, a Portland, Oregon artist whose skills include letterpress printing and book designing, came up with the concept of exploring the fairy tale through book form. Since over the years the story of Hansel and Gretel has changed, Freedman wanted to have a performative element to the final book that could be used with any version of the well-known story. He had worked with Virginia Flynn, an artist who creates art through cutting designs in paper. Freedman had noticed how shadows became part of the art when the papercuts were displayed and had light shown through them, and came up with the idea of a book with a series of papercut scenes that would allow a narrative element.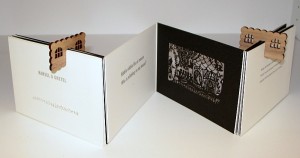 With this idea, Flynn created by hand five papercuts depicting scenes from the Hansel and Gretel story. Freedman reproduced the originals via lasercutting to make a book edition. The book was then assembled in the accordion binding which lends itself for display in order to show off the beautiful papercut work. To assist with the display the book comes with two little walnut page holders in the shape of the witch's cottage.
The artists also state that they want the reader to create his or her own version of the story by using the book as a shadow theater. Once the book is set up, lights can be dimmed, and a flashlight can be used to project the image onto the wall.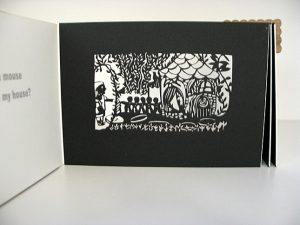 The artists has also provided sound effects for download that one can use to add another element to the performance. This is the first artists' book in the AA/PG collection that has sounds that come with the art! Although we might not be putting on a formal show in the library, we've all enjoyed getting a flashlight out and enjoying the book art.