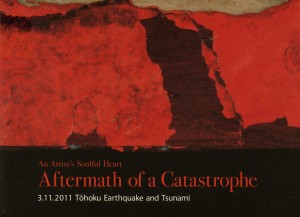 "This Art Book is dedicated to all the people who lost their lives on 3.11.2011"—Kumiko Shindō.
According to the official record of the Japanese Government 15,883 people died, 6,145 injured, and 2,656 are missing in twenty prefectures affected by 2011 Great East Japan Earthquake.
Art and music have been known to have a healing power.  Artist, Kumiko Shindō created an art book, "Aftermath of a Catastrophe: 3.11.2011 Tōhoku Earthquake and Tsunami: an artist's Soulful Heart," and dedicated it to people who lost their lives, as well as intending to heal emotions of the survivors of the 3.11 earthquake and tsunami.
The book consists of images of fifteen small collages accompanied by text, which Shindō describes as "storyboards." In order to echo the sorrows and pains of the earthquake victims, she created these collages by building up a surface made of torn book covers; then peeled off the thin layers carefully, which expresses her wish for the earthquake survivors to slowly recover from their losses.  She states, "I wanted to be completely honest with my feeling and use of art supplies.  I was able to see that my heart and supplies were blending into the wave of my art."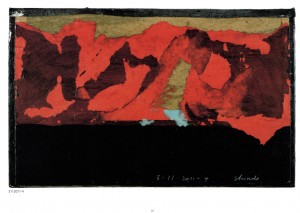 The artist also wishes that people would use her work to help build a network amongst themselves and together cope with the devastating aftermath of the earthquake.
Born in Tokyo, 1953, Shindō is a graduate of Tama Art University, Tokyo.  She continues her artistic activities both in the United States and Japan.  She uses almost all materials that humans create and recycles them to bring back their spiritual aspects into her art.
Visit the artist at: www.kumikoshindo.com.
Smithsonian Institution Libraries is honored to receive this book from the artist.  The book can be viewed at the Freer Gallery of Art/Arthur M. Sackler Library.  Click HERE for the complete bibliographic information.
This post was written by Reiko Yoshimura, head of the Library of the Freer Gallery of Art and Arthur M. Sackler Gallery
.